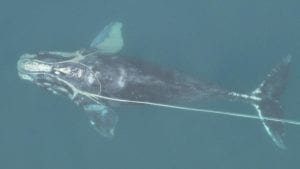 North Atlantic right whales are in crisis. There are approximately 356 individuals remaining, and with over 80% bearing scars of entanglements in fishing line, the race to save this species is more critical than ever.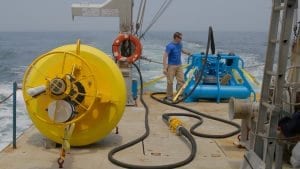 Scientists working for WCS's (Wildlife Conservation Society) New York Aquarium and the Woods Hole Oceanographic Institution (WHOI) now have an "ear" for the New York region's biggest "voices and singers"— the whales of New York Bight. On Thursday, June 23
rd
, the WCS New York Aquarium-WHOI team successfully deployed a hi-tech acoustic monitoring buoy in New York waters that will enable scientists to eavesdrop on some of the world's largest animals. The buoy itself is four feet in diameter and its mast stands six feet above the sea surface. It is connected with patented "stretch hoses" to a weighted frame that sits 125 feet below on the sea floor. The frame carries a unique acoustic instrument that records and processes sound from an underwater microphone called a hydrophone. Information from detected sounds is transmitted from the instrument to the buoy through the stretch hoses, and to shore through the Iridium satellite system. The buoy is located between two major shipping lanes entering New York Harbor, 22 miles south of Fire Island's west end. WHOI engineers developed the buoy, stretch hoses, and the acoustic instrument, and WHOI's Dr. Mark Baumgartner, a marine ecologist and co-lead of the joint WCS New York Aquarium-WHOI project, developed the software used by the acoustic instrument and led the integration of the instrument into the buoy. "This technology allows us to monitor the presence of several species of baleen whales in near real time, and to use that knowledge to better study and protect these endangered species in the extremely busy waters of the New York Bight," said Baumgartner. "The acoustic buoy data will help us to better understand when and where whales are present in New York's waters, particularly in those places where we have little information on how whales are affected by ship traffic and ocean noise," said Dr. Howard Rosenbaum, Director of WCS's Ocean Giants Program and co-lead of the joint WCS New York Aquarium-WHOI project. "When used in conjunction with other surveys and technologies, this buoy will give us a more holistic picture on how whales use this marine habitat, and how to better protect whales in our own backyard." While similar buoys have been deployed by WHOI off the coasts of Massachusetts and Maine this year, the near real-time technology is being used for the first time in the waters of New York Bight—a region that ranges between Montauk, New York and Cape May, New Jersey—and will help researchers better understand the movements of, and threats to, the whales swimming in regional waters. The monitoring of the whales in the New York Bight is supported by The G. Unger Vetlesen Foundation. Containing some of the busiest shipping lanes in the world, New York Bight is also home to seven species of great whales, including the humpback whale—known for its acrobatics and long, haunting songs—and the largest animal ever to exist on earth, the blue whale. The highly endangered North Atlantic right whale—one of the world's rarest whale species—migrates through New York waters, and fin, sei, minke, and sperm whales have also been seen or heard in the waters of New York Bight. "The presence of some of the world's largest animals in New York waters is a reminder that we are surrounded by an ocean wilderness and something of a delightful surprise for many New Yorkers," said Jon Forrest Dohlin, Vice President and Director of WCS's New York Aquarium. "In addition to learning more about whales, the acoustic buoy will help us raise awareness about the diversity of marine wildlife of New York Bight, a critical step towards conserving our region's natural wealth." All whale species rely on their acoustic environment to socialize and navigate, and they are vulnerable to human-related impacts such as those associated underwater noise, ship strikes, and fishing gear entanglements. Data from the buoy and other techniques as part of the project will help the team formulate new strategies for safeguarding the area's whale populations and coordinate with state and federal agencies to protect whales and their most important habitats. Both WHOI and WCS have a long tradition of research on whale sounds. The late William Edward Schevill of WHOI was a pioneer in the field of whale bio-acoustics, making one of the first recordings of whales (specifically beluga whales) in 1949 in Quebec's Saguenay River. The discovery in the late 1960s that humpback whales sing songs was the result of research by Dr. Roger Payne, a former WCS scientist who turned the sounds of whales into a popular sensation through the 1970 recording "Songs of the Humpback Whale," still the best-selling recording of natural sounds to this day. The digital acoustic monitoring buoy now floating in New York Bight will listen for whale vocalizations and other noise, and will relay information about the sounds it collects to a shore-side computer at WHOI. Analyst Julianne Gurnee of the Passive Acoustic Research Group at the Northeast Fisheries Science Center in Woods Hole, a long-time partner with WHOI in the development of the real-time acoustic technology, will review this information for whale calls. The analyzed data will be made available to the public through web sites at WHOI and through the WCS New York Aquarium, in its Ocean Wonders: Sharks! exhibit and as part of its 
Blue York
 Campaign. With support from the National Oceanic and Atmospheric Administration (NOAA), WHOI also plans to deploy an autonomous device called a Wave Glider, a vehicle equipped with the same real-time acoustic technology as the buoy that will utilize energy from waves and the sun to patrol the waters of New York Bight. Whale detections from the Wave Glider will also be available on the WHOI and WCS web sites. The buoy and Wave Glider will work in tandem with other surveys that will help identify particular areas that are most important for NY whales, and, in turn, the information will be used to help mitigate impacts from threats that these whales may face. Data from these acoustic platforms will help direct forthcoming surveys, led by Dr. Rosenbaum and Dr. Ricardo Antunes from WCS' Ocean Giants team. These studies will contribute to overall efforts to monitor and protect whales and their habitats in and around New York waters. WCS's New York Aquarium is committed to restore and protect populations of threatened marine wildlife and habitats in local waters, and to inform and inspire New Yorkers about the natural heritage of New York Bight. The WCS New York Aquarium also conducts research on the region's shark and ray populations, and is working to study and conserve the deep-water species of the Hudson Canyon, the largest submarine canyon off the East Coast.
The Woods Hole Oceanographic Institution is a private, non-profit organization on Cape Cod, Mass., dedicated to marine research, engineering, and higher education. Established in 1930 on a recommendation from the National Academy of Sciences, its primary mission is to understand the ocean and its interaction with the Earth as a whole, and to communicate a basic understanding of the ocean's role in the changing global environment. For more information, please visit
www.whoi.edu
.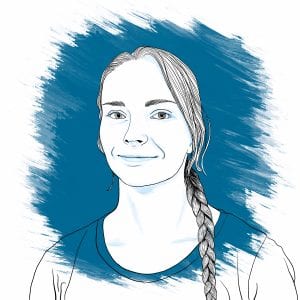 Experts Explore the Ocean-Human Health Link
November 9, 2020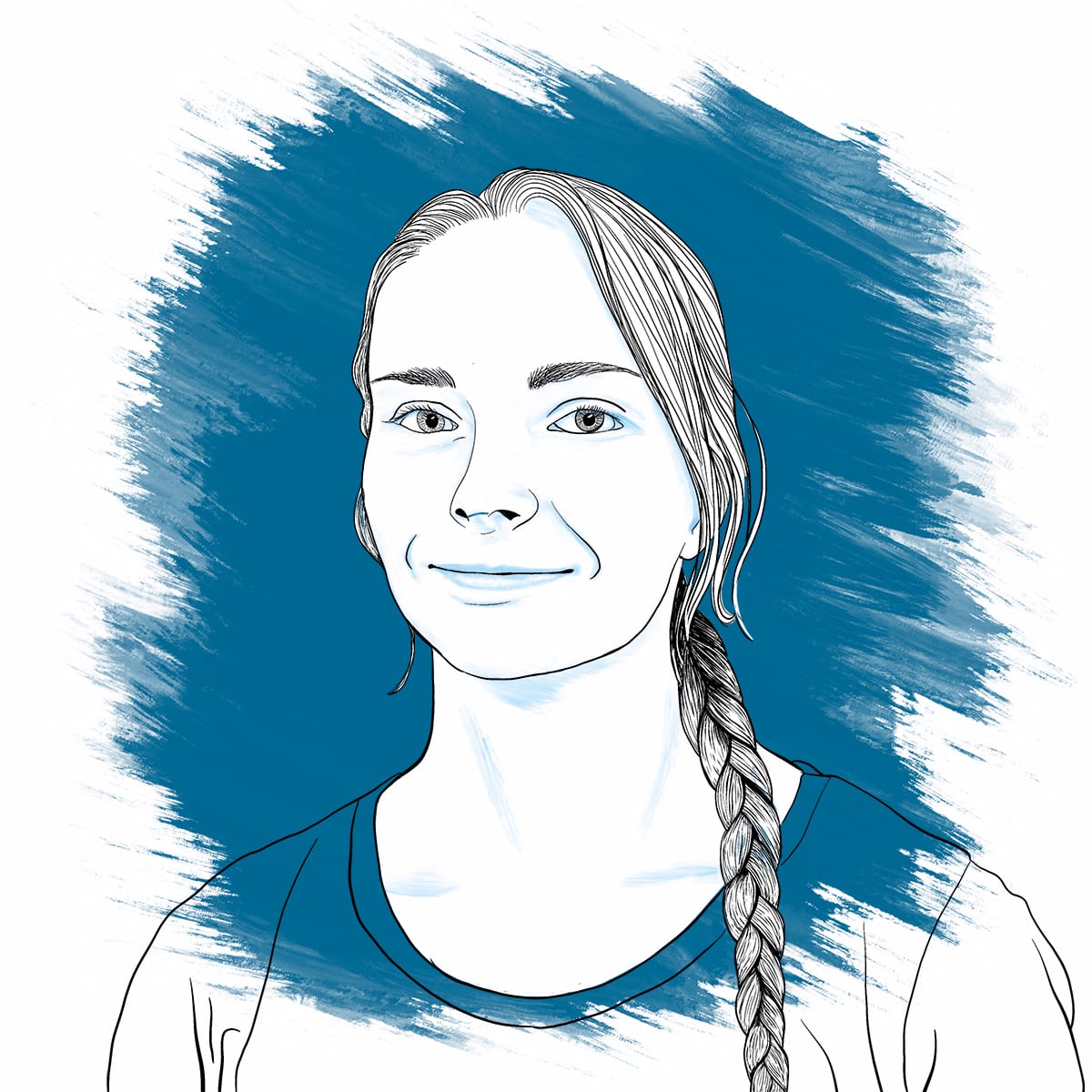 Eleonora Van Sitteren
Guest Student, Lindell Lab
I work with the Lindell Lab group at WHOI on a selective breeding program with sugar kelps. These can be used as a carbon-neutral, sometimes even carbon-negative, highly nutritious food source, as well as a promising biofuel.
To make the farming process more efficient, the lab is tracking the genetics of the algae. But to farm kelp, you need something for it to attach to and grow on. However, not all life stages of kelp are able to adhere to these substrates as others can. So, my job is to figure out a better binder (glues, basically) that will help algae attach and allow them to grow.
Even if we fish more of the already depleted wild stocks out there, we will still need more food in the future to feed the growing global population. A lot of ocean space along the coast can be used to grow algae, which not only provides an important source of food but also improves the water quality and helps reduce the production of global carbon dioxide.
Interviewed by Daniel Hentz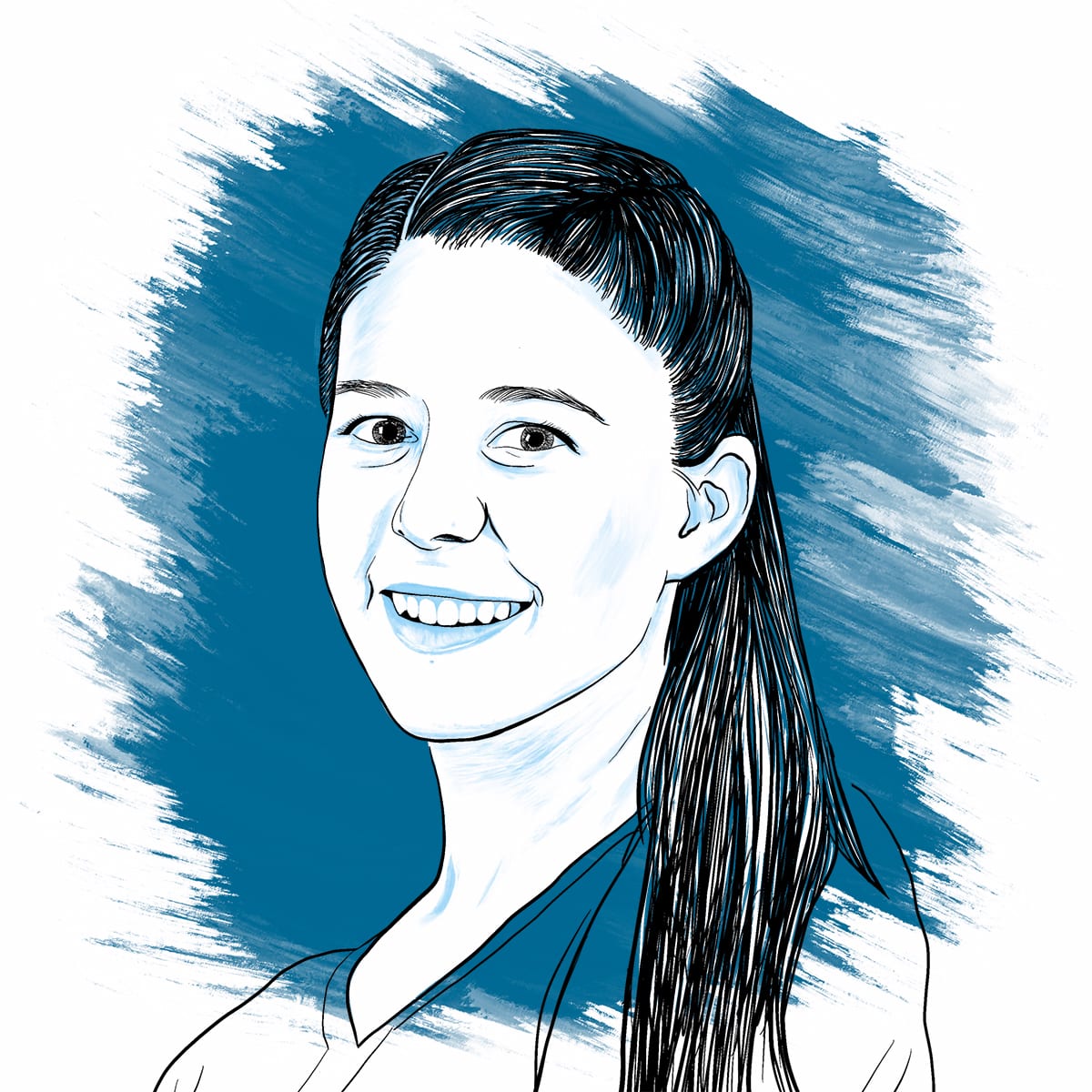 Nadja Brun
Environmental Toxicologist, Postdoc, Stegeman Lab
In my research, I study how exposures to chemical pollutants called polychlorinated biphenyls, or PCBs, induce neurological disease. We just add PCBs to water in experiments with zebrafish. We can look at how these toxicants influence the development of the nervous system and fish behavior.
Many people don't make the connection between studying fish and biomedical research, but to me, it's obvious. A few years ago, scientists sequenced the whole genome of zebrafish. That's when we realized how similar they are to humans. The researched showed that we share more than 80% of genes involved with diseases. And zebrafish have a major advantage: They develop externally. That means we can observe how they grow from a single cell to a fish that can hunt and avoid predators in just five days. And because the larvae are transparent, it's easy to image cells and organs. We can make nerve cells, for example, fluorescent and examine whether they develop properly under the microscope.
Interviewed by Lexi Krupp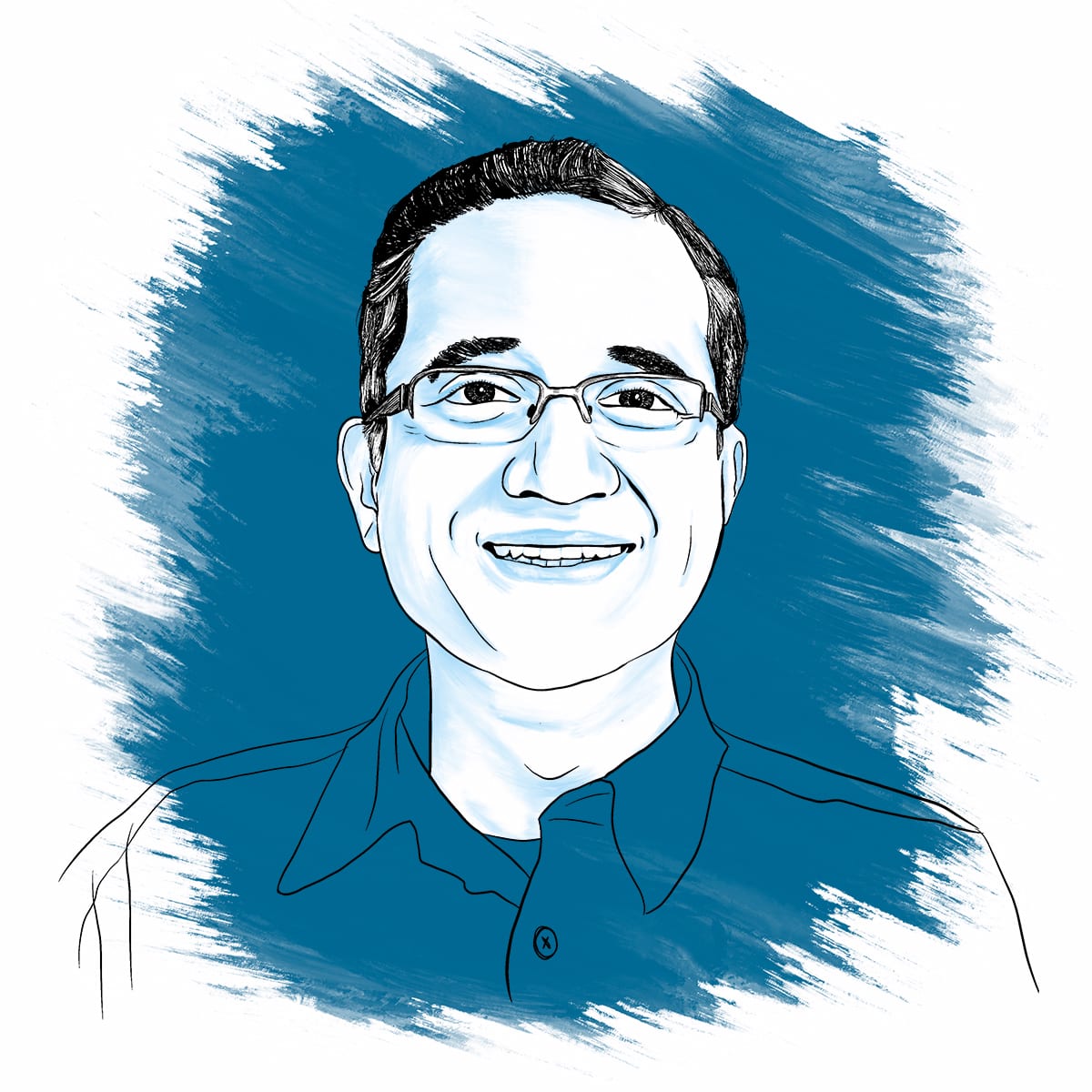 Neel Aluru
Associate Scientist, Biology
I study how juvenile organisms' exposure to environmental stressors–things like manmade pollutants or toxins– can impact the risks of developing adverse health conditions as adults. In particular, I look at the packaging of DNA in the nucleus—a process known as epigenetics—and how it is involved in mediating these toxic effects. If you think of DNA like a piano, the pianist is the epigenetic process that determines which notes are played, or how genes are expressed. While epigenetic changes are part of normal development, environmental factors also have the power to impair an organism's overall health. In humans, these variations have been linked to illnesses, such as Alzheimer's disease and other neurodegenerative disorders.
We use zebrafish as a model because of its short generation time, which allows us to study the long-term and multi-generational effects of toxins within shorter timeframes. Understanding the effects and processes by which toxins alter their health is critical to determining the risks posed by environmental chemicals to human health.
Interviewed by Lexi Krupp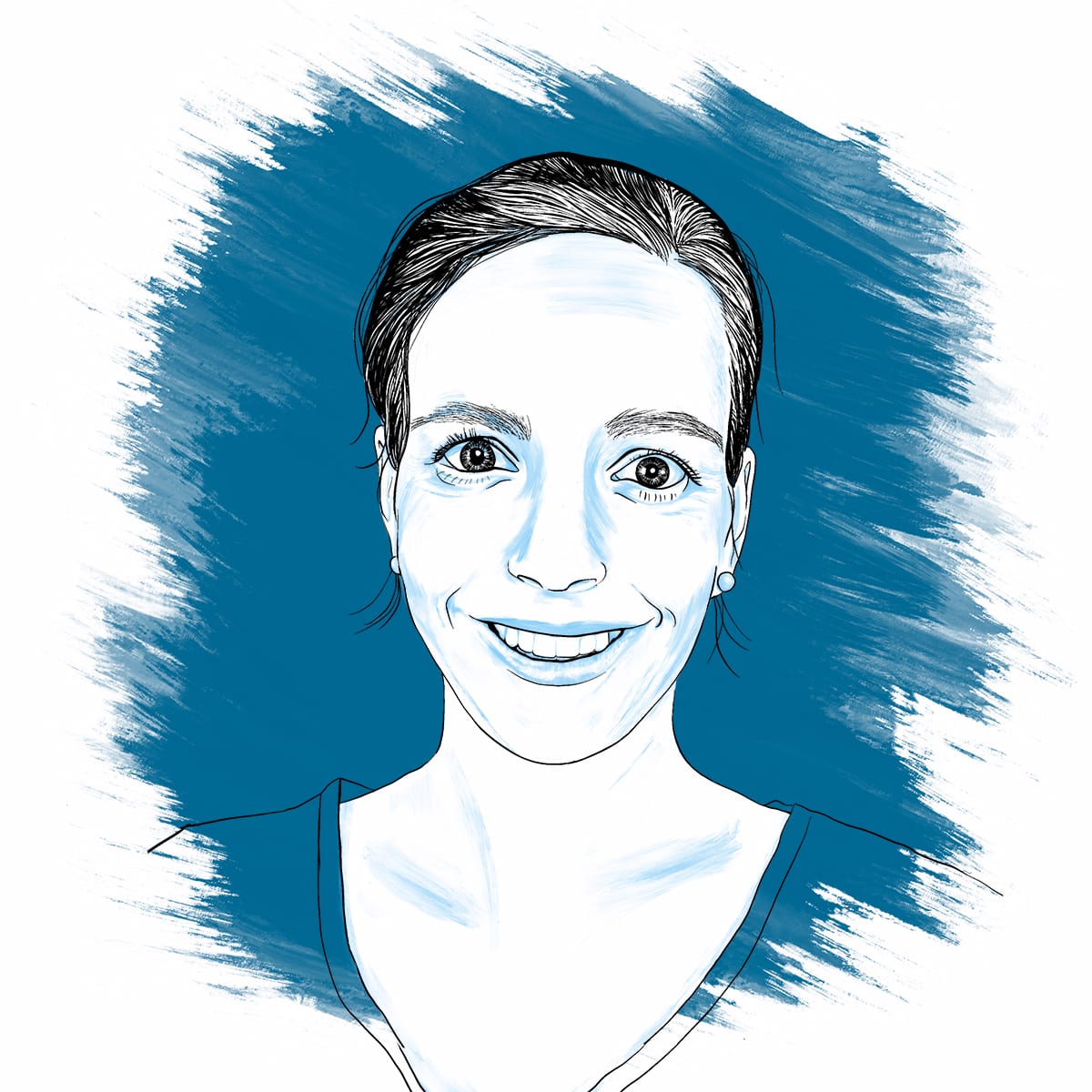 Svenja Ryan
Physical Oceanographer, Postdoc, Ummenhofer Lab
As a physical oceanographer, I often have people ask me, "So how does your research affect my life right now?" Often, you can't say anything other than, "It might affect your life in 50-100 years." But with marine heatwaves, the current subject of my research at WHOI, you can draw more immediate connections to society.
Similar to atmospheric heatwaves, these are discrete events where regions of the ocean experience above-average temperatures (sometimes lasting years). A few of these events have had drastic effects on the ecosystems that give us food and support our economies. Just off our doorstep in New England in 2012, there was an unprecedented marine heatwave that led to massive problems in the local lobster fishery. Because temperatures started to warm up very early in the season, the lobster landing came unexpectedly. The supply chain couldn't handle it, and the price of lobster dropped precipitously, throwing the whole economy for a loop.
In a way, these phenomena give us a glimpse at a more permanent future if we don't manage the effects of climate change.
Interviewed by Daniel Hentz
Biology
WHOI Perspectives
Pollution