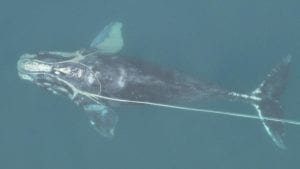 North Atlantic right whales are in crisis. There are approximately 356 individuals remaining, and with over 80% bearing scars of entanglements in fishing line, the race to save this species is more critical than ever.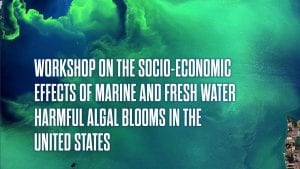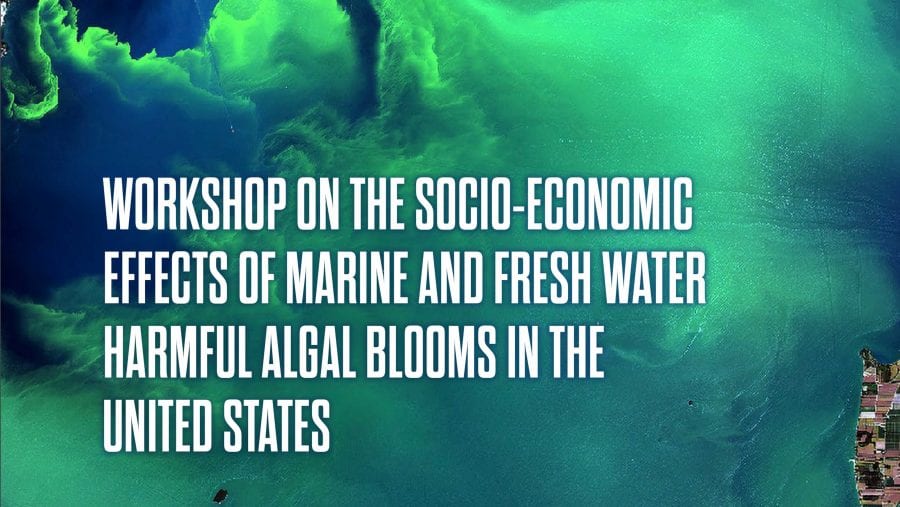 Woods Hole, Mass. – Harmful algal blooms (HABs) occur in all 50 U.S. states and many produce toxins that cause illness or death in humans and commercially important species. However, attempts to place a more exact dollar value on the full range of these impacts often vary widely in their methods and level of detail, which hinders understanding of the scale of their socio-economic effects.
In order to improve and harmonize estimates of HABs impacts nationwide, the National Oceanic and Atmospheric Administration (NOAA) National Center for Coastal Ocean Science (NCCOS) and the U.S. National Office for Harmful Algal Blooms at the Woods Hole Oceanographic Institution (WHOI) convened a workshop led by WHOI Oceanographer Emeritus Porter Hoagland and NCCOS Monitoring and Event Response (MERHAB) Program Manager Marc Suddleson. Participants focused on approaches to better assess the socio-economic effects of harmful algal blooms in the marine and freshwater (primarily Great Lakes) ecosystems of the United States. The workshop proceedings report describes the group's objectives, and presents recommendations developed by 40 participants, mostly economists and social scientists from a range of universities, agencies, and U.S. regions. Their recommendations fall under two broad categories: those intended to help establish a socio-economic assessment framework, and those to help create a national agenda for HABs research.
"This has been a goal of the research and response communities for a long time, but coming up with a robust national estimate has been difficult, for a number of reasons, mainly related to the diversity of algal species and the wide variety of ways they can affect how humans use the oceans and freshwater bodies," said Hoagland. "This gives us a strong base on which to build the insight that will vastly improve our estimates."
Framework recommendations call for enhancing interagency coordination; improving research communications and coordination among research networks; integrating socioeconomic assessments into HAB forecasts and observing networks; using open-access databases to establish baselines and identify baseline departures; facilitating rapid response socio-economic studies; improving public health outcome reporting and visibility of HAB-related illnesses; fostering the use of local and traditional ecological knowledge to improve HAB responses; engaging affected communities in citizen science; and engaging graduate students in HAB socio-economic research.
Research agenda recommendations include elements necessary for addressing gaps in our understanding of the social and economic effects of HABs. They include a suggested approach for obtaining an improved national estimate of the economic effects of HABs; supporting rapid ethnographic assessments and in depth assessments of social impacts from HABs; defining socioeconomic impact thresholds for triggering more detailed studies of impacts (such as in the case of designated HAB events of significance); sponsoring research on the value of scientific research leading to improved understanding of bloom ecology; assessing the value of HAB mitigation efforts, such as forecasts, and control approaches and their respective implementation costs; and supporting research to improve HAB risk communication and tracking and to better understand the incidence, severity, and costs of HAB-related human illnesses.
"These recommendations give us a strong series of next steps to increase focus on HAB-related socio-economic research," said Don Anderson, director of the U.S. National Office for Harmful Algal Blooms. "The report is certain to spur increased collaborations that will provide a better understanding of the many complex socio-economic effects of HABs and provide the tools to increase the effectiveness of efforts to minimize impacts on society and the environment."
The detailed final proceedings report and more information about the workshop is available on the U.S. National HAB Office website.
###
About Woods Hole Oceanographic Institution

The Woods Hole Oceanographic Institution (WHOI) is a private, non-profit organization on Cape Cod, Massachusetts, dedicated to marine research, engineering, and higher education. Established in 1930, its primary mission is to understand the ocean and its interaction with the Earth as a whole, and to communicate an understanding of the ocean's role in the changing global environment. WHOI's pioneering discoveries stem from an ideal combination of science and engineering-one that has made it one of the most trusted and technically advanced leaders in basic and applied ocean research and exploration anywhere. WHOI is known for its multidisciplinary approach, superior ship operations, and unparalleled deep-sea robotics capabilities. We play a leading role in ocean observation and operate the most extensive suite of data-gathering platforms in the world. Top scientists, engineers, and students collaborate on more than 800 concurrent projects worldwide-both above and below the waves-pushing the boundaries of knowledge and possibility.
For more information, please visit 
www.whoi.edu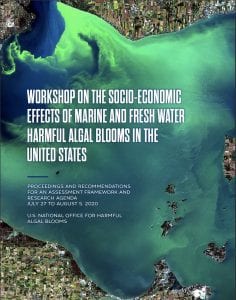 Read the report

Workshop on the Socio-economic Effects of Marine and Fresh Water Harmful Algal Blooms in the United States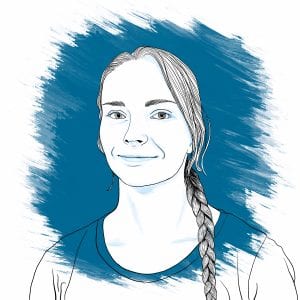 Experts Explore the Ocean-Human Health Link
November 9, 2020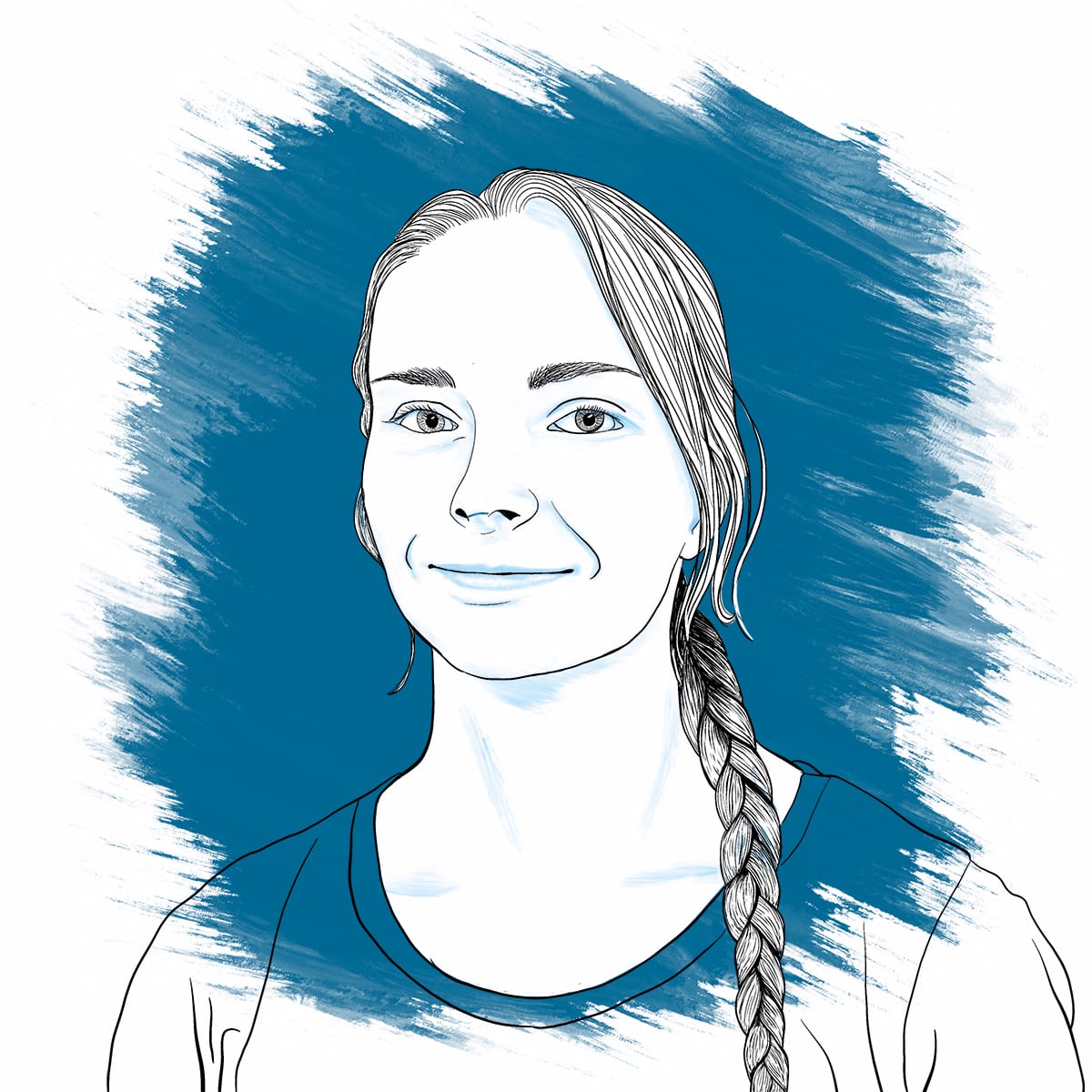 Eleonora Van Sitteren
Guest Student, Lindell Lab
I work with the Lindell Lab group at WHOI on a selective breeding program with sugar kelps. These can be used as a carbon-neutral, sometimes even carbon-negative, highly nutritious food source, as well as a promising biofuel.
To make the farming process more efficient, the lab is tracking the genetics of the algae. But to farm kelp, you need something for it to attach to and grow on. However, not all life stages of kelp are able to adhere to these substrates as others can. So, my job is to figure out a better binder (glues, basically) that will help algae attach and allow them to grow.
Even if we fish more of the already depleted wild stocks out there, we will still need more food in the future to feed the growing global population. A lot of ocean space along the coast can be used to grow algae, which not only provides an important source of food but also improves the water quality and helps reduce the production of global carbon dioxide.
Interviewed by Daniel Hentz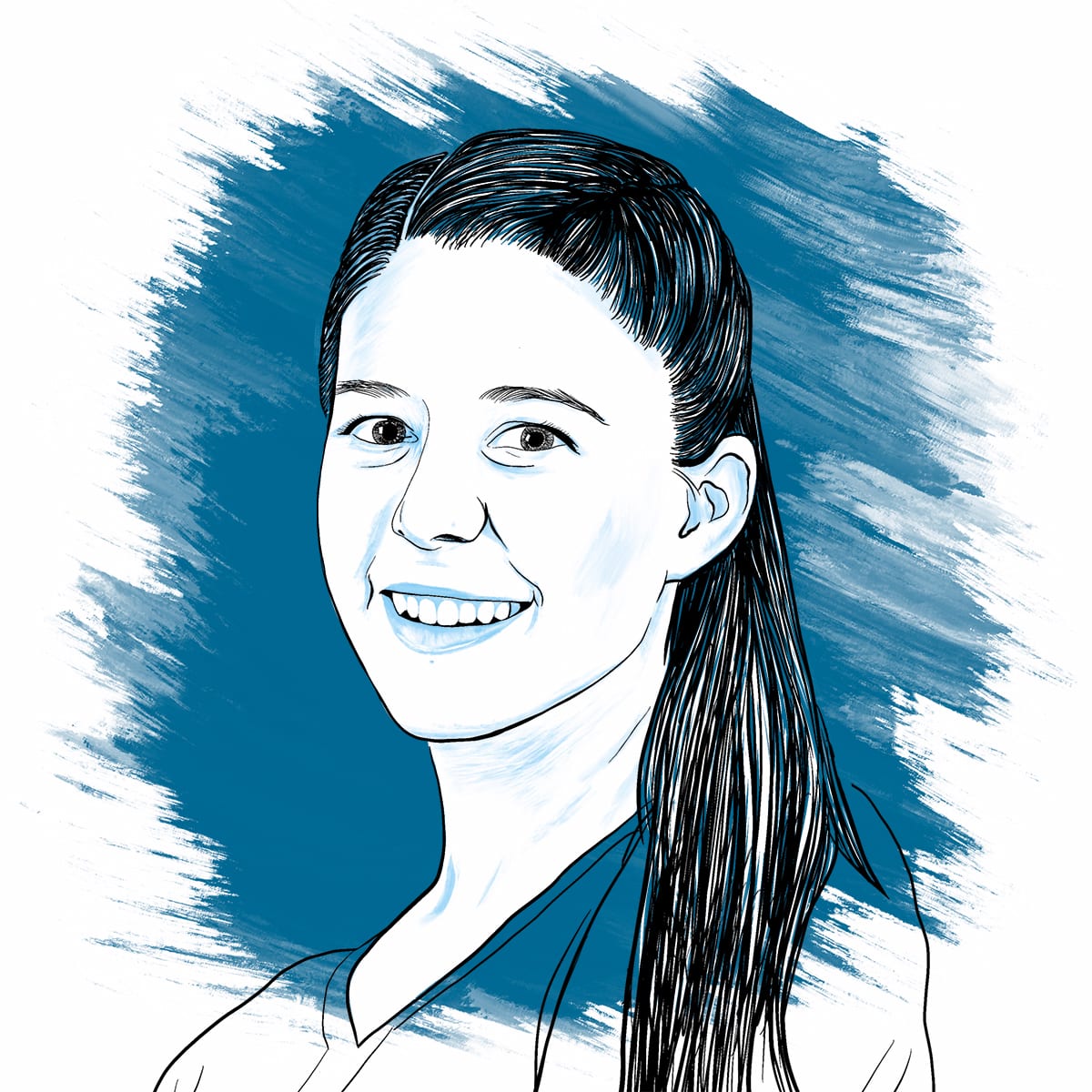 Nadja Brun
Environmental Toxicologist, Postdoc, Stegeman Lab
In my research, I study how exposures to chemical pollutants called polychlorinated biphenyls, or PCBs, induce neurological disease. We just add PCBs to water in experiments with zebrafish. We can look at how these toxicants influence the development of the nervous system and fish behavior.
Many people don't make the connection between studying fish and biomedical research, but to me, it's obvious. A few years ago, scientists sequenced the whole genome of zebrafish. That's when we realized how similar they are to humans. The researched showed that we share more than 80% of genes involved with diseases. And zebrafish have a major advantage: They develop externally. That means we can observe how they grow from a single cell to a fish that can hunt and avoid predators in just five days. And because the larvae are transparent, it's easy to image cells and organs. We can make nerve cells, for example, fluorescent and examine whether they develop properly under the microscope.
Interviewed by Lexi Krupp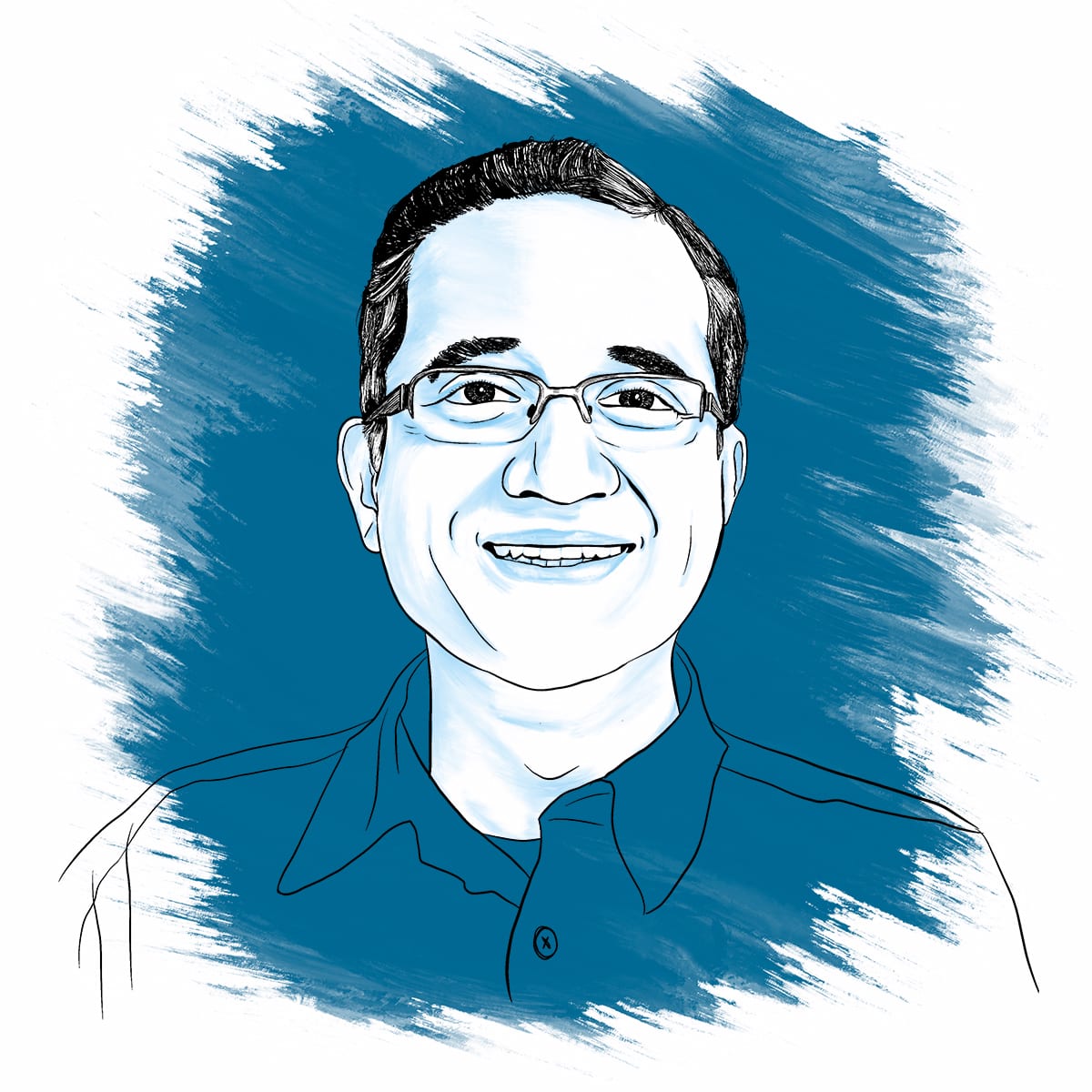 Neel Aluru
Associate Scientist, Biology
I study how juvenile organisms' exposure to environmental stressors–things like manmade pollutants or toxins– can impact the risks of developing adverse health conditions as adults. In particular, I look at the packaging of DNA in the nucleus—a process known as epigenetics—and how it is involved in mediating these toxic effects. If you think of DNA like a piano, the pianist is the epigenetic process that determines which notes are played, or how genes are expressed. While epigenetic changes are part of normal development, environmental factors also have the power to impair an organism's overall health. In humans, these variations have been linked to illnesses, such as Alzheimer's disease and other neurodegenerative disorders.
We use zebrafish as a model because of its short generation time, which allows us to study the long-term and multi-generational effects of toxins within shorter timeframes. Understanding the effects and processes by which toxins alter their health is critical to determining the risks posed by environmental chemicals to human health.
Interviewed by Lexi Krupp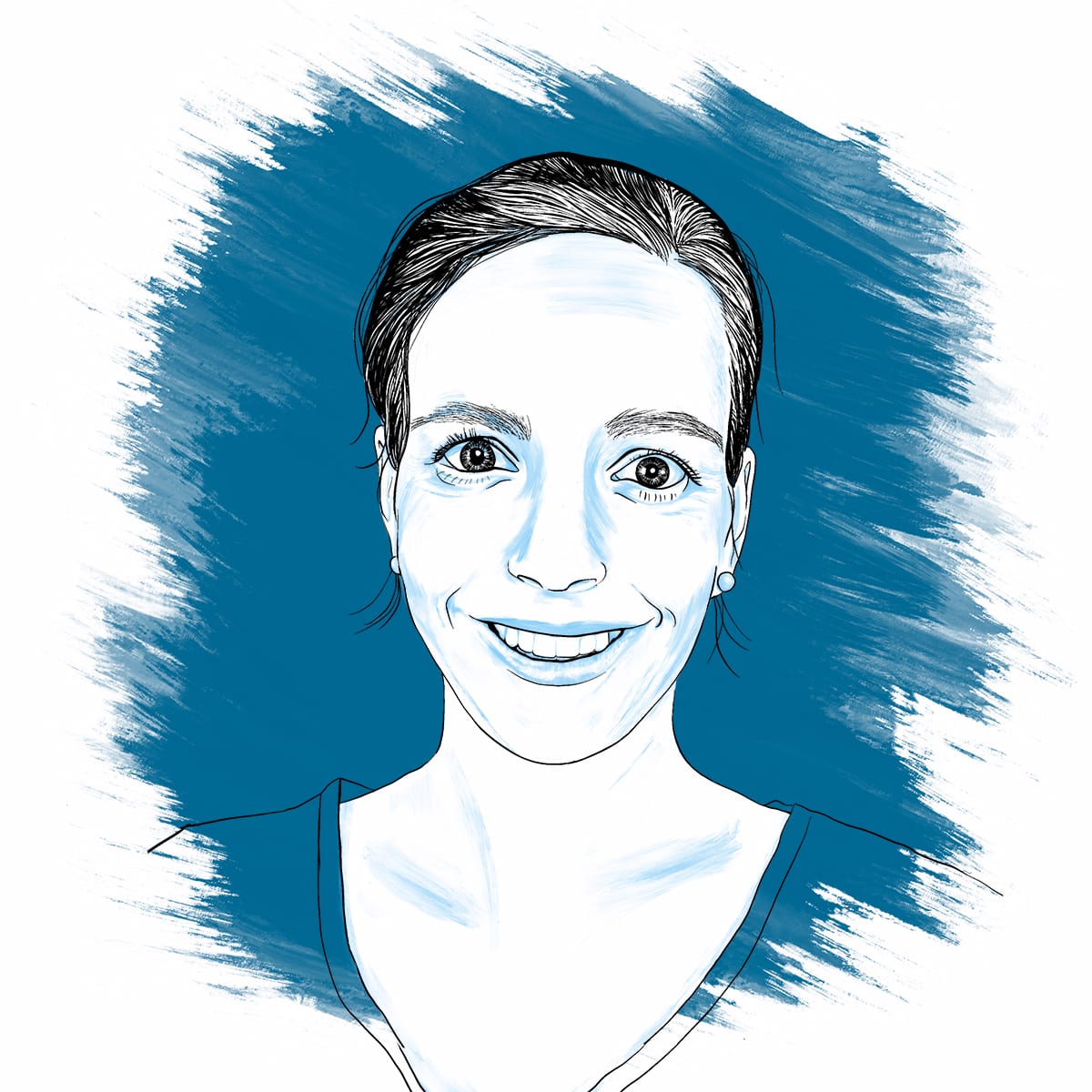 Svenja Ryan
Physical Oceanographer, Postdoc, Ummenhofer Lab
As a physical oceanographer, I often have people ask me, "So how does your research affect my life right now?" Often, you can't say anything other than, "It might affect your life in 50-100 years." But with marine heatwaves, the current subject of my research at WHOI, you can draw more immediate connections to society.
Similar to atmospheric heatwaves, these are discrete events where regions of the ocean experience above-average temperatures (sometimes lasting years). A few of these events have had drastic effects on the ecosystems that give us food and support our economies. Just off our doorstep in New England in 2012, there was an unprecedented marine heatwave that led to massive problems in the local lobster fishery. Because temperatures started to warm up very early in the season, the lobster landing came unexpectedly. The supply chain couldn't handle it, and the price of lobster dropped precipitously, throwing the whole economy for a loop.
In a way, these phenomena give us a glimpse at a more permanent future if we don't manage the effects of climate change.
Interviewed by Daniel Hentz
Biology
WHOI Perspectives
Pollution