Ocean Science Discovery Center & Store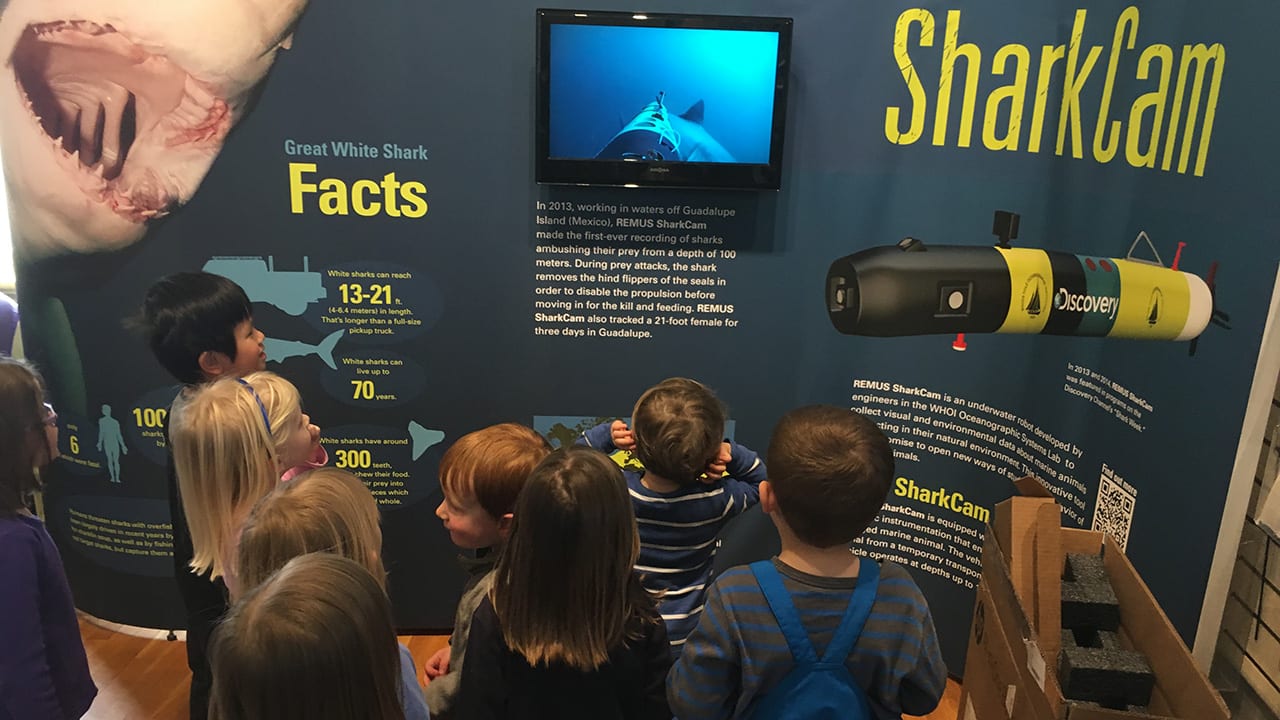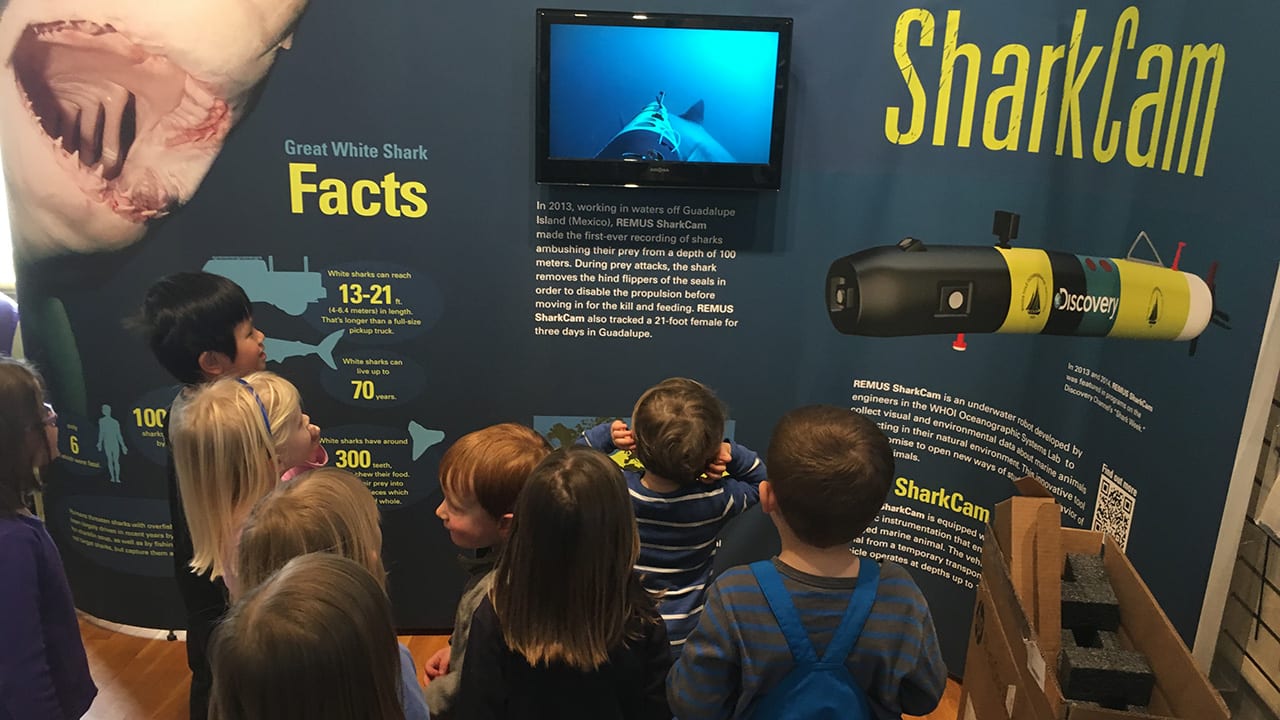 Visitors to the WHOI Ocean Science Discovery Center learn about the Institution's ocean science research, engineering, and exploration.
Learn about the vessels, vehicles, and tools developed and used by WHOI to explore our ocean
Explore our exhibits about the discovery and exploration of the Titanic
Learn about the plight of the North Atlantic Right Whale
Discover the Ocean Twilight Zone, a place where the largest migration on Earth happens daily!
See and touch REMUS SharkCam - an autonomous underwater vehicle used to observe great white sharks in their natural habitat
Climb inside a replica of the personnel sphere of Alvin, our deep-sea submersible, and imagine yourself exploring the ocean floor
And much, much more
School Group Visits
The WHOI Ocean Science Discovery Center welcomes school groups throughout the year for self-guided tours of our facility.  Our staff is available weekdays to provide a 15–20-minute presentation about WHOI to groups, if requested.  Most groups plan to spend about an hour at our Discovery Center and coordinate visits with our neighboring Woods Hole Village organizations to round-out an informative day in our unique, world-renowned town.  Reservations for all groups are required.  Please contact Megan Harrigan at mharrigan@whoi.edu.
There are other organizations in the village of Woods Hole (within walking distance of the WHOI Discovery Center) that you may want to visit.  All organizations are independent - please contact each for the most up-to-date information:
Splash Lab
A fun, hands-on opportunity for folks to learn about ocean science in an informal environment.  Drop by and do an experiment with our volunteer docents on Wednesdays and Thursdays in July and August from 1-3pm on the patio of the Discovery Center (15 School Street).  Drop-in activity—plan to stay for 10-20 minutes.  Fun for all ages.
Ask a Scientist/ Ask an Engineer
Interested in asking a WHOI scientist or engineer a question?  Take a minute to stop by and speak with current WHOI scientists and engineers in a variety of fields about their research.  This is held on Tuesdays in July and August from noon-2:00 pm on the Redfield Laboratory Patio (45 Water Street).
Summer Walking Tours
In July and August, knowledgeable WHOI volunteers guide visitors on free walking tours through the WHOI dock area and other restricted village facilities.
Launched from the WHOI Visitor Center at 93 Water Street in the center of Woods Hole village, the tours take approximately one hour and provide background on the research conducted at WHOI and on the history of the Institution. Tours are available, Monday through Friday at 10:30 a.m. and again at 1:30 p.m. Space is limited, and reservations are required. You can make a reservation HERE. Tours are recommended for a teenage to an adult audience
PLEASE NOTE: Due to the high volume of visitors during the summer months, we cannot accommodate any special groups beyond our regularly scheduled tours (10:30 a.m. & 1:30 p.m.).
Gift Shop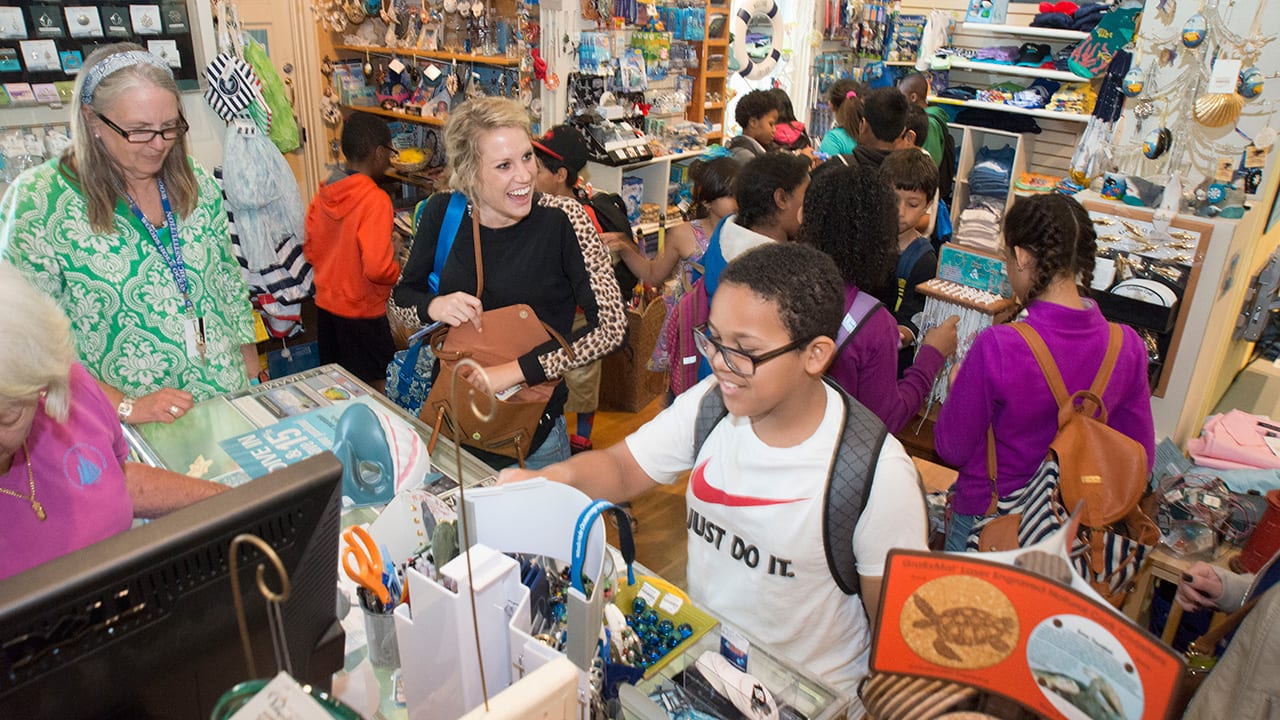 The WHOI Gift Shop carries a large assortment of quality merchandise including hats, shirts, sweatshirts, books, educational toys and jewelry. All proceeds from sales of merchandise help support WHOI's research, education, and outreach activities. Stop by the Gift Shop or visit us online.
Location, Hours & Directions
» View Directions & Maps to Village facilities
Location
15 School Street, MS#45
Woods Hole, MA 02543
Hours
November – Mid April: CLOSED for the season
Merchandise is also available for purchase at the Visitor Center Store.  For location and hours, please click HERE.
Parking Notice
Street parking in the village of Woods Hole is very limited and metered. We strongly encourage summer visitors to park at the shopping malls and free municipal lots in Falmouth and ride the WHOOSH trolley to the village of Woods Hole. The trolley is operated by the Cape Cod Regional Transit Authority (800-352-7155) and charges minimal fees.
» Learn more about public transportation available to and from Woods Hole