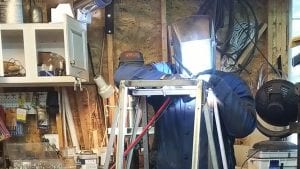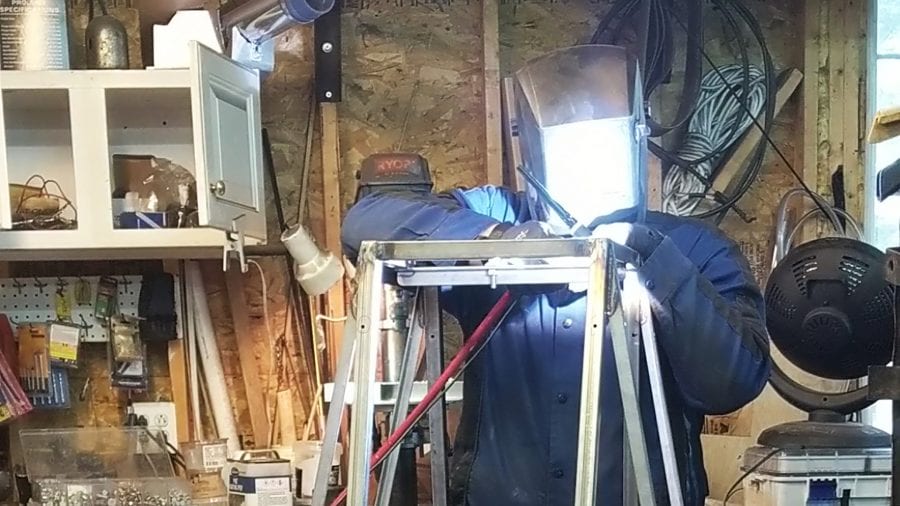 A marine chemist spends his time at home tinkering on a high-tech buoy in the basement, proving that being homebound doesn't mean you can't think big.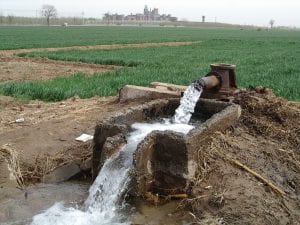 Low-to-mid latitude land surfaces at low elevation cooled on average by 5.8 ± 0.6⁰C during the Last Glacial Maximum (LGM), based on an analysis of noble gases dissolved in groundwater, according to a new study published in Nature.
Temperature estimates in the study are substantially lower than indicated by some notable marine and low-elevation terrestrial studies that have relied on various proxies to reconstruct past temperatures during the LGM, a period about 20,000 years ago that represents the most recent extended period of globally stable climate that was substantially cooler than present.
"The real significance of our paper is that prior work has badly underestimated the cooling in the last glacial period, which has low-balled estimates of the Earth's climate sensitivity to greenhouse gases," said paper co-author Jeffrey Severinghaus, a professor of geosciences at Scripps Institution of Oceanography, University of California San Diego. "The main reason that prior work was flawed was that it relied heavily on species abundances in the past. But just like humans, species tend to migrate to where the climate suits them. Think, for instance, of snowbirds moving from Canada to Arizona in winter. So, species aren't very good thermometers."
The paper does broadly support a recent marine proxy study by Tierney et al. published last year that found substantially greater low-latitude cooling than previous efforts and, in turn, suggested greater climate sensitivity than prior studies. That earlier paper suggested the equilibrium response of Earth's global-mean surface temperature is 3.4⁰C per doubling of atmospheric carbon dioxide, in line with the consensus range of estimates from state-of-the-art climate models, but somewhat higher than the usual best estimate of 3.0 °C.
"The rather high climate sensitivity that our results suggest is not good news regarding future global warming, which may be stronger than expected using previous best estimates. In particular, our global review reinforces the finding of several single noble gas case studies that the tropics were substantially cooler during the last glacial maximum than at present. The unpleasant implication for the future is that the warmest regions of the world are not immune to further heating," commented co-author Werner Aeschbach, a professor at the Institute of Environmental Physics, Heidelberg University, Heidelberg, Germany.
The paper made use of a technique in which measurements of noble gases dissolved in ancient groundwater enable direct and quantitative determination of past surface temperature. Noble gases in the atmosphere are chemically and biologically inactive and have no appreciable sinks or sources over the 40,000-year timescales relevant to this study. They dissolve into groundwater, and their equilibrium concentrations depend strongly on temperature. The authors compiled four decades worth of groundwater noble gas data from every continent except Antarctica, along with previously unpublished measurements from some key tropical locations to produce a global record of noble gas-derived temperatures (NGTs) of the LGM.
"Noble gas paleo temperature records are so powerful because they are based on a physical principle and are not much influenced by life-which always complicates everything- and short term extreme events." said journal article co-author Martin Stute, a professor in the Environmental Science Department at Barnard College and an adjunct senior research scientist at the Lamont-Doherty Earth Observatory. "They provide a temperature average over hundreds to thousands of years. It is remarkable, and rewarding for me, how consistent noble gas paleo temperature reconstructions are in low latitudes from the early studies that I led in the 1990s to the most recent ones."
The study bolsters the method of analyzing noble gases to reconstruct paleo temperatures and provides more confidence in climate models, according to the authors.
"Another key goal of our study was to evaluate the overall accuracy of the so-called 'noble gas paleo-thermometer' for reconstructing temperatures on land during the last glacial period. Naturally, our ability to confidently use this tool to understand the past is related to how well it works in the present. By comparing modern temperature observations to independent estimates using noble gases in relatively young groundwater, we found that the noble gas thermometer is remarkably accurate over a wide temperature range from around 2 to 33 ⁰C (36 to 91 ⁰F). This adds a good deal of confidence to our estimates of cooling during the LGM," said the paper's lead author, Alan Seltzer, an assistant scientist in the Marine Chemistry and Geochemistry Department at the Woods Hole Oceanographic Institution.
Seltzer added that the new analysis is important because climate models "provide an important tool that policy makers can use to decide on how to prepare for future environmental changes. This study alleviates the concern that, based on LGM proxy data, models might over-predict the global mean temperature response to carbon dioxide. In fact, based on both our study and the recent marine-proxy compilation, it is becoming clear that paleoclimate proxies and models are in agreement."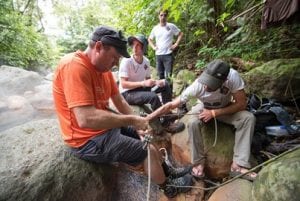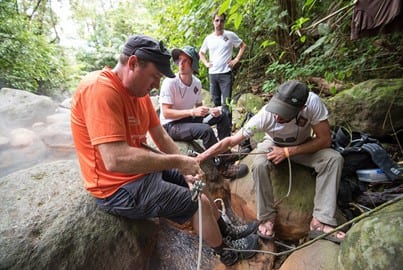 Violent continental collisions and volcanic eruptions are not things normally associated with comfortable conditions for life. However, a new study, coauthored by Peter Barry, assistant scientist at the Woods Hole Oceanographic Institution, along with University of Tennessee, Knoxville, Associate Professor of Microbiology Karen Lloyd, unveils a large microbial ecosystem living deep within the earth that is fueled by chemicals produced during these tectonic cataclysms.
When oceanic and continental plates collide, one plate is pushed down, or subducted, into the mantle and the other plate is pushed up and studded with volcanoes. This is the main process by which chemical elements are moved between Earth's surface and interior and eventually recycled back to the surface.
"Subduction zones are fascinating environments-they produce volcanic mountains and serve as portals for carbon moving between the interior and exterior of Earth," said Maarten de Moor, associate professor at the National University of Costa Rica and another coauthor of the study.
Normally this process is thought to occur outside the reach of life because of the extremely high pressures and temperatures involved. Although life almost certainly does not exist at the extreme conditions where Earth's mantle mixes with the crust to form lava, in recent decades scientists have learned that microbes extend far deeper into Earth's crust than previously thought.
This opens the possibility for discovering previously unknown types of biological interactions occurring with deep plate tectonic processes.
An interdisciplinary and international team of scientists has shown that a vast microbial ecosystem primarily eats the carbon, sulfur, and iron chemicals produced during the subduction of the oceanic plate beneath Costa Rica. The team obtained these results by sampling the deep subsurface microbial communities that are brought to the surface in natural hot springs, in work funded by the Deep Carbon Observatory and the Alfred P. Sloan Foundation.
The team found that this microbial ecosystem sequesters a large amount of carbon produced during subduction that would otherwise escape to the atmosphere. The process results in an estimated decrease of up to 22 percent in the amount of carbon being transported to the mantle.
"This work shows that carbon may be siphoned off to feed a large ecosystem that exists largely without input from the sun's energy. This means that biology might affect carbon fluxes in and out of the earth's mantle, which forces scientists to change how they think about the deep carbon cycle over geologic time scales," said WHOI's Barry.
The team found that these microbes-called chemolithoautotrophs-sequester so much carbon because of their unique diet, which allows them to make energy without sunlight.
"Chemolithoautotrophs are microbes that use chemical energy to build their bodies. So, they're like trees, but instead of using sunlight they use chemicals," said Lloyd, a co-corresponding author of the study. "These microbes use chemicals from the subduction zone to form the base of an ecosystem that is large and filled with diverse primary and secondary producers. It's like a vast forest, but underground."
This new study suggests that the known qualitative relationship between geology and biology may have significant quantitative implications for our understanding of how carbon has changed through deep time. "We already know of many ways in which biology has influenced the habitability of our planet, leading to the rise in atmospheric oxygen, for example," said Donato Giovannelli, a professor at the University of Naples Federico II and co-corresponding author of the study. "Now our ongoing work is revealing another exciting way in which life and our planet coevolved."
Image caption: Scientists, including WHOI's Peter Barry (front left) set up gas sampling apparatus. Credit: Tom Owens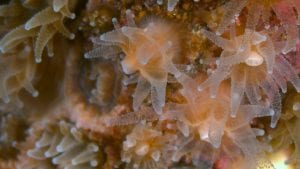 Northern Star Coral Study Could Help Protect Tropical Corals
Rhode Island Considers Naming the Local Coral as a State Emblem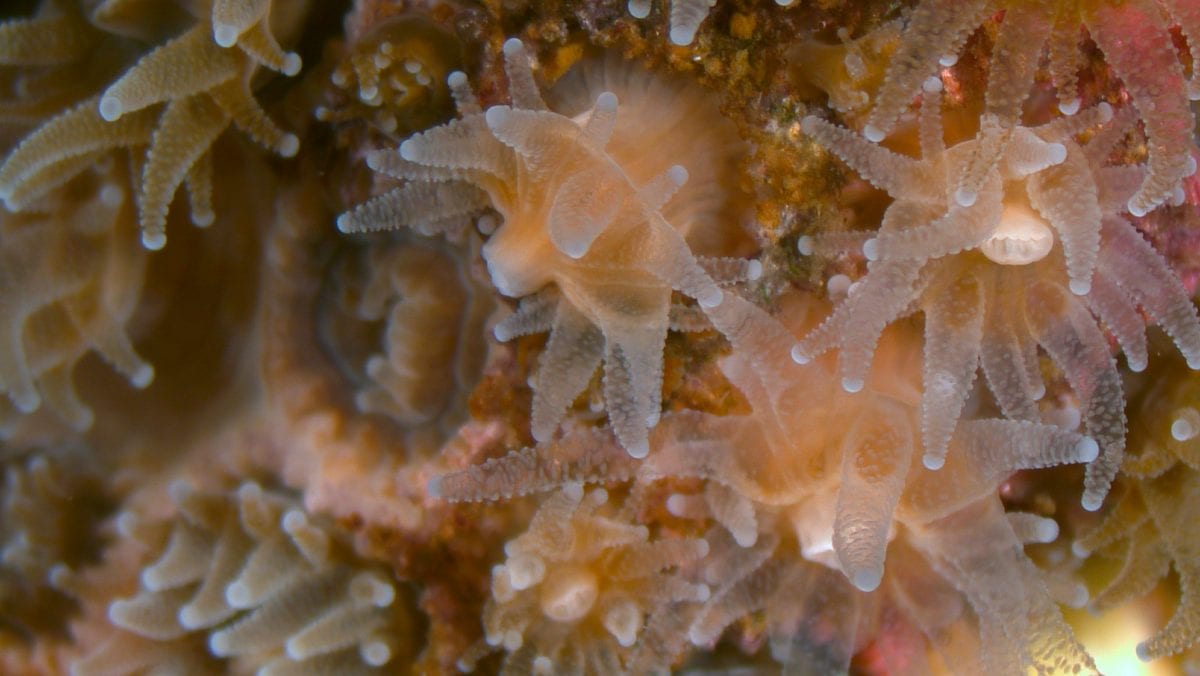 Close-up of a Northern Star Coral (Astrangia poculata) colony taken from a microscope in the laboratory at Roger Williams University, Rhode Island. Credit: Alicia Schickle
As the Rhode Island legislature considers designating the Northern Star Coral an official state emblem, researchers are finding that studying this local creature's recovery from a laboratory-induced stressor could help better understand how to protect endangered tropical corals.
A new study published today in mSystems, a journal of the American Society for Microbiology, investigates antibiotic-induced disturbance of the coral (Astrangia poculata) and shows that antibiotic exposure significantly altered the composition of the coral's mucus bacterial microbiome, but that all the treated corals recovered in two weeks in ambient seawater.
The stony Northern Star Coral naturally occurs off the coast of Rhode Island and other New England states in brown colonies with high (symbiotic) densities and in white colonies with low (aposymbiotic) densities of a symbiotic dinoflagellate alga. The study found that those corals with algal symbionts – organisms that are embedded within the coral's tissue and are required by tropical corals to survive – recovered their mucus microbiomes more consistently and more quickly.
The study also identified six bacterial taxa that played a prominent role in reassembling the coral back to its healthy microbiome. This is the first microbiome manipulation study on this coral.
"The work is important because it suggests that this coral may be able to recover its mucus microbiome following disturbance, it identifies specific microbes that may be important to assembly, and it demonstrates that algal symbionts may play a previously undocumented role in the microbial recovery and resilience to environmental change," the paper states.
With thermal bleaching and disease posing major threats to tropical corals, this research, along with other work on tropical corals, "provides a major step toward identifying the microbiome's roles in maintaining coral resilience," the paper notes.
"We think that the algae are helping the coral select the microbes that live with it, and this suggestion of symbiont-microbe coordination following disturbance is a new concept for corals," said paper co-author Amy Apprill, associate scientist at the Woods Hole Oceanographic Institution.
"Worldwide, coral reefs are in crisis. Any time we see corals recover, that's always good news. It shows that they can combat a stressor and figure out how to become healthy again," said Apprill. "What we found here is translatable to tropical corals which are faced with different stressors, such as warming water, disease, and pollution. This paper suggests that the symbiotic algae play a major role in providing consistency and resilience to the coral microbiome."
"When we think about corals, it's usually assumed that we're thinking about the tropics and the bright blue water and where it's warm, sunny, and sandy. However, the Northern Star Coral lives in murkier and much colder waters, yet it can still teach us a lot about expanding our understanding of corals," said lead author Shavonna Bent, a student in the MIT-WHOI Joint Program in Oceanography/Applied Ocean Science and Engineering.
The Northern Star Coral is an ideal emblem for Rhode Island, said co-author Koty Sharp. The coral is small like the state; it's New England-tough in dealing with large temperature fluctuations; and it's a local, offering plenty of insight that can help address global problems, said paper co-author Koty Sharp, an associate professor at Roger Williams University who is leading the effort for official designation of the coral.
Committees from both the Rhode Island House and Senate have held hearings on the proposed legislation. The Senate has approved the bill, and the House could vote on it in the coming month. Assuming the House also approves the bill, it will be sent to Rhode Island Gov. Daniel McKee for signing into law.
Sharp said the designation effort has a big educational component. "If designating this as a state emblem allows us to teach more people about the power of basic research to support conservation, or if this allows us to teach a generation of school children about the local animals that live around them, then this state coral will have a great deal of value," she said.
1Woods Hole Oceanographic Institution, Woods Hole, MA, USA
2 Johnson State College, Johnson, VT, USA
3Roger Williams University, Bristol, RI, USA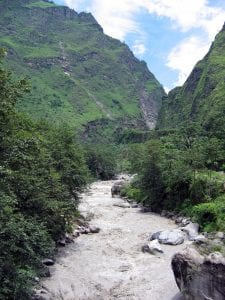 The vast reservoir of carbon that is stored in soils probably is more sensitive to destabilization from climate change than has previously been assumed, according to a new study by researchers at WHOI and other institutions.
The study found that the biospheric carbon turnover within river basins is vulnerable to future temperature and precipitation perturbations from a changing climate.
Although many earlier, and fairly localized, studies have hinted at soil organic carbon sensitivity to climate change, the new research sampled 36 rivers from around the globe and provides evidence of sensitivity at a global scale.
"The study results indicate that at the large ecosystem scale of river basins, soil carbon is sensitive to climate variability," said WHOI researcher Timothy Eglinton, co-lead author of the paper in the Proceedings of the National Academy of Sciences of the United States of America. "This means that changing climate, and particularly increasing temperature and an invigorated hydrological cycle, may have a positive feedback in terms of returning carbon to the atmosphere from previously stabilized pools of carbon in soils."
The public is generally aware that climate change can potentially destabilize and release permafrost carbon into the atmosphere and exacerbate global warming. But the study shows that this is true for the entire soil carbon reservoir, said WHOI researcher Valier Galy, the other co-lead author of the study.
The soil carbon reservoir is a key component in keeping the atmosphere in check in terms of how much carbon dioxide is in the air. The amount of carbon stored in terrestrial vegetation and soils is three times more than how much the atmosphere holds, and it consumes more than a third of the anthropogenic carbon that is emitted to the atmosphere.
To determine the sensitivity of terrestrial carbon to destabilization from climate change, researchers measured the radiocarbon age of some specific organic compounds from the mouths of a diverse set of rivers. Those rivers—including the Amazon, Ganges, Yangtze, Congo, Danube, and Mississippi—account for a large fraction of the global discharge of water, sediments and carbon from rivers to the oceans.
Terrestrial carbon, however, is not so simple to isolate and measure. That's because carbon in rivers comes from a variety of sources, including rocks, organic contaminants such as domestic sewage or petroleum that differ widely in their age, and vegetation. To determine what's happening within the rivers' watersheds, and to measure radiocarbon from the terrestrial biosphere, researchers focused on two groups of compounds: the waxes of plant leaves that serve a protective function for the plants' leaf surface and lignin, which is the woody "scaffolding" of land plants.
Taking these measurements showed a relationship between the age of the terrestrial carbon in the rivers and the latitude where the rivers reside, researchers found. That latitudinal relationship prompted researchers to infer that climate must be a key control in the age of the carbon that is exported from the terrestrial biosphere to these rivers, and that temperature and precipitation are primary controls on the age of that carbon.
"Why this study is powerful is because this large number of rivers, the wide coverage, and the wide range of catchment properties give a very clear picture of what's happening at the global scale," said Galy.  "You could imagine that by going after lots of rivers, we would have ended up with a very complicated story. However, as we kept adding new river systems to the study, the story was fairly consistent."
"In many respects, Earth scientists see rivers as being a source signal that is sent to sedimentary records that we can interpret," said Eglinton. "By going to sedimentary records, we have the opportunity to look at how the terrestrial biosphere has responded to climate variability in the past. In addition, by monitoring rivers in the present day, we can also use them as sentinels in order to assess how these watersheds may be changing."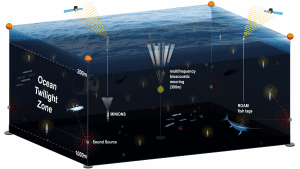 The ocean twilight zone, a dimly lit region roughly 200–1000 meters (650–3200 feet) below the surface, contains the largest amount of fish biomass on Earth—yet it remains largely unexplored by scientists. A new observation network under development by the Woods Hole Oceanographic Institution (WHOI) seeks to change that. Encompassing 250,000 square kilometers (roughly 155,300 square miles) of the northwest Atlantic Ocean, the network will collect around-the-clock data about the twilight zone over months or even years, offering unprecedented insight into this little-known, yet vitally important region of the sea.
"It will cover a really huge piece of the ocean," says WHOI ocean ecologist Simon Thorrold, a Principal Investigator for the network. "We're used to going out for several weeks on a research vessel to study just a small area, and returning there maybe once or twice a year if we're lucky," Thorrold says. "Now, we'll be able to get continuous measurements from a large chunk of the ocean twilight zone over significant periods of time. It's very exciting."
The network will give scientists a comprehensive view of the twilight zone, or mesopelagic, using several different technologies including moored buoys equipped with acoustic survey systems; a swarm of optical and geochemical sensors; and new fish-tracking tags that will continuously record the position of major predators such as sharks and tuna. All of these components will connect to the network's buoys using acoustic signals underwater and an Iridium satellite link at the surface.
The information provided by the network will improve estimates of the density and distribution of fish and invertebrates in the twilight zone, reveal new insights about their interactions and daily migrations to and from the surface—and help fuel new strategies for conservation and policy making. The network will also help researchers better understand how the twilight zone affects carbon cycling and global climate, says WHOI marine radiochemist Ken Buesseler.
"Plankton—tiny plant-like organisms—at the surface remove carbon dioxide from the atmosphere as they grow," Buesseler says. "When animals from the twilight zone migrate up to feed on those plankton and then return back to deeper waters, they take that carbon with them. The question is, how much does that natural cycle of life and death affect the amount of carbon that is sequestered in the deep ocean? And if humans start removing large numbers of fish from the twilight zone, how could that change?"
Buesseler compares the new observation network to a "field of dreams."
"You build something like it, and all kinds of researchers will come and use it, because they've just never had the opportunity or infrastructure in place for them to be able to do these sorts of observations," Buesseler says.
Also collaborating on the project are WHOI scientists Andone Lavery and Dana Yoerger, and Melissa Omond from the University of Rhode Island.
Former WHOI President and Director Mark Abbott says it would be challenging to fund this kind of multidisciplinary, large-scale, long-term marine infrastructure through federal sources. Abbott was instrumental in planning the observation network during his tenure. Instead of going through traditional funding channels, he turned to German philanthropist Otto Happel, whose interest in WHOI's work in the ocean twilight zone led to a generous gift from the Happel Foundation.
"I think what's really exciting about Otto is his deep appreciation and understanding and curiosity about the science, the engineering, and how this informs ocean policy," Abbott says. "He's concerned about all the changes we're seeing in the marine environment, and he wants to fund work that enables people to make better decisions about the ocean."
The Happel Foundation's support will enable WHOI's ocean twilight zone research team to turn their plans for an observation network into a reality. Work is already underway on sensors and other network components.
"The ocean always has been my passion, in many respects," Happel says. "I'm thrilled that with a relatively small amount of funding, we can start to answer questions about it that may be vital to changing how we operate and how we live in this world."
The Woods Hole Oceanographic Institution (WHOI) is a private, non-profit organization on Cape Cod, Massachusetts, dedicated to marine research, engineering, and higher education. Established in 1930, its primary mission is to understand the ocean and its interaction with the Earth as a whole, and to communicate an understanding of the ocean's role in the changing global environment. WHOI's pioneering discoveries stem from an ideal combination of science and engineering—one that has made it one of the most trusted and technically advanced leaders in basic and applied ocean research and exploration anywhere. WHOI is known for its multidisciplinary approach, superior ship operations, and unparalleled deep-sea robotics capabilities. We play a leading role in ocean observation, and operate the most extensive suite of data-gathering platforms in the world. Top scientists, engineers, and students collaborate on more than 800 concurrent projects worldwide—both above and below the waves—pushing the boundaries of knowledge and possibility. For more information, please visit www.whoi.edu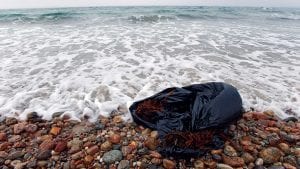 Paper finds ocean pollution is a complex mix of chemicals and materials, primarily land-based in origin, with far-reaching consequences for environmental and human health, but there are options available for world leaders
For centuries, the ocean has been viewed as an inexhaustible receptacle for the byproducts of human activity. Today, marine pollution is widespread and getting worse and, in most countries, poorly controlled with the vast majority of contaminants coming from land-based sources. That's the conclusion of a new study by an international coalition of scientists taking a hard look at the sources, spread, and impacts of ocean pollution worldwide.
The study is the first comprehensive examination of the impacts of ocean pollution on human health. It was published December 3 in the online edition of the Annals of Global Health and released the same day at the Monaco International Symposium on Human Health & the Ocean in a Changing World, convened in Monaco and online by the Prince Albert II de Monaco Foundation, the Centre Scientifique de Monaco and Boston College.
"This paper is part of a global effort to address questions related to oceans and human health," said Woods Hole Oceanographic Institution (WHOI) toxicologist and senior scientist John Stegeman who is second author on the paper. "Concern is beginning to bubble up in a way that resembles a pot on the stove. It's reaching the boiling point where action will follow where it's so clearly needed."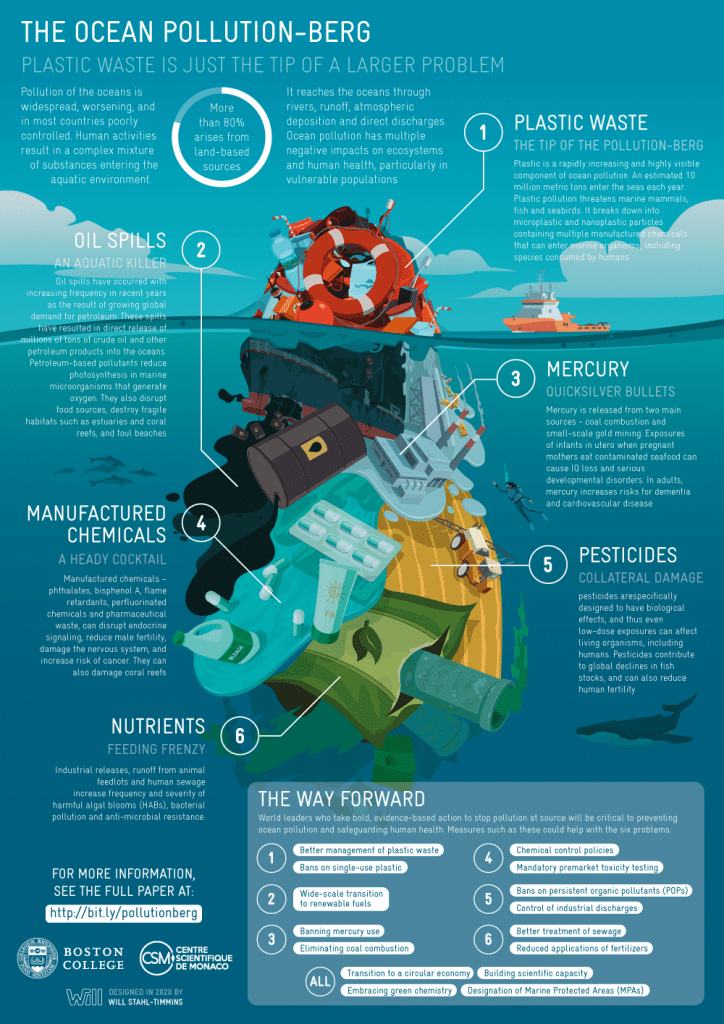 Despite the ocean's size—more than two-thirds of the planet is covered by water—and fundamental importance supporting life on Earth, it is under threat, primarily and paradoxically from human activity. The paper, which draws on 584 peer-reviewed scientific studies and independent reports, examines six major contaminants: plastic waste, oil spills, mercury, manufactured chemicals, pesticides, and nutrients, as well as biological threats including harmful algal blooms and human pathogens.
It finds that ocean chemical pollution is a complex mix of substances, more than 80% of which arises from land-based sources. These contaminants reach the oceans through rivers, surface runoff, atmospheric deposition, and direct discharges and are often heaviest near the coasts and most highly concentrated along the coasts of low- and middle-income countries. Waters most seriously impacted by ocean pollution include the Mediterranean Sea, the Baltic Sea, and Asian rivers. For the many ocean-based ecosystems on which humans rely, these impacts are exacerbated by global climate change. According to the researchers, all of this has led to a worldwide human health impacts that fall disproportionately on vulnerable populations in the Global South, making it a planetary environmental justice problem, as well.
In addition to Stegeman, who is also director of the NSF- and NIH-funded Woods Hole Center for Oceans and Human Health, WHOIbiologists Donald Anderson and Mark Hahn, and chemist Chris Reddy also contributed to the report. Stegeman and the rest of the WHOI team worked on the analysis with researchers from Boston College's Global Observatory on Pollution and Health, directed by the study's lead author and Professor of Biology Philip J. Landrigan, MD. Anderson led the report's section on harmful algal blooms, Hahn contributed to a section on persistent organic pollutants (POPs) with Stegeman, and Reddy led the section on oil spills. The Observatory, which tracks efforts to control pollution and prevent pollution-related diseases that account for 9 million deaths worldwide each year, is a program of the new Schiller Institute for Integrated Science and Society, part of a $300-million investment in the sciences at BC. Altogether, over 40 researchers from institutions across the United States, Europe and Africa were involved in the report.
In an introduction printed in Annals of Global Health, Prince Albert of Monaco points out that their analysis, in addition to providing a global wake-up, serves as a call to mobilize global resolve to curb ocean pollution and to mount even greater scientific efforts to better understand its causes, impacts, and cures.
"The link between ocean pollution and human health has, for a long time, given rise to very few studies," he says. "Taking into account the effects of ocean pollution—due to plastic, water and industrial waste, chemicals, hydrocarbons, to name a few—on human health should mean that this threat must be permanently included in the international scientific activity."
The report concludes with a series of urgent recommendations. It calls for eliminating coal combustion, banning all uses of mercury, banning single-use plastics, controlling coastal discharges, and reducing applications of chemical pesticides and fertilizers. It argues that national, regional and international marine pollution control programs must extend to all countries and where necessary supported by the international community. It calls for robust monitoring of all forms of ocean pollution, including satellite monitoring and autonomous drones. It also appeals for the formation of large, new marine protected areas that safeguard critical ecosystems, protect vulnerable fish stocks, and ultimately enhance human health and well-being.
Most urgently, the report calls upon world leaders to recognize the near-existential threats posed by ocean pollution, acknowledge its growing dangers to human and planetary health, and take bold, evidence-based action to stop ocean pollution at its source.
"The key thing to realize about ocean pollution is that, like all forms of pollution, it can be prevented using laws, policies, technology, and enforcement actions that target the most important pollution sources," said Professor Philip Landrigan, MD, lead author and Director of the Global Observatory on Pollution on Health and of the Global Public Health and the Common Good Program at Boston College. "Many countries have used these tools and have successfully cleaned fouled harbors, rejuvenated estuaries, and restored coral reefs. The results have been increased tourism, restored fisheries, improved human health, and economic growth. These benefits will last for centuries."
The report is being released in tandem with the Declaration of Monaco: Advancing Human Health & Well-Being by Preventing Ocean Pollution, which was read at the symposium's closing session. Endorsed by the scientists, physicians and global stakeholders who participated in the symposium in-person and virtually, the declaration summarizes the key findings and conclusions of the Monaco Commission on Human Health and Ocean Pollution. Based on the recognition that all life on Earth depends on the health of the seas, the authors call on leaders and citizens of all nations to "safeguard human health and preserve our Common Home by acting now to end pollution of the ocean."
"This paper is a clarion call for all of us to pay renewed attention to the ocean that supports life on Earth and to follow the directions laid out by strong science and a committed group of scientists," said Rick Murray, WHOI Deputy Director and Vice President for research and a member of the conference steering committee. "The ocean has sustained humanity throughout the course of our evolution—it's time to return the favor and do what is necessary to prevent further, needless damage to our life planetary support system."
Funding for this work was provided in part by the U.S. Oceans and Human Health Program (NIH grant P01ES028938 and National Science Foundation grant OCE-1840381), the Centre Scientifique de Monaco, the Prince Albert II of Monaco Foundation, the Government of the Principality of Monaco, and Boston College.
###
The Woods Hole Oceanographic Institution (WHOI) is a private, non-profit organization on Cape Cod, Massachusetts, dedicated to marine research, engineering, and higher education. Established in 1930, its primary mission is to understand the ocean and its interaction with the Earth as a whole, and to communicate an understanding of the ocean's role in the changing global environment. WHOI's pioneering discoveries stem from an ideal combination of science and engineering—one that has made it one of the most trusted and technically advanced leaders in basic and applied ocean research and exploration anywhere. WHOI is known for its multidisciplinary approach, superior ship operations, and unparalleled deep-sea robotics capabilities. We play a leading role in ocean observation, and operate the most extensive suite of data-gathering platforms in the world. Top scientists, engineers, and students collaborate on more than 800 concurrent projects worldwide—both above and below the waves—pushing the boundaries of knowledge and possibility. For more information, please visit www.whoi.edu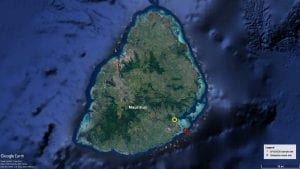 When the Japanese bulk carrier MV Wakashio struck a coral reef off the coast of Mauritius on July 25, 2020, and began leaking fuel oil two weeks later, local residents and the international community sprang into action to protect the pristine habitats that fringe the Indian Ocean nation. But they did so without insight from careful chemical analysis, which is customary after spills to help guide short and long-term response plans and protects the health of people facing such a spill.
Now the first ultra-high-resolution analysis of an oil sample from Mauritius shows that the material is a complex and unusual mix of hydrocarbons—and even though some of the components in it may have already degraded or evaporated, what remains still gives it the ability to persist in the environment. That is the conclusion of marine oil spill experts Chris Reddy and Bob Nelson at the Woods Hole Oceanographic Institution (WHOI), who are collaborating with Professor Kliti Grice, Director of the Western Australian Organic Isotope Geochemistry Centre (WA-OIGC) and Associate Professor Monique Gagnon and Alan Scarlett at Curtin University in Perth, Australia. Both teams analyzed a sample of floating residue collected August 16.  They subjected it to many of the same analytical techniques used to "fingerprint" samples from other large spills around the world.
The two teams use comprehensive two-dimensional gas chromatography (GC×GC), complemented by compound-specific isotope analyses to identify compounds specific to spilled oils. The analyses performed by the two laboratories provide some of the most highly advanced analytical services and scientific support to oil spill responders. They found their results were consistent with what they would expect from a sample of fuel oil, which is a non-standardized mix of petroleum products that ships often use to run their engines. In recent years, calls to improve air quality around ports has driven the industry to adopt new low-sulfur formulations that reduce emissions. At the same time, however, the potential is rising for spills of this type, but the scientific community has yet to see what happens to these new low-sulfur fuels when they enter the environment.
Key Takeaways
Marine oil spill experts from Woods Hole Oceanographic Institution recently provided one of the first detailed oil sample analysis from the July 25 Mauritius oil spill.
WHOI worked with experts from the Western Australian Organic Isotope Geochemistry Centre (WA-OIGC) and Curtin University in Perth, Australia.
Their analysis shows that the material is a complex and unusual mix of hydrocarbons.
This type of analysis is the gold standard in oil spills—it's not only used to fingerprint the oil, but also to positively identify the constituent parts of an oil to figure out how to best fight a spill and guide short and long-term response plans while protecting the health of people facing such a spill.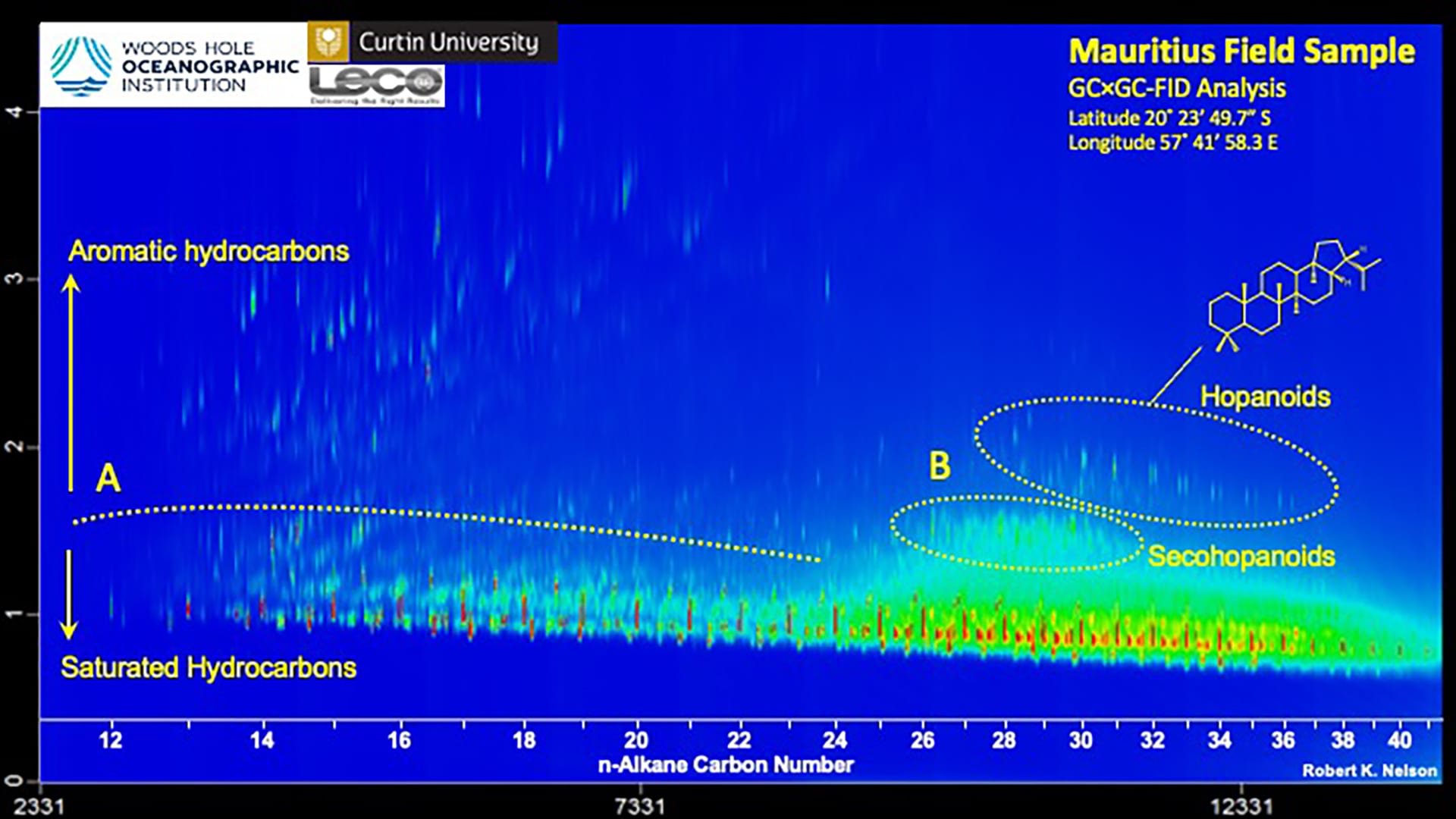 A comprehensive two-dimensional gas chromatography (GCxGC) of the fuel oil collected in Mauritius after the wreck of the ship Wakashio reveals (A) a relatively low ratio of aromatic hydrocarbons relative to saturated hydrocarbons, likely a result of the de-sulfurization process the fuel underwent; and (B) a high concentration of secohopanes compared to hopanes, which can be used to help "fingerprint" the sample and potentially identify the source of future samples. (Image by Bob Nelson, ©Woods Hole Oceanographic Institution)
"Fuel oils, are arguably the most challenging petroleum products to analyze and investigate following marine-based spills," said Reddy. "There is no single recipe or set of ingredients, and it gets even more complicated with these new low-sulfur fuel oils that require more steps in their manufacture. We don't know if this was a low-sulfur material, but it's unlike anything we've seen spilled before—that alone demands a closer look."
Analysis by WA-OIGC at Curtin and also confirmed by WHOI's Organic Geochemistry Analysis Lab showed that the sample contained relatively low levels of polycyclic aromatic hydrocarbons (PAHs), which are known carcinogens in humans and animals. Although low, the levels of PAHs might accumulate in certain parts of the marine environment. In addition, Reddy found a relatively high concentration and variety of secohopanes and surprisingly low levels of hopanes, both of which are "biomarkers" that will help connect future samples of oil to the Wakashio ship. These substances were present in minute amounts, but still detectable thanks to the technology available in the collaborating laboratories. Only comparison to a "fresh" sample taken from the ship would allow researchers to determine what has already been lost from the oil as a result of evaporation, dilution, photodegradation, and other effects.
"This was just a first step," said Grice. "Our limited view of what spilled only reinforces the need for long-term monitoring, access to samples from the ship, and a more in-depth analysis that officials can incorporate into detailed plans to help Mauritius and its environment recover from this."
The sample was acquired by Associate Professor Monique Gagnon at Curtin University. If members of the public have photos of oil and oiled material or other information, including photos of unoiled beaches and reefs, that might help Reddy and Grice and their research teams better understand the nature of the spill, they are welcome to email oilsamples@whoi.edu.
The Woods Hole Oceanographic Institution (WHOI) is a private, non-profit organization on Cape Cod, Massachusetts, dedicated to marine research, engineering, and higher education. Established in 1930, its primary mission is to understand the ocean and its interaction with the Earth as a whole, and to communicate an understanding of the ocean's role in the changing global environment. WHOI's pioneering discoveries stem from an ideal combination of science and engineering—one that has made it one of the most trusted and technically advanced leaders in basic and applied ocean research and exploration anywhere. WHOI is known for its multidisciplinary approach, superior ship operations, and unparalleled deep-sea robotics capabilities. We play a leading role in ocean observation, and operate the most extensive suite of data-gathering platforms in the world. Top scientists, engineers, and students collaborate on more than 800 concurrent projects worldwide—both above and below the waves—pushing the boundaries of knowledge and possibility. For more information, please visit www.whoi.edu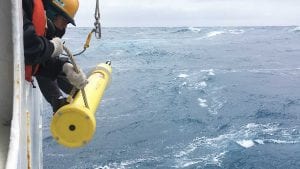 On October 29, 2020, the National Science Foundation approved a $53 million grant to a consortium of the country's top ocean-research institutions to build a global network of chemical and biological sensors that will monitor ocean health. Scientists at the Monterey Bay Aquarium Research Institute (MBARI), Woods Hole Oceanographic Institution (WHOI), University of Washington, Scripps Institution of Oceanography, and Princeton University will use this grant to build and deploy 500 robotic ocean-monitoring floats around the globe.
This new network of floats, called the Global Ocean Biogeochemistry Array (GO-BGC Array), will collect observations of ocean chemistry and biology between the surface and a depth of 2,000 meters (6,562 feet). Data streaming from the float array will be made freely available within a day of being collected, and will be used by scores of researchers, educators, and policy makers around the world.
These data will allow scientists to pursue fundamental questions about ocean ecosystems, observe ecosystem health and productivity, and monitor the elemental cycles of carbon, oxygen, and nitrogen in the ocean through all seasons of the year. Such essential data are needed to improve computer models of ocean fisheries and climate, and to monitor and forecast the effects of ocean warming and ocean acidification on sea life.
Although scientists can use Earth-orbiting platforms and research vessels to monitor the ocean, satellites can only monitor near-surface waters, and the small global fleet of open-ocean research ships can only remain at sea for relatively short periods of time. As a result, ocean-health observations only cover a tiny fraction of the ocean at any given time, leaving huge ocean regions unvisited for decades or longer.
A single robotic float costs the same as two days at sea on a research ship. But floats can collect data autonomously for over five years, in all seasons, including during winter storms, when shipboard work is limited.
Funding for the GO-BGC Array is provided through the NSF's Mid-scale Research Infrastructure-2 Program (MSRI-2). The GO-BGC Array is the National Science Foundation's contribution to the Biogeochemical-Argo (BGC-Argo) project. It extends biological and chemical observing globally, and builds on two ongoing efforts to monitor the ocean using robotic floats, both of which have been highly successful.
The first of these programs, the Argo array, consists of 3,900 robotic floats that drift through the deep ocean basins, providing information on temperature and salinity in the water column. Since its inception in 1999, Argo data have been used in 4,100 scientific papers. As the first global, subsurface ocean observing system, the Argo array has done an incredible job of measuring the physical properties of our ocean, but Argo floats do not provide information about the ocean's vital chemical and biological activity.
Starting in 2014, the Southern Ocean Carbon and Climate Observations and Modeling (SOCCOM) program deployed a large array of robotic "biogeochemical" floats, based on the Argo design, but carrying sensors to monitor the chemical and biological properties of the ocean. SOCCOM floats have operated for nearly six years in the remote, stormy, and often ice-covered Southern Ocean—arguably one of the harshest marine environments on Earth. These floats have already provided critical new information about how the Southern Ocean interacts with the Earth's atmosphere and winter sea ice.
Similar to the SOCCOM floats, the new GO-BGC floats will carry a number of sensors in addition to the core Argo sensors for temperature, depth, and salinity. These include instruments to measure oxygen concentration, pH (ocean acidity), nitrate (an essential nutrient for microscopic algae), sunlight (required for algal growth), chlorophyll (an indicator of algal populations), and particles in the water (including microscopic algae). Over the last few years, researchers have been testing, refining, and calibrating these sensitive instruments as part of the SOCCOM program and other international efforts.
The instruments on these floats will allow researchers to monitor the health of the ocean, including the growth and respiration of phytoplankton (drifting algae and microbes that use sunlight as a source of energy) and the nutrients and light that control these processes. In addition to supporting most of life in the ocean, including commercial fisheries, phytoplankton supply oxygen to and remove carbon dioxide from the ocean and the atmosphere. These microscopic plankton have huge impacts on our climate through their control on carbon dioxide. The new floats will also provide first-hand data on long-term changes in the ocean, including ocean acidification and the expansion of low-oxygen zones.
This five-year effort involves five research institutions. MBARI will coordinate the project, refine the sensors, take the lead in processing data from the floats, and perform outreach for the program. WHOI, the University of Washington, and the Scripps Institution of Oceanography,  will build and deploy floats in collaboration with commercial partners. Researchers at Princeton University will contribute to the array design and project management, and ensure that the data are linked to global computer models of the Earth's ocean and climate. This program will also have a significant impact on the ocean technology industry, including a number of commercial suppliers of ocean sensors and profiling floats.
A broad public-outreach program, including workshops, web-based curricula, and hands-on activities, will help scientists, teachers, students, and others use these data. In an expansion of the existing SOCCOM Adopt-A-Float program, the floats will be adopted by elementary- to college-level classes. Student activities will be developed through a partnership with the national Marine Advanced Technology Education program. In addition, courses based on GO-BGC technology will be offered through the The Sandbox, a makerspace at the Scripps Institution of Oceanography.
The researchers hope that GO-BGC will inspire other countries to contribute similarly instrumented floats, as part of the new global biogeochemical ARGO effort. Ideally, this expanded network would grow to a sustained array of 1,000 biogeochemical floats uniformly distributed around the world ocean, and spaced about 1,000 kilometers (620 miles) apart.
"Vast swaths of the Atlantic remain unmonitored with respect to ocean health, except for sporadic, infrequent research ship visits and widely spaced moored instruments," added Susan Wijffels, WHOI senior scientist and co-principal investigator of GO-BCG. "Based on what we know about the Atlantic's critical role in Earth's climate and other key planetary systems, we need to fill in those gaps."
"The GO-BGC Array will provide the scientific community with the unprecedented ability to take the pulse of ocean ecosystems and monitor the health of underlying chemical cycles on a global scale," said David "Roo" Nicholson, WHOI associate scientist and co-lead of GO-BCG at WHOI. "Such observations are critical to understanding how the ocean will respond to multiple, broad-scale stressors such as warming, acidification, and deoxygenation."
The Woods Hole Oceanographic Institution is a private, non-profit organization on Cape Cod, Mass., dedicated to marine research, engineering, and higher education. Established in 1930 on a recommendation from the National Academy of Sciences, its primary mission is to understand the ocean and its interaction with the Earth as a whole, and to communicate a basic understanding of the ocean's role in the changing global environment. For more information, please visit www.whoi.edu.
Key Takeaways
A five-year, $53 million grant from the National Science Foundation to a consortium of ocean-research institutions will build a global network of 500 robotic biochemical sensors.
The GO-BGC (Global Ocean Biogeochemistry) Array will be led by the Monterey Bay Aquarium Research Institute and include WHOI, the University of Washington, Scripps Institution of Oceanography, and Princeton University.
The array will measure critical indicators of ocean health, including temperature, salinity, oxygen concentration, pH, nitrate concentration, chlorophyll, and light levels from the surface to 2,000 meters depth.
WHOI's role will focus on the construction and deployment of floats in the Atlantic Ocean with academic and commercial partners.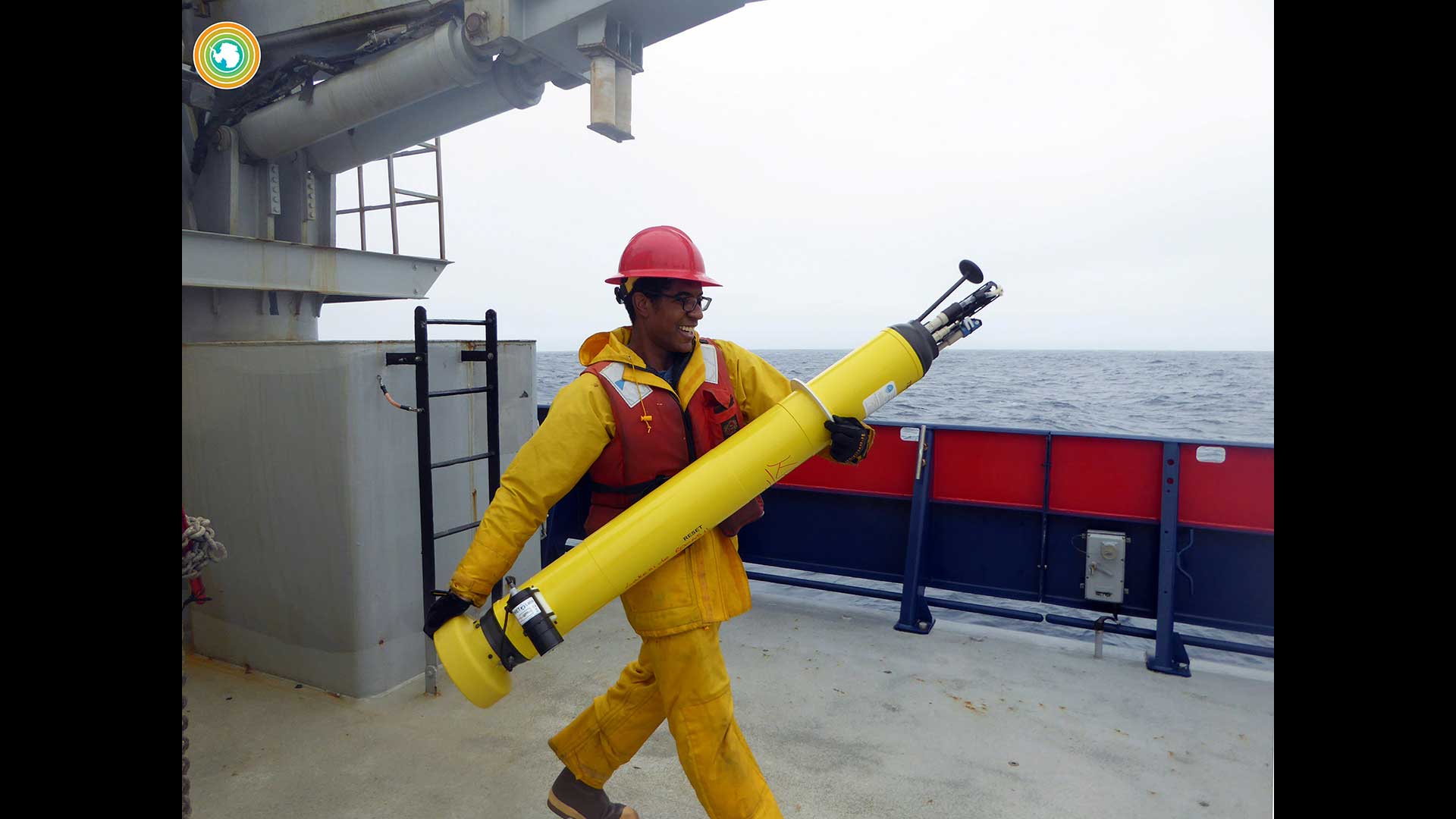 The GO-BGC array will be based on floats used in the SOCCOM (Southern Ocean Carbon and Climate Observations and Modeling) project like the one here being deployed in 2016. (Image courtesy of SOCCOM. SOCCOM is supported by the National Science Foundation under NSF Award PLR-1425989 and OPP-1936222)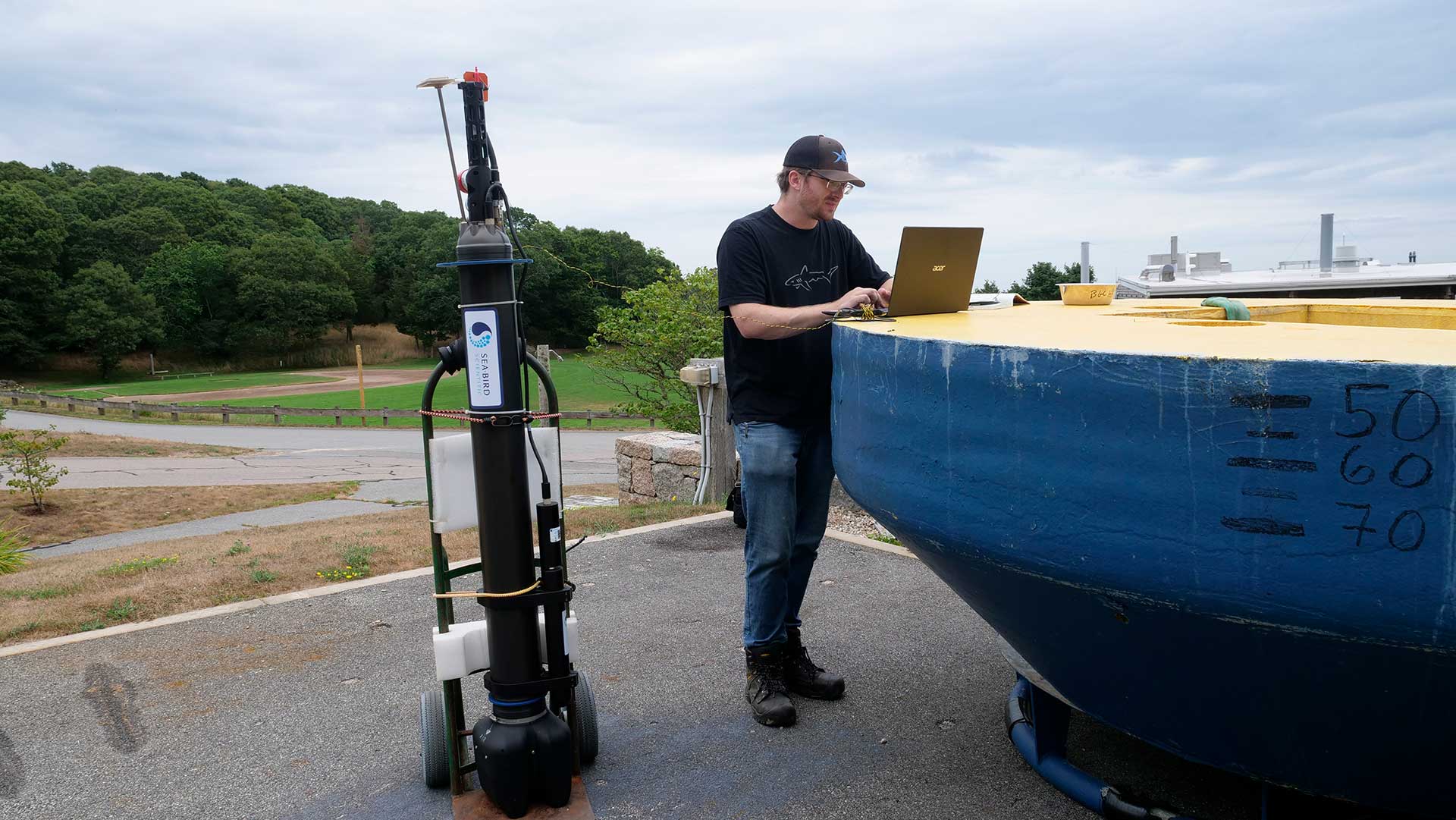 WHOI engineer Bill Dullea with one of the autonomous profiling floats that WHOI will help deploy in the Atlantic Ocean as part of the GO-BGC Array. (Photo by Ken Kostel, ©Woods Hole Oceanographic Institution)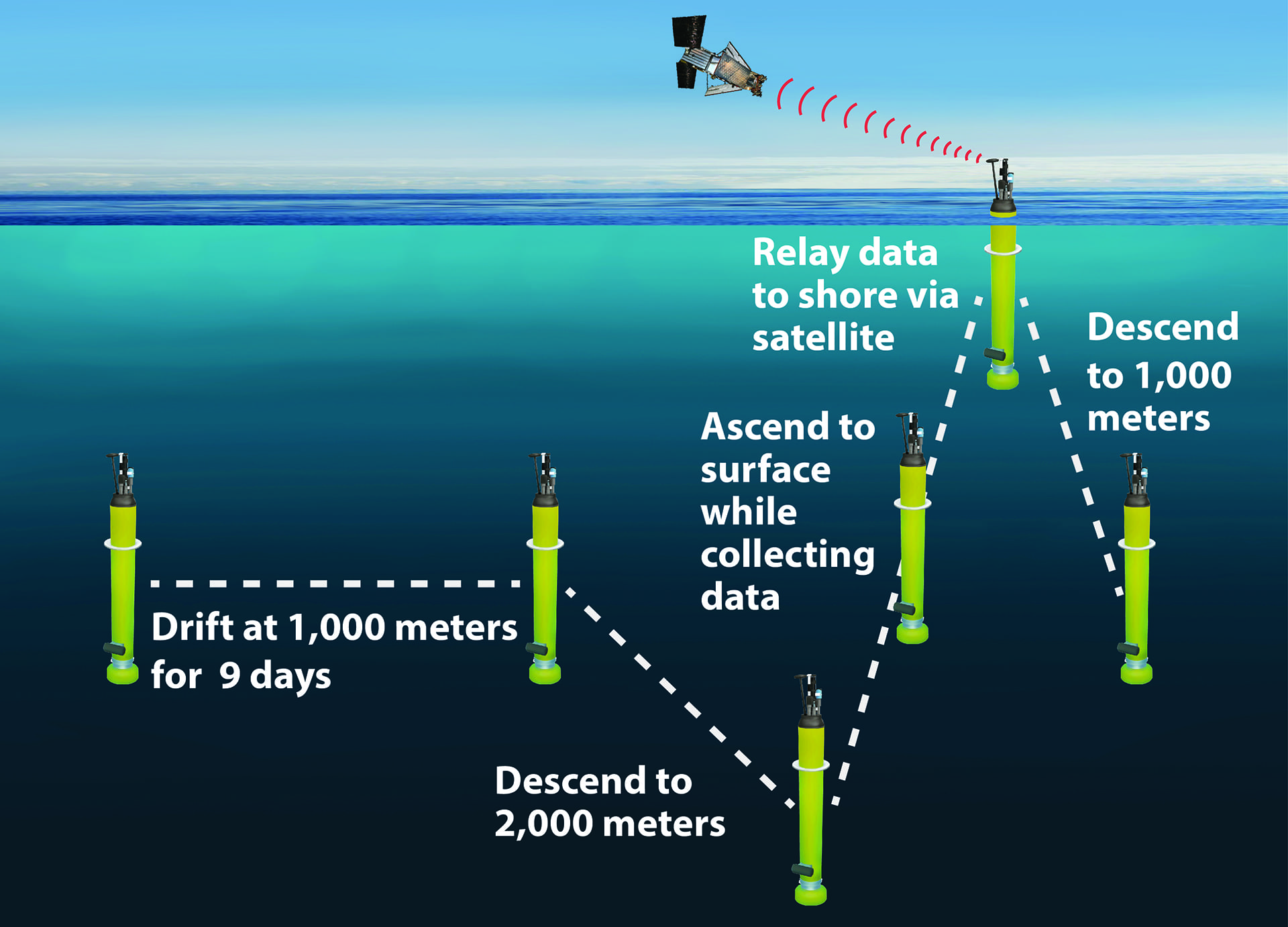 Illustration showing the operation of a typical Argo profiling float. (Image by Kim Fulton-Bennett, © 2020 MBARI)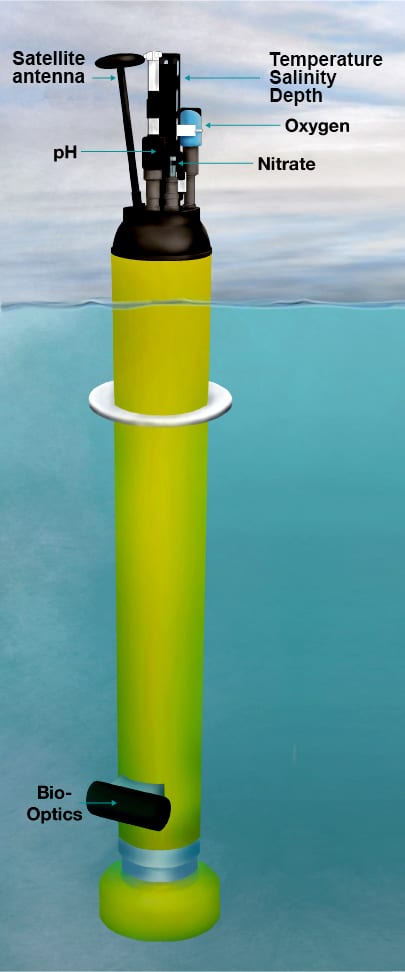 Configuration of a GO-BGC autonomous profiling float. (Illustration by Kelly Lance, ©2020 MBARI)
Additional Information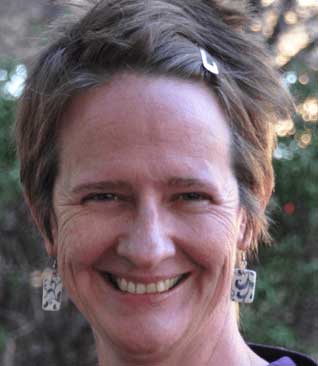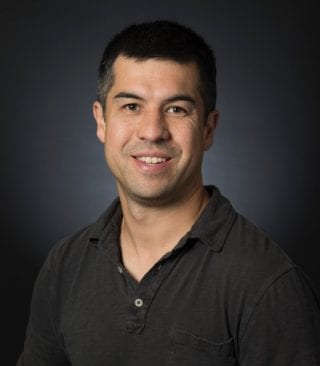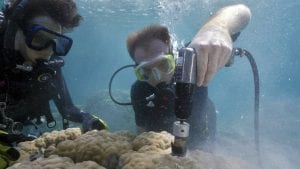 Scientists have long suspected that ocean acidification is affecting corals' ability to build their skeletons, but it has been challenging to isolate its effect from that of simultaneous warming ocean temperatures, which also influence coral growth. New research from the Woods Hole Oceanographic Institution (WHOI) reveals the distinct impact that ocean acidification is having on coral growth on some of the world's iconic reefs.
In a paper published Aug. 27, 2020, in the journal Geophysical Research Letters, researchers show a significant reduction in the density of coral skeleton along much of the Great Barrier Reef—the world's largest coral reef system—and also on two reefs in the South China Sea, which they attribute largely to the increasing acidity of the waters surrounding these reefs since 1950.
"This is the first unambiguous detection and attribution of ocean acidification's impact on coral growth," says lead author and WHOI scientist Weifu Guo. "Our study presents strong evidence that 20th century ocean acidification, exacerbated by reef biogeochemical processes, had measurable effects on the growth of a keystone reef-building coral species across the Great Barrier Reef and in the South China Sea. These effects will likely accelerate as ocean acidification progresses over the next several decades."
Roughly a third of global carbon dioxide emissions are absorbed by the ocean, causing an average 0.1 unit decline in seawater pH since the pre-industrial era. This phenomenon, known as ocean acidification, has led to a 20 percent decrease in the concentration of carbonate ions in seawater. Animals that rely on calcium carbonate to create their skeletons, such as corals, are at risk as ocean pH continues to decline. Ocean acidification targets the density of the skeleton, silently whittling away at the coral's strength, much like osteoporosis weakens bones in humans.
"The corals aren't able to tell us what they're feeling, but we can see it in their skeletons," said Anne Cohen, a WHOI scientist and co-author of the study. "The problem is that corals really need the strength they get from their density, because that's what keeps reefs from breaking apart.  The compounding effects of temperature, local stressors, and now ocean acidification will be devastating for many reefs."
Key Takeaways
An innovative numerical model developed by researchers at the Woods Hole Oceanographic Institution demonstrates the distinct impact of ocean acidification—separate from ocean warming—on coral growth.
The model shows that ocean acidification has caused a 13 percent decline in the skeletal density of Porites corals in the Great Barrier Reef, and a 7 percent decline in the South China Sea since 1950.
Pollution and land runoff can exacerbate the effects of ocean acidification, causing corals in local reefs to weaken more quickly than those located farther away from human settlements.
A global-scale investigation of coral CT scans could help to target protections for vulnerable reefs.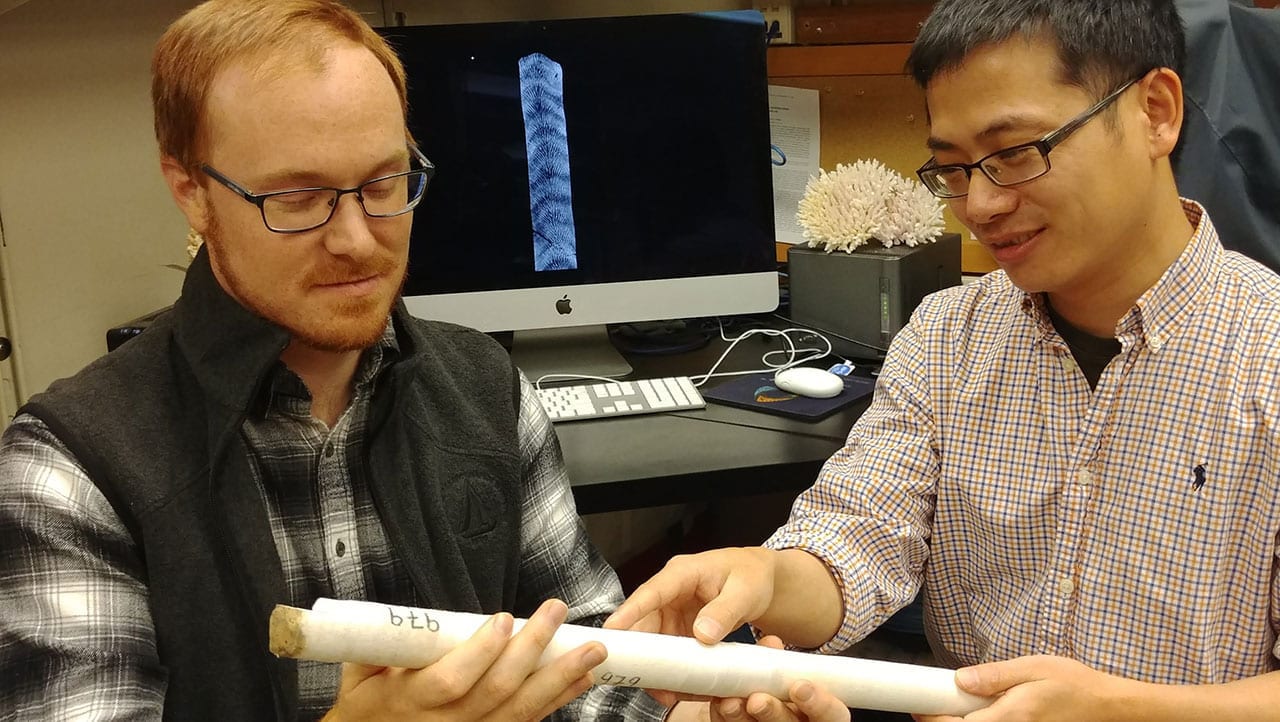 MIT-WHOI Joint Program student Nathaniel Mollica (left) and WHOI scientist Weifu Guo examine a core extracted from a coral skeleton. Photo by Anne Cohen Lab, ©Woods Hole Oceanographic Institution
In their investigation, Guo and his co-authors examined published data collected from the skeletons of Porites corals—a long-living, dome-shaped species found across the Indo-Pacific— combined with new three-dimensional CT scan images of Porites from reefs in the central Pacific Ocean. Using these skeletal archives, which date back to 1871, 1901, and 1978, respectively, the researchers established the corals' annual growth and density. They plugged this information, as well as historical temperature and seawater chemistry data from each reef, into a model to predict the corals' response to constant and changing environmental conditions.
The authors found that ocean acidification caused a significant decline in Porites skeletal density in the Great Barrier Reef (13 percent) and the South China Sea (7 percent), starting around 1950. Conversely, they found no impact of ocean acidification on the same types of corals in the Phoenix Islands and central Pacific, where the protected reefs are not as impacted by pollution, overfishing, runoff from land.
While carbon dioxide emissions are the largest driver of ocean acidification on a global scale, the authors point out that sewage and runoff from land can exacerbate the effect, causing even further reductions of seawater pH on nearby reefs. The authors attribute the declining skeletal density of corals on the Great Barrier Reef and South China Sea to the combined effects of ocean acidification and runoff. Conversely, reefs in marine protected areas of the central Pacific have so far been shielded from these impacts.
"This method really opens a new way to determine the impact of ocean acidification on reefs around the world," said Guo. "Then we can focus on the reef systems where we can potentially mitigate the local impacts and protect the reef."
Co-authors of the paper include Rohit Bokade (Northeastern University), Nathaniel Mollica (MIT-WHOI joint program), and Muriel Leung (University of Pennsylvania), as well as Russell Brainard of King Abdullah University of Science and Technology and formerly at the Coral Reef Ecosystem Division of the Pacific Islands Fisheries Science Center.
Funding for this research was provided by the National Science Foundation, the Robertson Foundation, The Tiffany & Co. Foundation, the Atlantic Donor Advised Fund, and WHOI's Investment in Science Fund.
The Woods Hole Oceanographic Institution is a private, non-profit organization on Cape Cod, Mass., dedicated to marine research, engineering, and higher education. Established in 1930 on a recommendation from the National Academy of Sciences, its primary mission is to understand the ocean and its interaction with the Earth as a whole, and to communicate a basic understanding of the ocean's role in the changing global environment. For more information, please visit www.whoi.edu.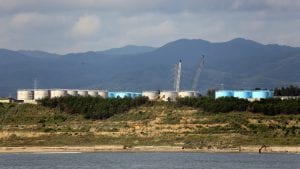 Nearly 10 years after the Tohoku-oki earthquake and tsunami devastated Japan's Fukushima Dai-ichi Nuclear Power Plant and triggered an unprecedented release radioactivity into the ocean, radiation levels have fallen to safe levels in all but the waters closest to the shuttered power plant. Today, fish and other seafood caught in waters beyond all but a limited region have been found to be well within Japan's strict limits for radioactive contamination, but a new hazard exists and is growing every day in the number of storage tanks on land surrounding the power plant that hold contaminated wastewater. An article published August 7 in the journal Science takes a look at some of the many radioactive elements contained in the tanks and suggests that more needs to be done to understand the potential risks of releasing wastewater from the tanks into the ocean.
"We've watched over the past nine-plus years as the levels of radioactive cesium have declined in seawater and in marine life in the Pacific," said Ken Buesseler, a marine chemist at the Woods Hole Oceanographic Institution and author of the new paper. "But there are quite a few radioactive contaminants still in those tanks that we need to think about, some of which that were not seen in large amounts in 2011, but most importantly, they don't all act the same in the ocean."
Since 2011, Buesseler has been studying the spread of radiation from Fukushima into and across the Pacific. In June of that year, he mobilized a team of scientists to conduct the first international research cruise to study the early pathways that cesium-134 and -137, two radioactive isotopes of cesium produced in reactors, were taking as they entered the powerful Kuroshio Current off the coast of Japan. He has also built a network of citizen scientists in the U.S. and Canada who have helped monitor the arrival and movement of radioactive material on the Pacific coast of North America.
Now, he is more concerned about the more than 1,000 tanks on the grounds of the power plant filling with ground water and cooling water that have become contaminated through contact with the reactors and their containment buildings. Sophisticated cleaning processes have been able to remove many radioactive isotopes and efforts to divert groundwater flows around the reactors have greatly reduced the amount of contaminated water being collected to less than 200 metric tons per day, but some estimates see the tanks being filled in the near future, leading some Japanese officials to suggest treated water should be released into the ocean to free up space for more wastewater.
One of the radioactive isotopes that remains at the highest levels in the treated water and would be released is tritium, an isotope of hydrogen is almost impossible to remove, as it becomes part of the water molecule itself. However, tritium has a relatively short half-life, which measures the rate of decay of an isotope; is not absorbed as easily by marine life or seafloor sediments, and produces beta particles, which is not as damaging to living tissue as other forms of radiation. Isotopes that remain in the treated wastewater include carbon-14, cobalt-60, and strontium-90. These and the other isotopes that remain, which were only revealed in 2018, all take much longer to decay and have much greater affinities for seafloor sediments and marine organisms like fish, which means they could be potentially hazardous to humans and the environment for much longer and in more complex ways than tritium.
"The current focus on tritium in the wastewater holding tanks ignores the presence other radioactive isotopes in the wastewater," said Buesseler. "It's a hard problem, but it's solvable. The first step is to clean up those additional radioactive contaminants that remain in the tanks, and then make plans based on what remains. Any option that involves ocean releases would need independent groups keeping track of all of the potential contaminants in seawater, the seafloor, and marine life. The health of the ocean—and the livelihoods of countless people—rely on this being done right."
The Woods Hole Oceanographic Institution is a private, non-profit organization on Cape Cod, Mass., dedicated to marine research, engineering, and higher education. Established in 1930 on a recommendation from the National Academy of Sciences, its primary mission is to understand the ocean and its interaction with the Earth as a whole, and to communicate a basic understanding of the ocean's role in the changing global environment. For more information, please visit www.whoi.edu.
Key Takeaways
Concentrations of radioactive material released into the Pacific from the Fukushima Dai-ichi nuclear power plant and found in the Pacific Ocean or in fish have largely declined to safe levels.
A larger problem exists in the form of more than 1,000 tanks full of contaminated, but treated, wastewater stored on the grounds of the power plant and that have been suggested need to be emptied into the ocean to free up space for more untreated water.
Current focus on tritium levels overlooks the much larger problem presented by other radioactive isotopes in the treated water, not all of which have been made public.
Many of these other isotopes emit more dangerous forms of radiation, and act in more complex ways in the environment, accumulating in seafloor sediments and in marine life, more readily than tritium.
Ocean Topic