Erin Fischell explains her new vision for underwater science October 16, 2019 Erin Fischell readies an AUV a test mission at Ashumet Pond. Photo by Thomas N. Kleindinst, Woods Hole Oceanographic Institution The vastness of our oceans demands extensive study...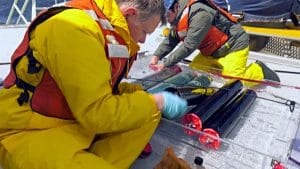 What makes the shelf break front such a productive and diverse part of the Northwest Atlantic Ocean? To find out, a group of scientists on the research vessel Neil Armstrong spent two weeks at sea in 2018 as part of...
Woods Hole Oceanographic Institution (WHOI) researchers have partnered with two companies to build and market undersea technology developed at WHOI: the Imaging FlowCytobot, an automated underwater microscope, and BlueComm, an underwater communications system that uses light to provide wireless transmission...