The Department of Geology and Geophysics (G&G) conducts research into a wide variety of topics aimed at furthering our understanding of the dynamic processes of the Earth/Ocean/Atmosphere system. Our research spans across land and oceans as we seek to understand connections between the continents and oceans, ice-sheet dynamics and the formation and evolution of the Earth as a whole. We study the structure and evolution of the oceanic crust from its formation at mid-ocean ridges to consumption at subduction zones, coupled with the dynamics of the mantle that drives seafloor spreading. We study a wide range of fluid-mediated processes, including those occurring at hydrothermal vents, at shelf-edge seeps and in subduction zone settings. Included in these processes are links to seismicity, fluxes of chemicals to the ocean and mantle, microbial activity and the subseafloor biosphere. We study the role of oceans both in relation to past climate change and as a driver of present day climate dynamics, and use natural archives like from sediments, corals, and tree rings to understand past climate. We study a wide range of coastal processes including the impacts of climate change and storms on coastal regions.
The Department today consists of about 30 Ph.D. level Scientific Staff and another 16 Technical Staff (many of whom hold Ph.D. degrees). In addition there are about 25 graduate students pursuing their Ph.D. through the WHOI/MIT Joint Program and roughly 8 Postdoctoral Scholars, Fellows and Investigators.
The Scientific and Technical staff carry out research that involves sea-going deployments of instruments built in house; laboratory studies using high precision analytical facilities; and theoretical and computational studies of ocean and climate processes and geodynamics. Examples of the facilities within the department include the National Ocean Sciences Accelerator Mass Spectrometry Facility (NOSAMS) and the Northeast National Ion Microprobe Facility (NENIMF). We now run the national Ocean Bottom Seismograph Instrument Center (OBSIC).
Rob Evans
Department Chair
Geology & Geophysics Department
Simon Pendleton, Alan Condron, and Jeffrey Donnelly, Geology & Geophysics Department
Mark Kurz, Marine Chemistry & Geochemistry Department
Edited by
Véronique LaCapra
Results will provide critical context to help predict whether current warming and glacial melt will have climate impacts in this century
Photo by Chris Linder, Woods Hole Oceanographic Institution
Ocean currents and global climate are closely interconnected. Global climate change can alter ocean currents, while at the same time, changes to major ocean currents can have dramatic and cascading effects on regional and global climate.
In the North Atlantic Ocean, warm surface water from the equator flows towards the Arctic. As it travels north, the warm water cools, becomes denser, and ultimately sinks and flows back towards the equator. By transporting warmth to northern latitudes, this "conveyor belt" circulation pattern—known as the Atlantic Meridional Overturning Circulation, or AMOC—tempers high-latitude climates that otherwise would be uninhabitable. 
But today's rapidly changing climate could disrupt the AMOC. As anthropogenic greenhouse gas emissions increase atmospheric temperatures, glaciers and ice sheets are melting at accelerated rates. Complex climate models show that if enough fresh meltwater floods the surface ocean in the North Atlantic, it could slow the conveyor belt, cooling much of the Northern Hemisphere.
WHOI post-doctoral scholar Simon Pendleton is studying how long-ago flooding of large glacial lakes impacted ocean circulation and climate in the past, to predict how present-day glacial melt could alter currents and climate now and in the future. About 13,000 years ago, the climate began to warm, and the ice sheet that once covered much of North America retreated northward. Large meltwater lakes formed along the ice edge, periodically draining huge amounts of freshwater into the North Atlantic. 
Working with WHOI scientists Alan Condron, Jeffrey Donnelly, and Mark Kurz, Pendleton is drilling into lakebeds in northwestern New York state to collect sediment cores, which provide clues to the dates of those catastrophic floods. Using that chronology, estimates of flood volumes, and a global ocean circulation model, Pendleton is testing whether or not floods from melting glaciers could have slowed ocean circulation and cooled the Northern Hemisphere at the end of the last ice age. His results will provide critical context to help predict whether current warming and glacial melt will have similar impacts in this century.
Simon Pendleton
,
Alan Condron
, and
Jeffrey Donnelly
are scientists in WHOI's Geology & Geophysics Department.
Mark Kurz
is a scientist in WHOI's Marine Chemistry & Geochemistry Department and directs the National Ocean Sciences Accelerator Mass Spectrometry (NOSAMS) facility.
Pendleton is a Postdoctoral Scholar at NOSAMs who studies glaciers to reconstruct past climate and landscape processes and predict future changes in ocean circulation and climate. 
Condron is a climate scientist studying the causes of abrupt climate change, using numerical models to unravel how the Earth's climate responds to changes in meltwater from large ice sheets.
Donnelly is a paleoclimatologist who studies the relationship between climate change and changes in the coastal landscape such as those driven by major storms and hurricanes. 
Kurz uses rare isotopes—such as radiocarbon (14C) produced by cosmic rays—to study paleoclimate, the carbon cycle, and other Earth system processes.
Glaciers
Ice Ages & Past CLimates
Climate Change
Woods Hole Oceanographic Institution (WHOI) scientists appear in two shorts and a feature film at this year's Woods Hole Film Festival (WHFF). In addition, scientists will also participate in Q&A sessions connected to three of the festival's feature-length, ocean-themed entries.
The short films, "Divergent Warmth" and "Beyond the Gulf Stream" are part of a program titled "The Blue Between Us," offered on-demand from July 25 to August 1 as part of the festival's virtual program.
In "Divergent Warmth," producer-director Megan Lubetkin gives viewers a behind-the-scenes look at the synchronized ballet aboard a research vessel during a recent expedition to the East Pacific Rise. Experimental music provides rhythm to imagery of deck operations, launch and recovery of the human-occupied submersible Alvin, and other-worldly views of seafloor hydrothermal vents and lava flows. Interwoven throughout is an evocative reading of Adrienne Rich's poem, "Diving into the Wreck."
Dan Fornari, a WHOI emeritus research scholar, acted as associate producer of the 10-minute film. As one of the scientists on the December 2019 expedition, he invited Lubetkin, herself a scientist and the creative exhibits coordinator with the Ocean Exploration Trust, to assist with subsea camera operations and video data management on board. Lubetkin spent her free time shooting additional video, which she edited together while still on the ship to produce a first draft of "Divergent Warmth."
"I was blown away. It was just fabulous," Fornari said of his first viewing. "It captures the spirit of going out to sea and being involved in this exploratory effort in the alien realm, where very few people get to go."
The complex winter currents that collide off the coast of Cape Hatteras are the focus of "Beyond the Gulf Stream," a short documentary by the Georgia-based production company MADLAWMEDIA. Filmed aboard the WHOI-operated research vessel Neil Armstrong, the 10-minute film features WHOI physical oceanographers Magdalena Andres, Glen Gawarkiewicz, and graduate student Jacob Forsyth as they share their perspectives on the challenges and rewards of doing scientific research at sea, often in difficult conditions.
"I think we have a responsibility to communicate science and the process of doing of science to the public," said Andres about the film, which was produced in collaboration with WHOI and the Skidaway Institute of Oceanography at the University of Georgia. "It does a really nice job of capturing life at sea in the wintertime."
As a scientist who uses video to capture data from the ocean depths, Fornari is highly attuned to the impact that visual media can have in capturing the public's imagination about the ocean.
"These kinds of artistic expressions help open doors to people's minds." he said. "That's crucial for getting the public to understand how critically important the oceans are. Then maybe more students will say, 'I want to be an ocean scientist when I grow up.'"
In addition to the shorts program itself, WHOI scientists, staff, and students will also participate in "Filmmaker Chats" open to the public and broadcast via Zoom, as well as the WHFF Facebook and YouTube channels. Maddux-Lawrence will take questions about "Beyond the Gulf Stream" on Sunday, July 19, beginning at 9:00 a.m. On Friday, July 31 at 9:00 a.m., Lubetkin will appear with Fornari, as well as Alvin pilot Drew Bewley, MIT-WHOI Joint Program graduate student Lauren Dykman, and Texas A&M graduate student Charlie Holmes II to discuss the making of and science behind "Divergent Warmth." Recordings of both sessions will also be available for viewing afterward on the festival website.
In addition to the short films, WHOI whale biologist Michael Moore appears in the feature-length documentary "Entangled," which looks at the intertwined plights of the critically endangered North Atlantic right whale and coastal fishing communities in New England and eastern Canada. After being hunted for centuries, the whales face new challenges in the form of climate change and increased fishing and shipping activity, and Moore has been an outspoken proponent of the need for increased protections to stave off their slide to extinction within the next 20 years.
WHOI scientists will also add their perspective to Q&A sessions following several ocean-themed, feature-length films selected for the festival:
Thursday, July 30, at 10:00 p.m.: Research specialist Hauke Kite-Powell will answer questions related to aquaculture and seafood in relation to the film "Fish & Men.
Saturday, August 1, from 4:00 to 5:00 p.m.: Marine chemist Chris Reddy will answer questions about microplastics in relation to the film "Microplastics Madness."
Saturday, August 1, from 7:00 to 8:00 p.m.: Marine biologist Simon Thorrold will answer questions about marine protected areas and fishing in connection with the film "Current Sea."
Key Takeaways
Films featuring WHOI scientists will be screened as part of "The Blue Between Us" shorts program at the virtual Woods Hole Film Festival, which may be viewed online by festival passholders and individual ticketholders during the festival, which runs from Saturday, July 25, to Saturday, August 1. Tickets and more information is available here.
Whale biologist Michael Moore will appear in the feature-length film "Entangled" about the plight of critically endangered North Atlantic right whales.
WHOI scientists will also participate in Q&A sessions associated with several ocean-themed, feature-length festival films.
More information is available on the festival website.
Celebrating an
oceanographic life
By Véronique LaCapra
Arthur (Art) Maxwell was more than a brilliant ocean scientist: He was a generous, approachable leader who cared deeply about his colleagues and students.
"Art was a legend, a mentor, and a trusted friend," said Woods Hole Oceanographic Institution (WHOI) Trustee Jamie Austin, a senior research scientist at the University of Texas Institute for Geophysics where Maxwell spent the final decade of his long career.
In the 1960s and 70s, Maxwell served as WHOI Director of Research and Provost, working closely with WHOI President Paul Fye and helping to found the MIT-WHOI Joint Program in Oceanography. During his time at the Institution, Maxwell also pursued his own research in geophysics. Among other achievements, he was appointed President of the American Geophysical Union (1976-1978) and co-led an expedition of the Deep-Sea Drilling Project, which provided critical evidence to support the theory of plate tectonics by demonstrating that the seafloor under the South Atlantic was spreading.
Maxwell began his career in one of the most dangerous jobs in the U.S. Navy, serving as quartermaster on the ammunition ship Lassen in the Pacific during World War II. After the war, Maxwell went to Scripps Institute of Oceanography, where he worked with pioneering oceanographers Walter Munk and Roger Revelle; the latter was so impressed with Maxwell that he took on the role of graduate advisor for the first time in order to mentor him. Maxwell then moved from California to Washington, DC, to work for the Office of Naval Research at a time when the Navy was a leading funder of research in ocean science.
"It was always very interesting around our household," reminisced Maxwell's daughter, Delle. "Scientists from around the world were always passing through. We met people like Jacques Piccard and Willard Bascom—leading lights in oceanography. As a child, I imagined theirs to be a most exotic and adventurous lifestyle. In retrospect, my father was always at the intersection of adventure, intellectual pursuit, and academic pioneering."
"Art was a legend, a mentor, and a trusted friend." ~ Jamie Austin, WHOI Trustee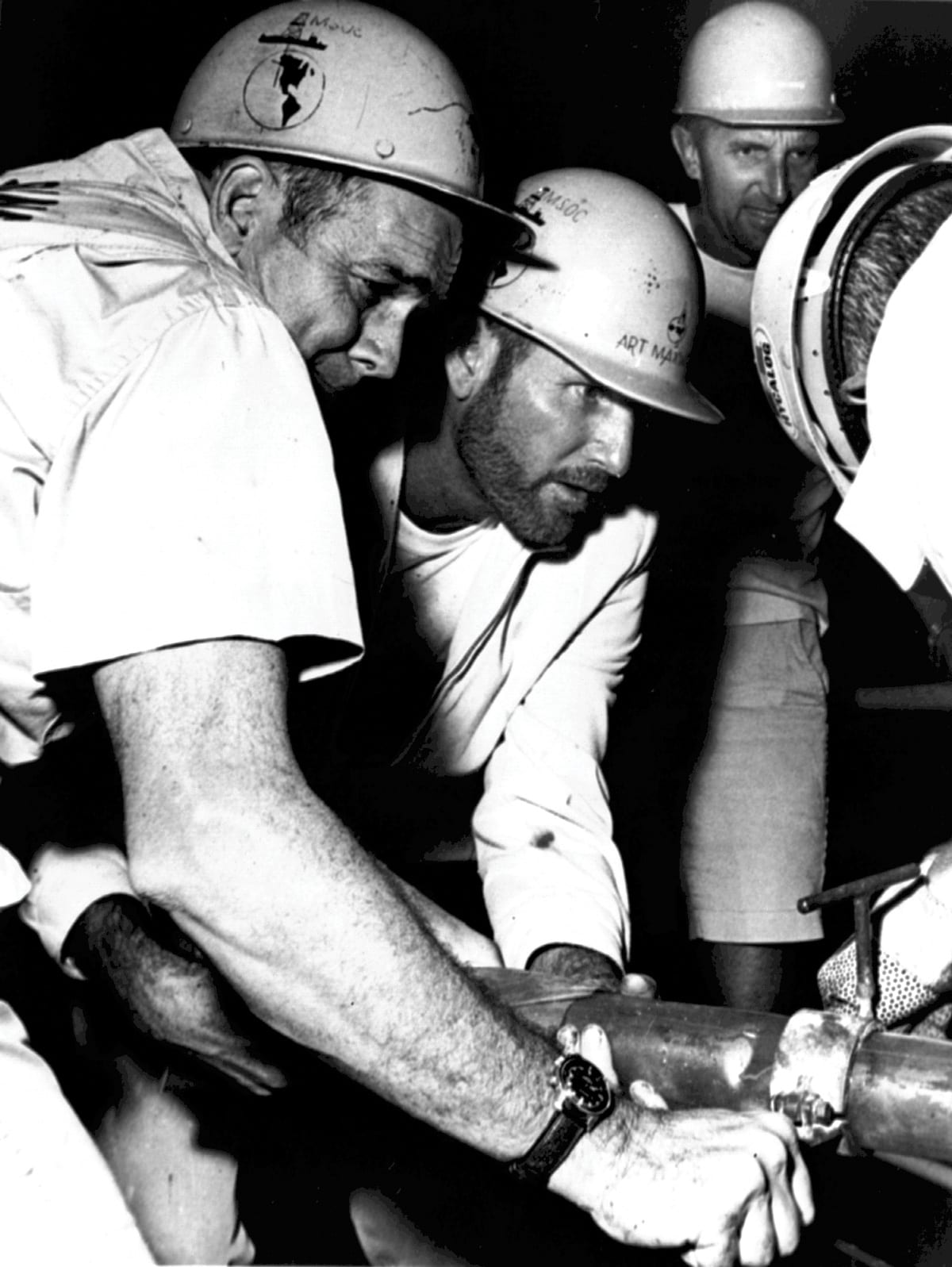 Art Maxwell (center), along with Jim Dean and Dick Von Herzen, remove a core aboard Glomar Challenger on Deep-Sea Drilling Project (DSDP) Leg 3 in 1968. (Photo credit: DSDP)
In 2018, a year before his death, Art Maxwell returned to WHOI at the age of 93 to attend the commemoration of the 50th anniversary of the Joint Program, which he helped initiate half a century before. To celebrate his contributions to WHOI, Delle and her husband Pat Hanrahan gave $1.5 million to endow the Maxwell-Hanrahan Fund for Education and Research at MIT, which funds students to carry out oceanographic research at sea. They gave an additional $1 million to WHOI's Arthur E. Maxwell Graduate Student Fund, established in 2003 by Austin—a Joint-Program alumnus (PhD '79)—to honor his much-beloved mentor.
"I can say without hesitation that his input steered me in good directions for more than four decades," Austin said. "I will never forget him."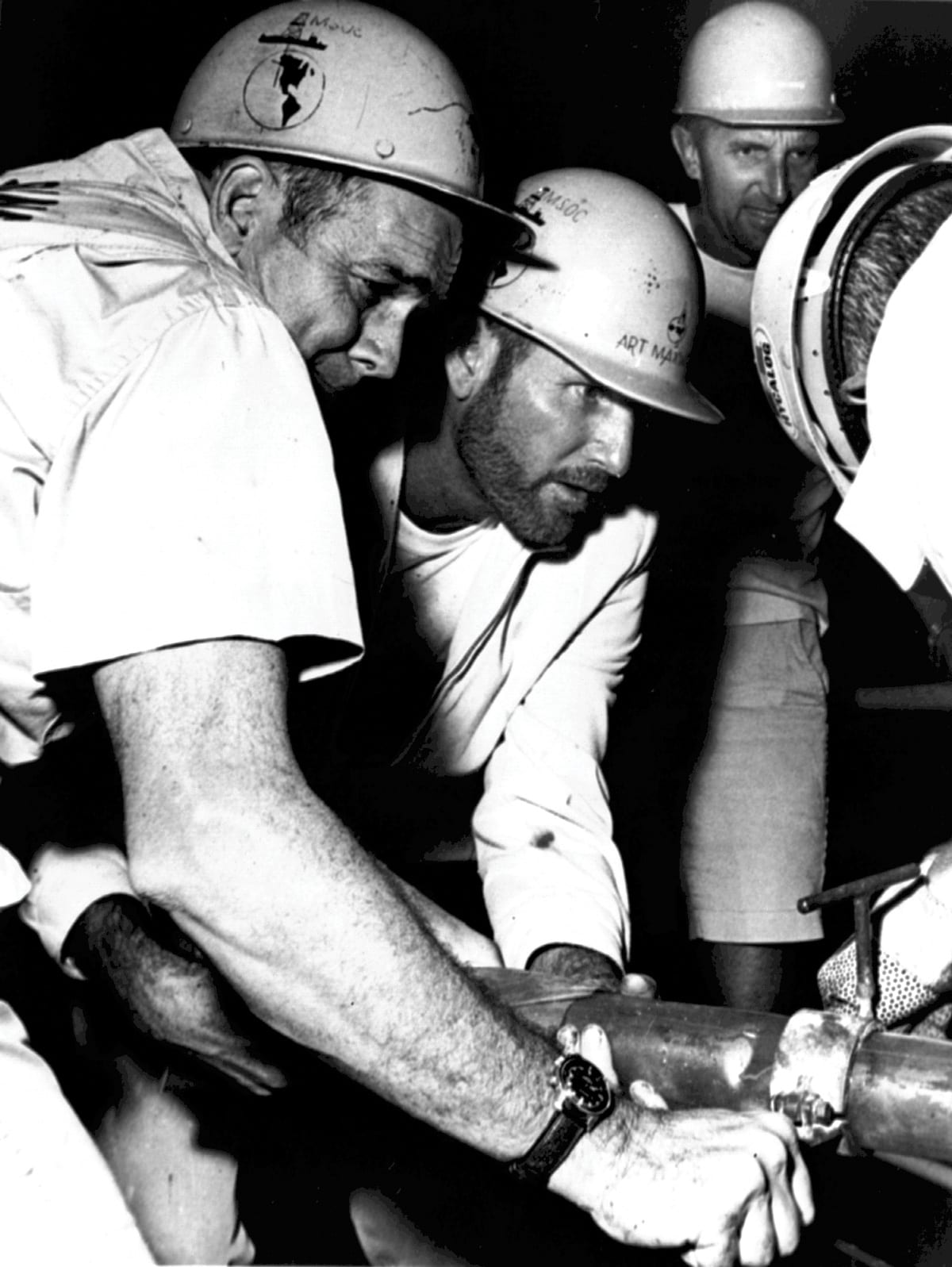 Art Maxwell (center), along with Jim Dean and Dick Von Herzen, remove a core aboard Glomar Challenger on Deep-Sea Drilling Project (DSDP) Leg 3 in 1968. (Photo credit: DSDP)
Art Maxwell (center), along with Jim Dean and Dick Von Herzen, remove a core aboard Glomar Challenger on Deep-Sea Drilling Project (DSDP) Leg 3 in 1968. (Photo credit: DSDP)