Blogs & Expeditions
Featured Expedition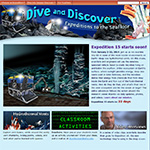 Stories, photos, and videos take you on board research expeditions that explore some of the most remote and unknown reaches of the ocean and the organisms that live there.
2014

April 10 to May 20, 2014
Follow a team of scientists and engineers from seven different research institutions who will use HROV Nereus, a deep-diving remotely operated vehicle, to explore part of the Kermedec Trench, one of the deepest in world.

March 31 to April 6, 2014
Follow WHOI researchers as they collect samples related to the Galveston Bay oil spill. On March 22, 2014, a container ship, the M/V Summer Wind, collided with the oil barge, Kirby 27706, rupturing one of its starboard tanks and releasing 168,000 gallons of fuel oil.

March 14 - 26, 2014
After a three-year upgrade, the submersible Alvin returns to service as a significantly improved, much enhanced scientific instrument. A series of dives in the Gulf of Mexico tested the capabilities of its science and other systems.