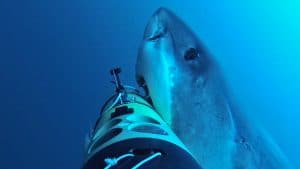 The dramatic video footage of a great white shark attacking the "REMUS SharkCam" autonomous underwater vehicle (AUV) brought some of the highest ratings to Discover Channel's Shark Week 2014 and went viral on the Internet.
But while the footage was unprecedented, the scientific understanding enabled by the REMUS SharkCam is just as groundbreaking. The AUV was used during a science expedition in 2013 to better understand white shark behavior and represents the first successful efforts to autonomously track and image any animal in the marine environment. The research provides critical data to efforts to conserve these animals.
"We wanted to test the REMUS SharkCam technology to prove that is was a viable tool for observing marine animals – sharks in this case – and to collect substantial data about the animals's behavior and habitat," said WHOI engineer Amy Kukulya, one of REMUS SharkCam's principal investigators.
The research results were recently published in the Journal of Fish Biology. The paper's lead author is Greg Skomal, a biologist with the Massachusetts Division of Marine Fisheries. In addition to Kukulya, co-authors include biologist E. M. Hoyos-Padilla of Pelagios-Kakunjá, a Mexican marine conservation organization, and WHOI engineer and REMUS SharkCam software developer Roger Stokey.
Read More