WHOI to Launch New Center for Ocean and Climate Research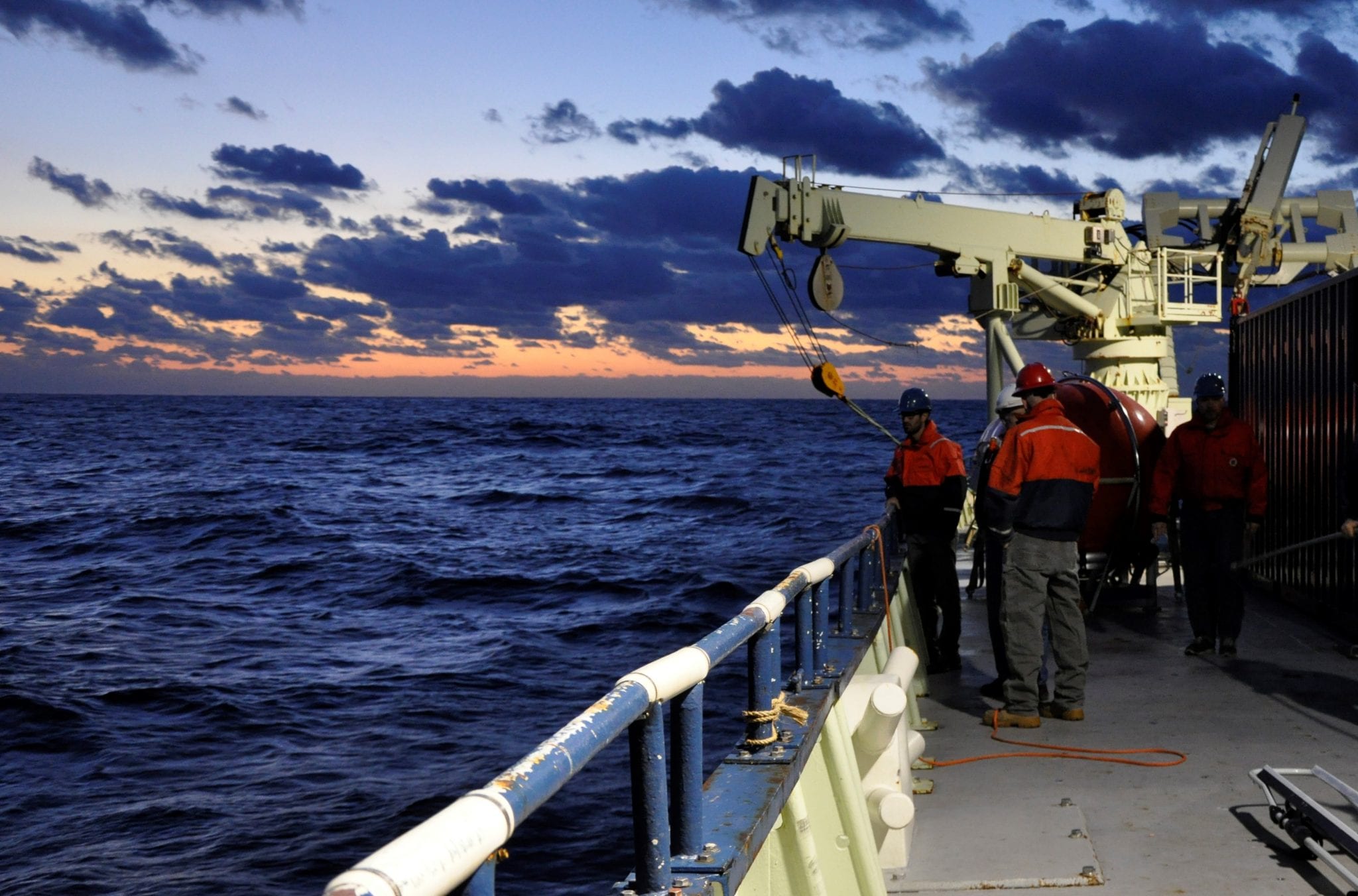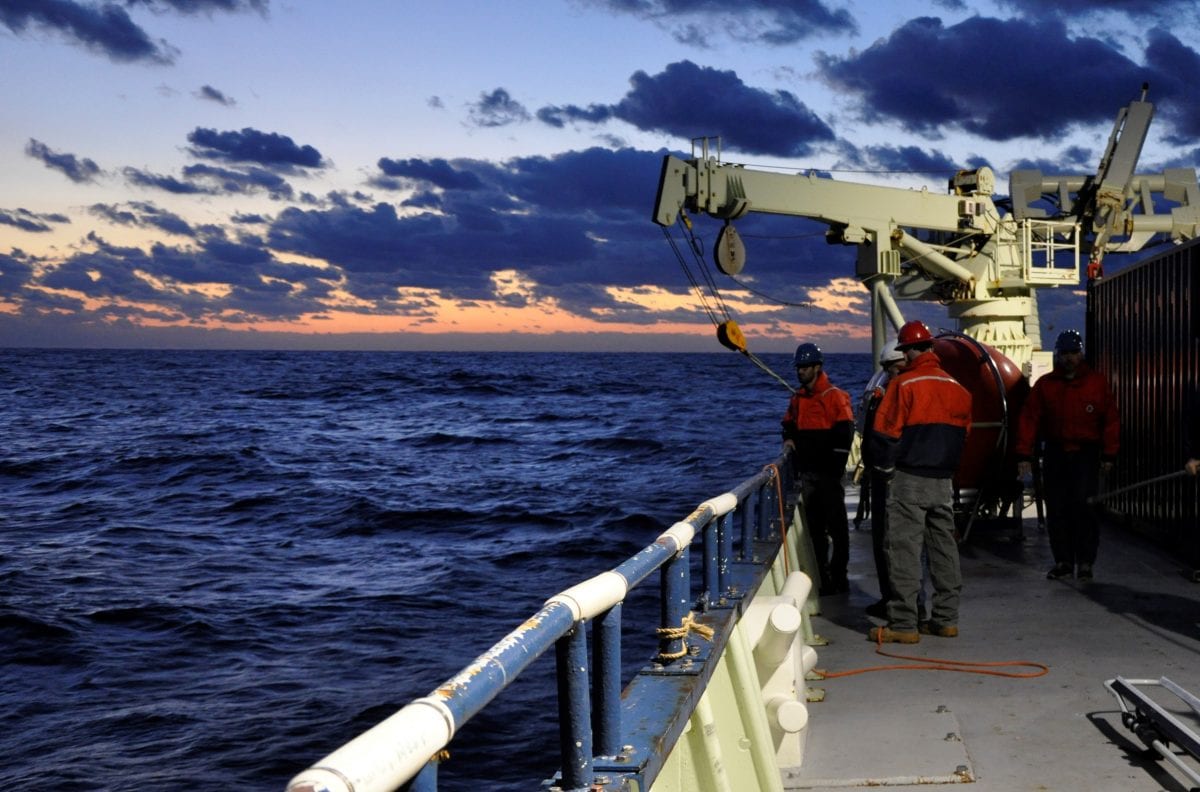 WHOI researchers monitoring glider operations from the deck of a research vessel.
---
April 28, 2021
Woods Hole, Mass. (April 28, 2021) –Woods Hole Oceanographic Institution (WHOI) today announced the establishment of the Francis E. Fowler IV Center for Ocean and Climate to seek new knowledge and new solutions at the intersection of oceanography and climate science. A generous gift from Francis E. Fowler IV established the center and will enable it to immediately commence operations.
"This extraordinary gift," said WHOI President and Director, Peter de Menocal, "will propel critical work that is needed to understand and elucidate the interplay between the global ocean, Earth's climate, and human societies."
This announcement comes in the wake of an announcement last week that WHOI and technology firm Analog Devices, Inc. are launching an Ocean and Climate Innovation Consortium focused on the critical role of the ocean in combating climate change. "The Francis E. Fowler IV Center for Ocean and Climate is building on considerable momentum we see not only at WHOI, but across the earth science community, to bring much needed focus to ocean-climate connections," said de Menocal. "It further cements WHOI's position as a leader in ocean and climate research at a time when the world urgently needs scientific leadership in this area."
Among other things, the new center aims to explore the effectiveness of ocean-based solutions to climate change, such as those identified by the High Level Panel for a Sustainable Ocean Economy. These solutions include lowering barriers to ocean-based renewable energy, conserving existing coastal ecosystems, and reducing the carbon footprint of the fishing and aquaculture industries. According to a report by the High Level Panel, these and other solutions, if fully implemented, have the potential to provide as much as one-fifth (up to 21 percent) of the annual greenhouse gas emission cuts the world needs by 2050 to keep global temperature rise below 1.5 degrees Celsius. Yet much more rigorous, impartial research is needed before any of these solutions can become a reality.
The Francis E. Fowler IV Center for Ocean and Climate at WHOI—a flagship program of WHOI's President and Director—is designed to unlock the full potential of the world's premier independent ocean research organization to address climate change, drive technology development, and advance scientific knowledge and public understanding of the global ocean and its effects on our climate, atmosphere, and weather.
Mr. Fowler has bequeathed his entire $25 million estate to establishing in perpetuity this new research center at WHOI, with $3 million of this amount given to immediately launch the center.
Mr. Fowler, who was an international businessman and entrepreneur by occupation, was fortunate enough to be able to spend a great deal of his free time on the water. At age 5, he was introduced to the ocean at a beautiful beach in La Jolla, California and never looked back. Whether it was sailing, swimming, surfing, fishing, kayaking, scuba diving, power boating, water skiing, or flying seaplanes, he spent a good deal of his recreational time either in the water, on the water, or above the water. In the year 2000, he flew to New Zealand and contracted to have an eighty-five-foot custom sailboat built, which he then sailed around the world one and a half times. After years of research, adventure, and discovery in the many oceans of the planet, he grew to love the seas and the creatures that live in and around them.
"It is imperative that we act now," said Mr. Fowler. "The ocean covers more than 70 percent of the globe's surface so if we want to turn climate change around, we need to look to the ocean. The ocean is our planetary life support system and if we don't understand it and take care of it, the future of our ocean planet could be compromised to the detriment of mankind and all living creatures."
The Francis E Fowler IV Center for Ocean and Climate will support activities at WHOI such as the establishment of fellowships for students, postdoctoral scholars, and established scientists to pursue climate research, direct investments in research projects, focused efforts to engage the public and policymakers around ocean and climate issues, and research acceleration funds to unlock additional funding from outside sources, drive ambitious research programs, and support collaborative, multidisciplinary efforts across WHOI.
About Woods Hole Oceanographic Institution
The Woods Hole Oceanographic Institution (WHOI) is a private, non-profit organization on Cape Cod, Massachusetts, dedicated to marine research, engineering, and higher education. Established in 1930, its primary mission is to understand the ocean and its interaction with the Earth as a whole, and to communicate an understanding of the ocean's role in the changing global environment. WHOI's pioneering discoveries stem from an ideal combination of science and engineering—one that has made it one of the most trusted and technically advanced leaders in basic and applied ocean research and exploration anywhere. WHOI is known for its multidisciplinary approach, superior ship operations, and unparalleled deep-sea robotics capabilities. We play a leading role in ocean observation and operate the most extensive suite of data-gathering platforms in the world. Top scientists, engineers, and students collaborate on more than 800 concurrent projects worldwide—both above and below the waves—pushing the boundaries of knowledge and possibility. For more information, please visit www.whoi.edu