Falmouth Planning Board votes to rename street in WHOI Village Campus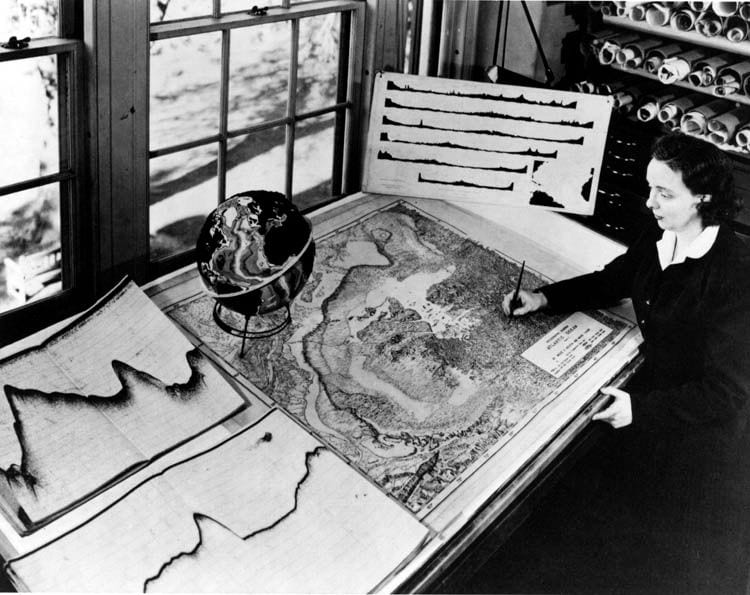 Marie Tharp at her drafting table in Lamont Hall, circa 1961.
---
March 11, 2021
Oceanographer cartologist Marie Tharp to be recognized during Women's History Month
Woods Hole, MA. (March 11, 2021) – The Falmouth Planning Board has approved the name change of a street that winds through the Woods Hole Oceanographic Institution's (WHOI) Village Campus. Marie Tharp Lane will be the new name of the street previously known as Maury Lane.
The name change comes during March's Women's History Month, and memorializes oceanographic cartologist Marie Tharp who is credited with introducing the first scientific map of the Atlantic Ocean floor. Tharp's work revealed the detailed topography and multi-dimensional and geographic landscape of the ocean bottom, and broke barriers of both exploration and diversity in the workforce. She was one of the first women in the field of oceanography, inspiring countless women who came after her.
"We are honored to be able to recognize the groundbreaking contributions of Marie Tharp in this way," said Peter de Menocal, president and director at WHOI. "Her work has provided a critical ocean roadmap for much of the foundational exploration and research led by institutions such as WHOI and Marie's home institution, Lamont-Doherty Earth Observatory."
"It is also fitting," continued de Menocal, "that our popular Ocean Science Discovery Center, which welcomes and inspires students and visitors from around the world to learn more about the ocean, is located at the end of Marie Tharp Lane."
The street renaming is a part of a multi-tiered initiative to recognize diverse and underrepresented people and supports the institution's commitment to fostering an equitable and inclusive community, including the hiring of WHOI's first Chief Diversity, Equity & Inclusion officer position, currently under recruitment.
In addition, there is a working group within WHOI that is identifying previously unnamed spaces, such as campus conference rooms, to advance the recognition of marginalized and underrepresented groups. The Mary Sears room on the Quissett Campus Fenno building is the first example of this room naming initiative.
Matthew Maury was a pioneer in the field of oceanography, and he published some of the first American oceanography textbooks. His meticulous study of ships' logs offered detailed information about currents, winds, and weather conditions all over the world's oceans. Interestingly, Tharp herself credits Maury's early work with helping chart her own ocean course. However, historical records confirm that during the Civil War, Maury resigned from the US Navy and joined the Confederate Navy. It is also noted that he took clear and public stances in support of slavery.
WHOI's senior administration decided to pursue a name change in light of the growing support to rename locations named after Confederate officers and leaders. "Acknowledging Tharp's contributions better represents the vision and mission of WHOI as a leader in ocean discovery, exploration, and education," added de Menocal.