Drones helps WHOI scientist measure the body mass of mother and pup seals during lactation
By Evan Lubofsky | May 1, 2019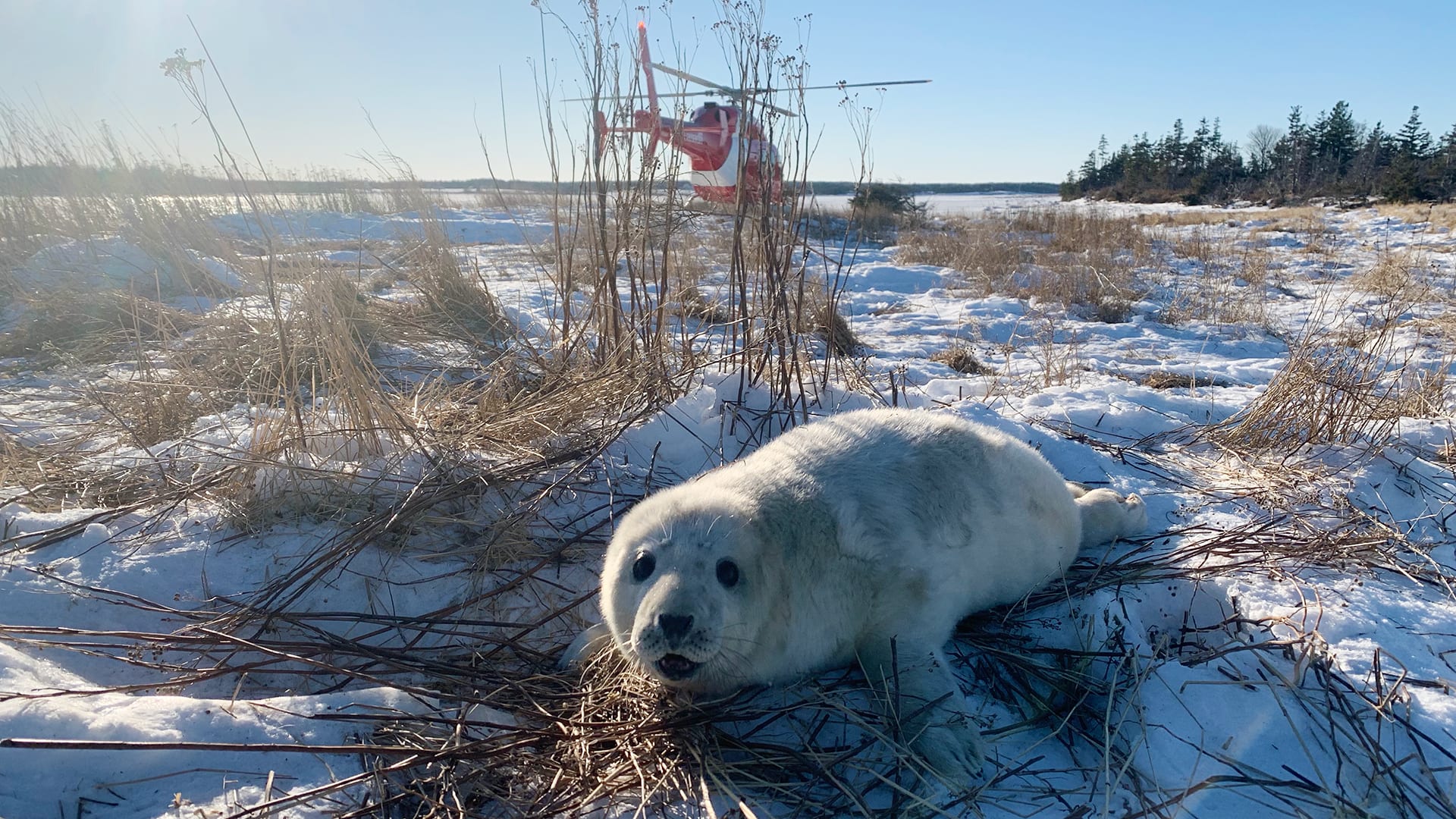 If you've ever tried moving a piano, you may recall that it took a small army of people to get it from one spot to another. It's backbreaking work, but no worse than what some marine biologists experience when having to manually weigh a gray seal to monitor its health. The mammals weigh between 400 and 550 lbs. on average—about the same heft as an upright piano—and have to be captured by net and hoisted by a tripod several feet off the ground for the weigh-in.
Scientists need accurate measurements of body size, mass, and blubber in order to track the health and stability of gray seal populations from one season to the next. But capturing them can be stressful to the animals, and working with such large animals means they often need to be sedated first.
Michelle Shero, a scientist at Woods Hole Oceanographic Institution (WHOI), is helping to change the paradigm. She's applying a new aerial photography-based approach for measuring the earless seals, alongside researchers at the Canadian Department of Fisheries and Oceans as well as Duke University.
"We've been using drones to get weight estimates of gray seals without ever having to touch them," said Shero. "It's a totally non-invasive way of measuring the animals, so it eliminates the stress of capture. And, it makes the whole process a lot easier, faster, and inexpensive."
Going unnoticed
This past January, Shero used aerial drones in Nova Scotia to spy on a colony of mother-pup pairs from roughly one hundred feet above. The images were taken during the mums' 18-day lactation period, during which, on average, 30 percent of their body weight can be lost as their pups fatten up. "Lactation is a very costly life history event for the seals each year, and it varies a lot from seal-to-seal. There's a trade-off between giving the pup enough mass and energy to survive, versus the mum keeping enough for herself," said Shero, "Using aerial surveys allows us to measure lots of animals at once to really capture this variability."
To photograph the seals, a hexacopter-style drone was launched into the air, where it began soaring above clusters of mother-pup pairs. Once it reached a high enough altitude where the seals wouldn't be disturbed, the drone's high-def camera began capturing hundreds of angled and straight on shots that would later be used to construct 3D models of the animals. Twenty minutes later, Shero landed the drone and offloaded the images to a hard drive.
Mosaic of marine mammals
Back at her lab in Woods Hole, she's been using specialized software to stitch the images together and reconstruct models from which measurements of body mass, length, and girth can be made. Part of Shero's goal is to make sure the measurements taken by drone correspond with physical measurements taken of the mammals. So far, they match up well – and can predict mass within 22 lbs., or < 6% for an average-sized seal. But what she really wants to know is how the body weight and energy levels of the mother seals and pups held up during the lactation period.
"The seals act as environmental sentinels – or a canary in the coal mine for our oceans," said Shero, "Everything from nutrients to fish availability are ultimately translated into how well top predators, like seals, can extract energy from their environment. How large and fat these seals are tells us how healthy their ecosystem is."
"The Canadian gray seal population has increased 40 fold since the 1960s, "said Mike Hammill, a research scientist and head of the Marine Mammal Section for Fisheries and Oceans Canada. "We are interested in seeing if there have been changes in female size and mass transfer to their offspring as the population has grown, and understanding the role that gray seals are playing in structuring the Gulf of St. Lawrence ecosystem."
Closer to home
Eventually, Shero hopes to also bring the aerial imaging technique to the shores of Cape Cod, where gray seal populations have been surging by roughly 20 percent annually in recent years.
"We could use drones here on the Cape to better understand why the populations are growing so dramatically, and possibly help predict when they might hit a plateau," she said.  "This will be important to understanding how the increasing numbers of gray seals could potentially affect interactions with fisheries and tourism."
All work was conducted under permits from the Canadian Department of Fisheries and Oceans, and the WHOI Institutional Animal Care and Use Committee. Funding support was provided by the WHOI Independent Research & Development program.