Hurricane Clues from a Caribbean Blue Hole
Scientists look to sediment cores from Caicos Island to gain insights about a monster, modern-day hurricane
By Evan Lubofsky | July 8, 2019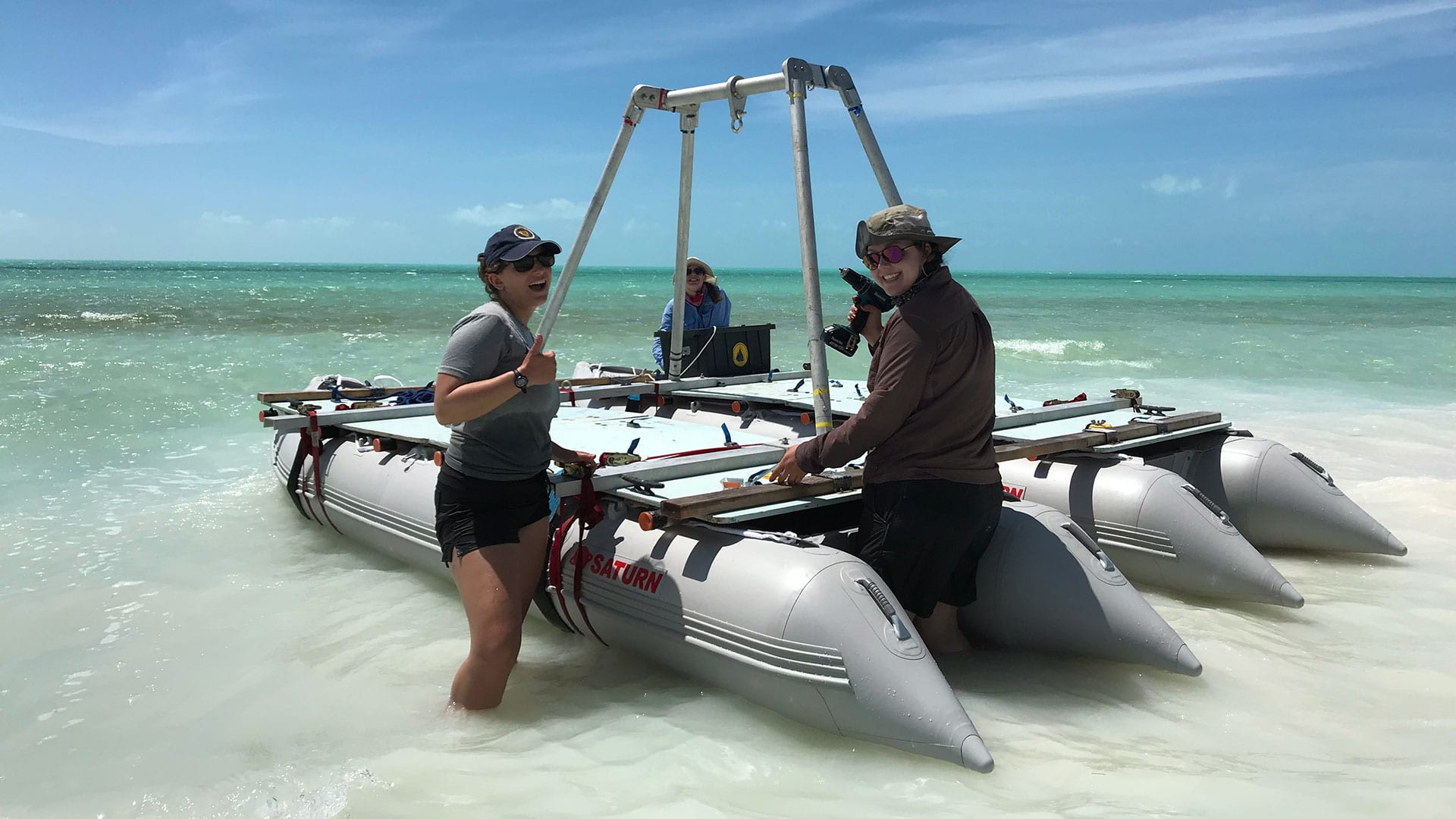 As Lizzie Wallace and her team yanked on the anchor lines trying to drag their kayak/boat hybrid across the blue hole, seawater poured over its inflated side tubes. Wind was at 17 knots, churning up waves that inundated the boat and put their bilging skills to test. Wallace hand-pumped fast and furiously to evacuate the water, desperately trying to avoid being stranded in a half-kilometer-wide, shark-populated cavern in the ocean.
Wallace, an MIT-WHOI Joint Program PhD student in Oceanography, along with four other researchers from WHOI's Coastal Systems Group, were conducting hurricane research in an azure-colored marine sinkhole—formally known as a blue hole—off Caicos Island in the Caribbean. They needed to collect sediment samples from the bottom of the hole, a grueling process even without waves and sharks. It requires driving tubes of varying lengths into the seafloor until they are gunked full of sediment and hoisting them back up to the surface.
"These samples will help us learn more about the impact of Hurricane Irma, a Category 5 storm that passed over the area in early September of 2017," said Wallace. "In general, we've been trying to learn more about the hurricanes that leave sediment deposits in coastal basins like blue holes—what their tracks were as they came through, their size and duration, and their intensity."
A stormy past
When hurricanes hit the Caribbean, the winds can churn up huge waves that pick up coarse particles from shallow banks and hurl them into blue holes and other coastal basins. The particles then settle to the bottom, leaving behind preserved layers of sediment that scientists can access.
While the focus of this particular expedition was to get better acquainted with Irma—a modern-day storm—Wallace's hurricane research runs far deeper. Under the direction of WHOI senior scientist Jeff Donnelly, she has spent the last few years running forensics on blue hole sediment cores—off Caicos Island and in other parts of the Caribbean—to reconstruct hurricanes of the past, some dating back thousands of years. "We can see past patterns of hurricane activity in the cores, which can help us predict and prepare for hurricane activity in the future," said Wallace.
Wallace and her team tease out these clues in WHOI laboratories. They run centimeter-wide sections of sediment through a mesh sieve to separate the larger sand-sized particles from finer-grained mud; the sandy layers indicate storms passing over an island. Then, to determine the age of each layer (and thus the age of the storms), the researchers extract fragments of mangrove leaves from the sediment.
"During hurricanes, mangrove leaves fall off their branches and end up in blue holes, along with sediment transported by the storms," said Wallace. "By analyzing radiocarbon in the leaves, we can figure out how long ago a leaf fell into the blue hole, which in turn helps us determine how old the surrounding sediment is."
Through this type of analysis, Wallace and her team have learned a lot about ancient hurricanes. The sedimentary evidence has indicated, for example, that over the past two centuries, Long Island in the Bahamas has been hit by nearly ten hurricanes, yet only one or two passed over the island during the 17th century. "Hurricanes behaved very differently over the past millennium than what we've observed in the last 150 years," said Wallace.
New storms, new insights
Unlike the ancient storms she reconstructs, modern-day hurricanes like Irma are already well-documented in climatological records. But the relatively fresh layers of sediment they leave behind can yield additional insights—particularly since they can be tied directly to known storms. This makes it possible to learn things like how intense a storm needs to be in order to leave a deposit—were Irma's 175-mile-per-hour sustained winds enough to do the trick?—and how close a storm needs to be to an island for sediment deposits to occur.
"We don't know a great deal about the storms we've reconstructed on Caicos Island over the past millennium, with the exception of when they happened. Many storms go past the island and never actually leave behind a sediment deposit for us to find. This work helps us to get closer to understanding the characteristics of the storms we've reconstructed," said Wallace. "The more we know about these past storms, the closer we get to piecing together the complex combination of climate factors that give rise to intervals of heightened intense hurricane activity like Irma today. This information will guide us towards better predicting them into the future."
Funding for this research came from the Dalio Explore Fund, the National Science Foundation, the National Science Foundation Graduate Research Fellowship Program, and Woods Hole Sea Grant.