Hunger in the Arctic prompts focus on causes, not symptoms
The region of Nunatsiavut in Northern Labrador, Canada, is an Arctic paradise—expansive wild landscapes, rocky fjords, and pristine glacial-fed rivers rushing dramatically below towering mountain ridge lines. Nunatsiavut, in Inuttitut, translates into "Our Beautiful Land." But when it comes to food security among the couple thousands of Inuit living there, things don't look so pretty.
The communities of Nunatsiavut, similar to other communities across Inuit Nunangat, the homeland of Inuit, are plagued by excessive food insecurity rates, which are estimated to be five times the level of food insecurity measured for households in Canada.
"A lot of these marginalized communities lack sufficient access to local fisheries," says Melina Kourantidou, a post doctorate fellow and fisheries economist at WHOI's Marine Policy Center. "The rates of food insecurity there are striking: they have been reported to be close to, or even, exceed 80% in some communities."
Kourantidou has visited Nunatsiavut three times since 2018—specifically, the communities of Nain and Makkovik—to speak with local community members and stakeholders about fisheries management challenges there and how these connect to food security. The information, she says, can inform the development of a monitoring framework that helps diversify risk and improve food security rates.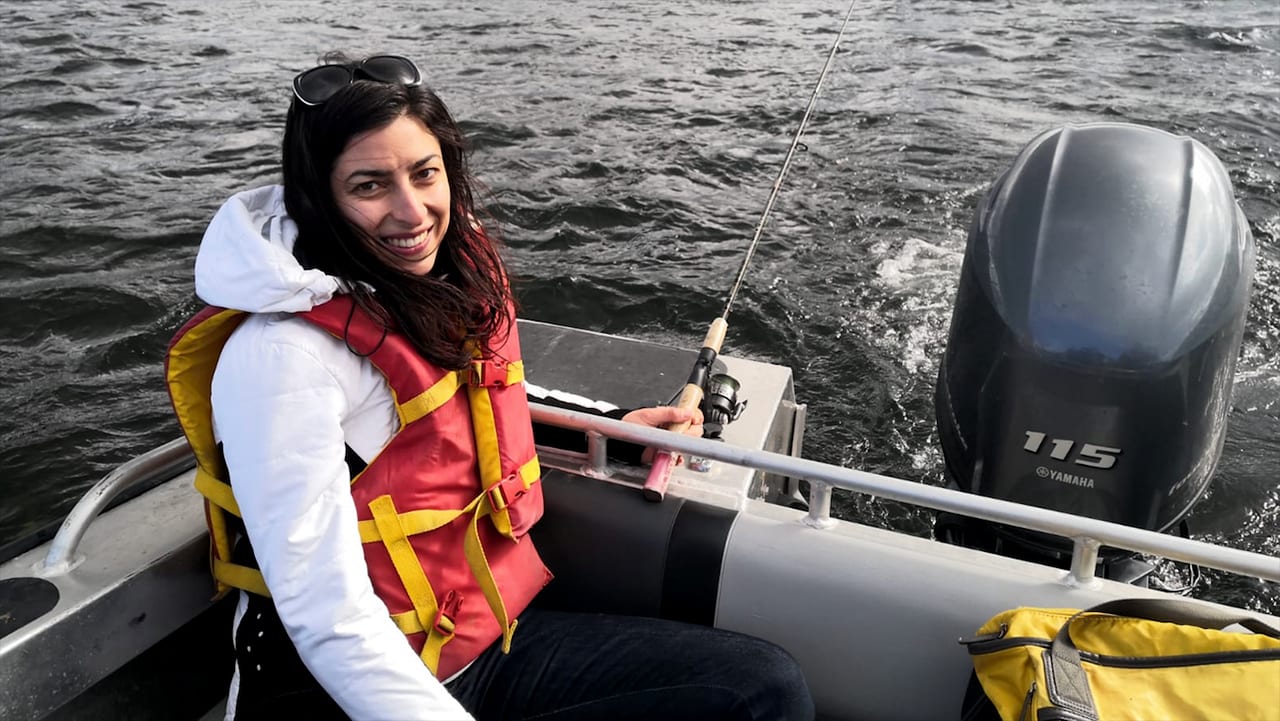 As part of the field work, Kourantidou looked at factors that have been choking off the communities' access to fishing grounds. This includes a lack of harvesting rights and resources to work the local fisheries (e.g. boats, technological equipment/fishing gear, etc.) and the lingering effects of colonialism. The region's colonial legacy often thwarts the current generation's ability to capture the social and economic benefits of their adjacent marine resources.
"Nunatsiavut is Canada's first Inuit region to achieve self-government status in 2005, which presumably would have resulted in increased sovereignty and rights to natural resources as well as improved resource governance for the benefit of Labrador Inuit," says Kourantidou. "But today, the Labrador Inuit feel way less empowered, owing to marine resource governance challenges and lack of sovereignty and control in managing marine resources. The communities along the coast of Labrador are really struggling to get access to what rightfully belongs to them.''
Currently, these communities get just 3.38% of the Canadian Greenland halibut quota in waters adjacent to their lands, and close to 10% of northern shrimp from two adjacent fishery management areas. Since allocation decisions are made at the federal level with very limited input from rightsholders, considerations of equity and dependence on the fishery are very limited.
Climate change related uncertainties, limited funding for research on critical species such as Arctic char, and a hunting ban on caribou—a dietary staple in the Inuit diet—are making matters worse. There is also the geographically challenged nature of Nunatsiavut itself; with no road system, the community is forced to depend more heavily on pricey, low-quality, and less-nutritious store-bought foods, brought in by boat or plane.
The hardships of living in this Arctic region are clear, and have prompted some short-term strategies to improve access to nutritious, protein-rich food. A community freezer program has been established whereby fish and other game is caught and stored in freezers that are accessible to the entire community—a nod to nomadic times when Inuit hunters would collect food and store it for community sharing in natural permafrost "freezers." Kourantidou applauds efforts such as the community freezers but feels they merely treat the symptoms of food insecurity; she wants to get at the root causes. This, she says, will help facilitate longer-term solutions.
To get there, Kourantidou and other marine policy experts will need to continue advancing their understanding of the forces contributing to food insecurity in the region, and the ability to measure and monitor things like fish stocks and dietary needs among the population. Her visits throughout 2018 and 2019 were the first steps along this path, as she was able to improve her understanding of peoples' livelihoods, priorities, concerns and perspectives, despite feeling at times like an outsider to the community and having a rather "western mindset."
She adds, "It is critical to have Inuit and their knowledge at the forefront of research conducted in their lands and have their needs and concerns drive the research questions. Once we fill these knowledge gaps, we'll be able to establish a clearer and more direct link between food security and fisheries, which will help with policy making and management of these resources."
Funding for this work is provided through the Canada First Research Excellence Fund, through the Ocean Frontier Institute.