Flight of the underwater falcon
How a remotely operated vehicle made by Saab is lending a watchful eye to scientific mooring operations
By Daniel Hentz | October 23, 2019
After another successful reconnaissance dive this month, one of the smallest remotely operated vehicles (ROVs) at WHOI may be a turnkey monitoring and recovery service for the Ocean Observatories Initiative (OOI) and its scientific moorings.
On Oct. 2, while performing routine mooring operations, members of the Ocean Observatories Initiative saw an opportunity to exercise one of WHOI's newest ROV's, the Seaeye Falcon. WHOI Engineer Jared Schwartz, who piloted the vehicle in search of an unrecovered mooring anchor, said the success of the mission validated the continued use of the vehicle as part of a more permanent in situ monitoring service for OOI.
"One of the objectives of OOI is that we like to recover everything we put in the water," said Schwartz. "Having that ROV on-hand allows us to maintain that objective."
The vehicle was created by Saab, a Swedish company best known for its car manufacturing. But according to representative Chris Roper, products like the ROV are really more on brand for the company than one might think.
"Saab was originally a manufacturer of aircraft and other at-sea equipment, including remotely operated vehicles and torpedoes," said Roper. "After World War II there were a lot of aerospace engineers, but not a lot to do, so they built cars."
After General Motors sold the company in 2010, Saab acquired a thruster manufacturer called Seaeye, with whom it would work to repurpose a 30-year old design, now known as the Falcon. The National Science Foundation (NSF), which funds the OOI program, green-lighted the purchase in early 2018.
The vehicle itself resembles a mid-size backup generator in scale. At just 200 lbs, the Seaeye is one of the nimblest ROVs at WHOI, said Schwartz. It is an eighth the size of Jason, a founding member of WHOI's ROV team, and more than eleven times lighter than the next smallest option, the Kraken2, which has traditionally been loaned to WHOI by the University of Connecticut for recovery operations.
That compactness may save at-sea crew the time and money necessary to set aside deck space, along with the number of personnel needed to deploy and recover the vehicle. For Schwartz, it's also a viable alternative to find and survey items beyond diver depth (more than 250 feet) without having to do the cumbersome work of lugging, hoisting, and maneuvering larger models.
"To rent this vehicle would take away the possibility of pushing divers to certain depths – the possibilities of risk to human life," added Schwartz, who has been diving to monitor and retrieve instruments at the Martha's Vineyard Coastal Observatory.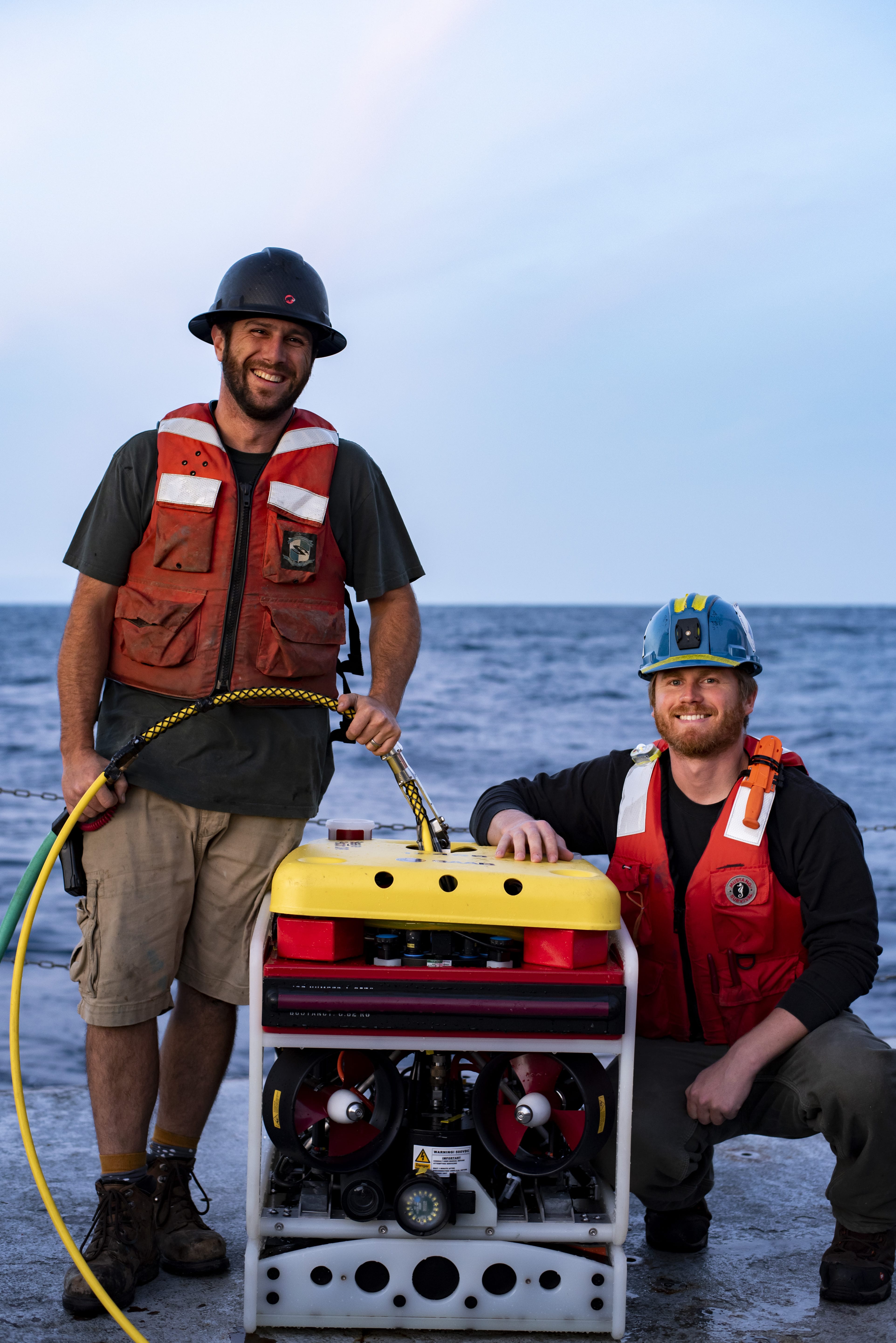 As its name suggests, the Seaeye provides a live view of the mission streamed from more than three cameras that send video through an umbilical cord patching directly to the pilot's topside monitors.
Schwartz, along with Engineer Jeff Pietro, managed to assemble the vehicle's portable mission control lab in less than an hour aboard R/V Neil Armstrong. But practice makes perfect.
Last spring, Schwartz's colleague Rob Morris tested the Seaeye on its first successful anchor recovery while performing routine mooring operations with OOI, 60 miles due south of Cape Cod. There, the vehicle retrieved a stuck mooring anchor by tying it to a line connected to the boat winch at the surface.
During another field test off the coast of Oregon, unfavorable weather battered Schwartz's boat, the R/V Elakha owned by Oregon State University. There, it became evident then that the vehicle's portability also meant its susceptibility to strong current – something Schwartz has since learned to factor in to planning deployments.
This time around, the team descended more than 1,500 feet, assisted by a commonly-employed suite of ship-based echo sounders to verify the ROV's exact position. Glider pilot, Diana Wickman, along with marine technician Collin Dobson honed in on the sonar screen, periodically radioing the bridge and deck winch for slack as needed.
Unlike other vessels, the Neil Armstrong's stabilization features (known as dynamic positioning), allow the Seaeye to dive with greater precision relative to its target. So precise, in fact, that Chief Mate Logan Johnsen was able to move the 238-foot-vessel as little as a meter in any direction.
"Because of the Armstrong's positioning system, we can have the vehicle descend at a safe distance from the mooring and slowly inch our way towards the [target] to get a visual on it," noted Schwartz. "With vessels like the Elakha, we would have to pick up the anchor and recover the vehicle just to move closer."
On Oct. 2, it took Seaeye just two hours to detect its target through the loom of carbon detritus hailing from above. A live video feed confirmed suspicions that the anchor's buoyant recovery pack had indeed become entangled, never reaching the surface.
"It greatly enhances shipboard operations by eliminating guesswork about OOI components that are in hundreds of feet of water, out of reach of conventional diving," said Paul Matthias, WHOI's OOI senior program manager.
For Matthias, the Seaeye's other draw is its customizability, which allows engineers at the department of Applied Ocean Physics and Engineering (AOP&E) to seamlessly install numerous configurations of manipulators, cameras, and lights to suit their mission objectives.
"One of the possibilities is to use the ROV to do a kind of cleaning service for some of the instruments that are impacted by biofouling over weeks or months, perhaps with the attachment of some kind of brush," added Matthias. "If it works well, it may allow us to extend the deployment intervals and reduce program cost."
In addition to finessing the accuracy of Seaeye's onboard sonar transducers, Schwartz has been working to employ a live-streaming system developed by Engineer Rachel Simon and the director of the Inner Space Center at the University of Rhode Island, Dwight Coleman.
With mobile telecommunications, Schwartz hopes to one day have regular ROV operations live-streaming to WHOI's Laboratory for Ocean Sensors and Observing Systems (LOSOS), a place frequented by donors and tour groups.
"I feel like this is our biggest advertisement opportunity," said Schwartz. "You know, what we do out here is kind of [incredible] and people should know about it."