Who we are
For nearly a century, WHOI has been one of the best known and most trusted names in ocean science and exploration. Our scientists and engineers have played a part in many of the discoveries that form the modern understanding of the ocean and how it interacts with other parts of the planet, including human society.
How we work
WHOI scientists and engineers combine access to specialized tools, ships, labs, and underwater vehicles with hard-won knowledge of how to explore the ocean to create a detailed understanding of the global ocean system. WHOI also fosters a long-standing commitment to education and outreach that help ensure the future of ocean research.
Why the ocean?
Why study the ocean? Because no matter how far from the ocean you are, you feel its presence every day. The ocean covers more than two-thirds of Earth's surface. It governs our climate, produces half our oxygen, and provides economic value beyond measure. It is the reason why life exists on Earth—and why we take it so seriously.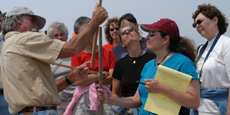 Visitor Information
Directions & Maps
Get directions to WHOI, take a virtual tour of the campuses
Things to do
The Ocean Science Exhibit Center, walking tours, workshops, and more
Local information
More about Woods Hole and its scientific community
Events calendar
WHOI weekly seminars, Woods Hole community events, and more
Quick facts about WHOI
Location: Woods Hole, Massachusetts, USA
Type of Organization: Non-profit
Funding: Government grants and contracts, foundation and private donations, industry contracts. Annual operating budget of $215 million.
Research Areas: WHOI scientists study all aspects of the ocean including the coastal ocean, ocean life, deep ocean, and climate change.
Departments & Divisions: The Institution is home to 6 research departments, 4 interdisciplinary institutes, and more than 40 labs and centers.
People: More than 1,000 employees, including researchers, engineers, information technology specialists, ship and vehicle crew, and administrative support staff.
Academics: WHOI is accredited by the NEASC and offers Ph.D. and M.S. programs. In addition, WHOI offers postdoctoral and summer student fellowships, as well as other education programs.
Ships & Technology: WHOI operates the Global Class research vessels Atlantis and Knorr as well as the coastal vessel Tioga. WHOI also builds and operates a group of underwater vehicles and instruments designed for ocean exploration, including HOV Alvin, ROV Jason, and the AUVs Sentry, REMUS, and SeaBED.