Emergency Procedures
The Research Vessel Operator's Council Safety Training Manual is available in the ship's library. This concise but thorough primer on seagoing safety should be considered "required reading".

Fire and boat drills are held once a week and, as basic training in survival, are not to be taken lightly. Science party members are usually notified in advance to avoid disruption of the program. Anyone who must continue working may be excused by prior arrangement with the Master through the Chief Scientist.

When an emergency signal is given, don life jackets, long-sleeved garments, and a hat or other head covering, and report to the station shown on the station card next to your bunk. (Learn this when you first come aboard ship.) During the drill, a ship's officer will conduct a survival suit demonstration.

While on board ship, keep in mind that you may be called upon without warning to help out during your off-watch period, and an emergency can occur at any time.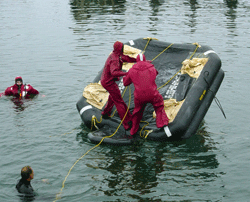 WHOI Scientists train turning a life raft over in the safe confines near the WHOI pier. (John Dyke - WHOI)
Boat Drill (Abandon Ship)
The signal for abandon ship is seven or more short blasts followed by one long blast of the ship's whistle and general alarm. When this signal is heard, report to your designated life raft station. There the Mate in charge will explain the procedures for launching and embarking into the life rafts. The rafts will not be launched during a drill.
Fire and Emergency Drills
The signal is one long blast on the ship's whistle and general alarm bell, lasting for ten seconds or more. During this drill, members of the science party muster in the designated area. Attendance will be taken and reported to the bridge.
Man Overboard
If someone falls overboard, throw a life-ring into the water towards the person. Keep your eye on the person at all times and point towards the person. Shout "MAN OVERBOARD, STARBOARD (or PORT)," and call the bridge on the sound powered phone or squawk box to inform them without losing sight of the person if possible. If you hear someone hail "Man Overboard," pass the word to the bridge.
Good Safety Habits
It is strongly recommended that you let someone know where you will be at all times. The disappearance of someone for several hours can be cause for major alarm which is easily avoided by telling your cabinmate or co-worker that you plan to be working in the darkroom alone or are going to be given a tour of the engine room. Do not go out on the deck alone in rough weather or at night. Rough seas and/or darkness make it almost impossible to find someone who has fallen over the side. Do not enter the bow chamber or transducer wells without permission from the bridge, and inform the bridge when you leave.
Sensible clothing is a part of good safety habits. Wear shoes with non-skid soles, especially on deck. Sandals of any kind are not safe. Be sure to wear safety-toe shoes if you are working on deck with heavy gear. NEVER go barefoot. Loose or floppy clothing, long hair, and jewelry can become caught in machinery and may result in injury. Life jackets and hard hats are required for personnel working around moving loads and overboard/recovery operations.
Wear a hat and sunglasses (use sunblock) if you are sensitive to the sun. Its effects are more intense at sea. Have medication for seasickness if you suspect you may be troubled this way. If you are certain of it, start taking the medication twenty-four hours before the ship leaves the dock. Caution to women -- certain classes of these medications should not be taken during pregnancy. Consult with your doctor.
The Chief Mate is placed in charge of the ship's hospital and general medical care by the Master. Generally, the ship's normal crew have only received basic training in health and medical matters. If you can anticipate the possibility of having a medical problem, or if you are dependent upon a specific medication, discuss this with the Mate before the cruise. S/He may deem it wise to stock a spare quantity of any medication(s) necessary to your basic good health. In the event of major medical emergencies, the ships will obtain advice via the radio medical advisory service from shore stations or seek assistance from nearby ships with a doctor on board. Evacuation for medical care to shore or another ship's hospital will be undertaken if indicated.
Be aware that lines and wires can part under tension. Do not stand under or near a line or wire while it is under a heavy strain. STAY CLEAR. Never step inside the bight (loop) of a line or wire. Respond immediately to directions from the Mates or Bos'n. They are trying to preserve the safety of all, not prevent you from going somewhere. When a crane is in operation, be aware of the location of its load at all times and stay out from underneath. If you are working on deck while a crane is in operation, you are required to wear safety hard hat. When working at or near the side of the ship or stern, safety work-vests must be worn. These are provided by the ship.
The disposal of plastics in any form is prohibited on the waterways of the world. The ship's waste management procedures are posted. Learn the procedures and follow them.