WHOI collaborates to bring video installation to United Nation Headquarters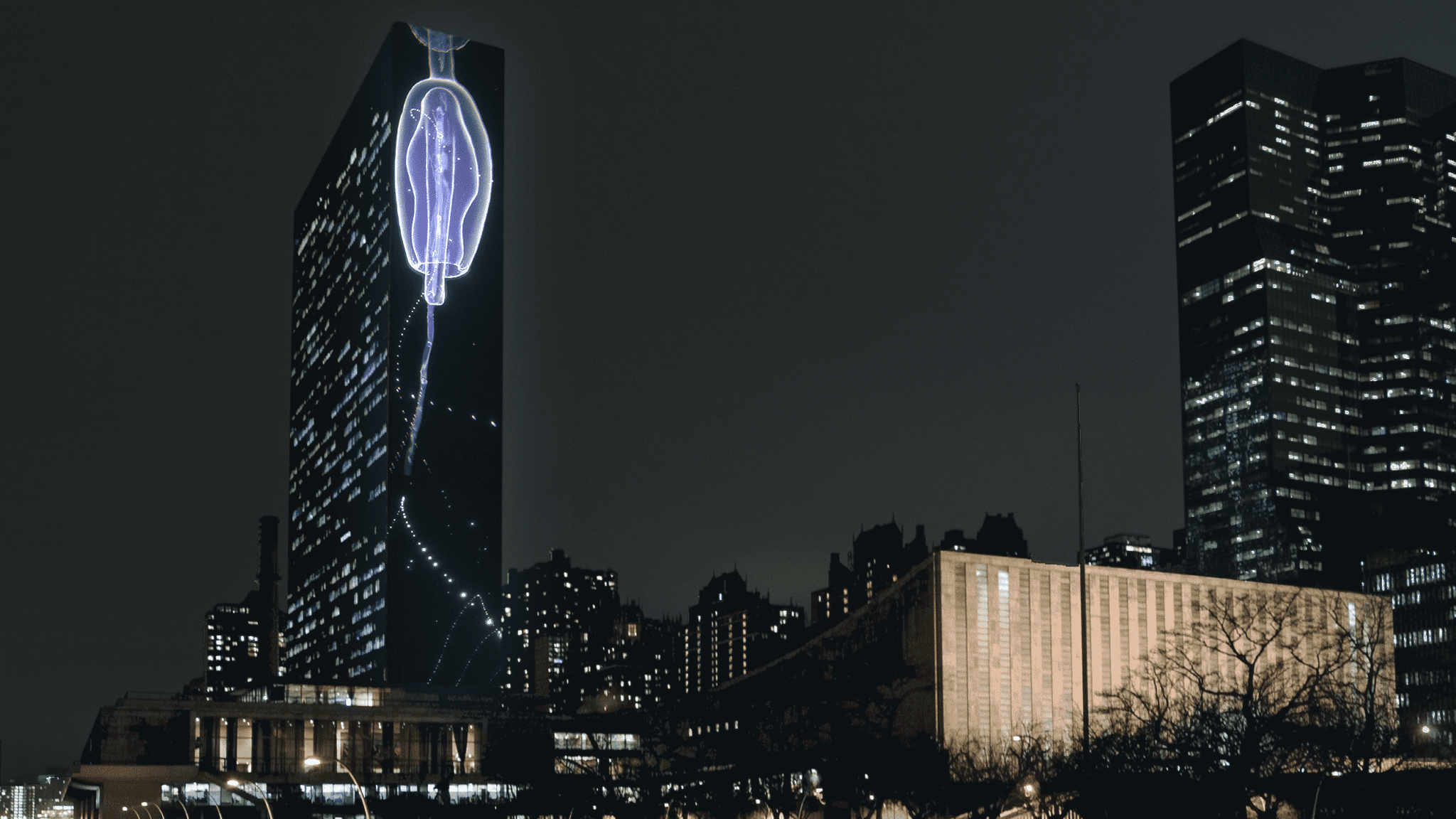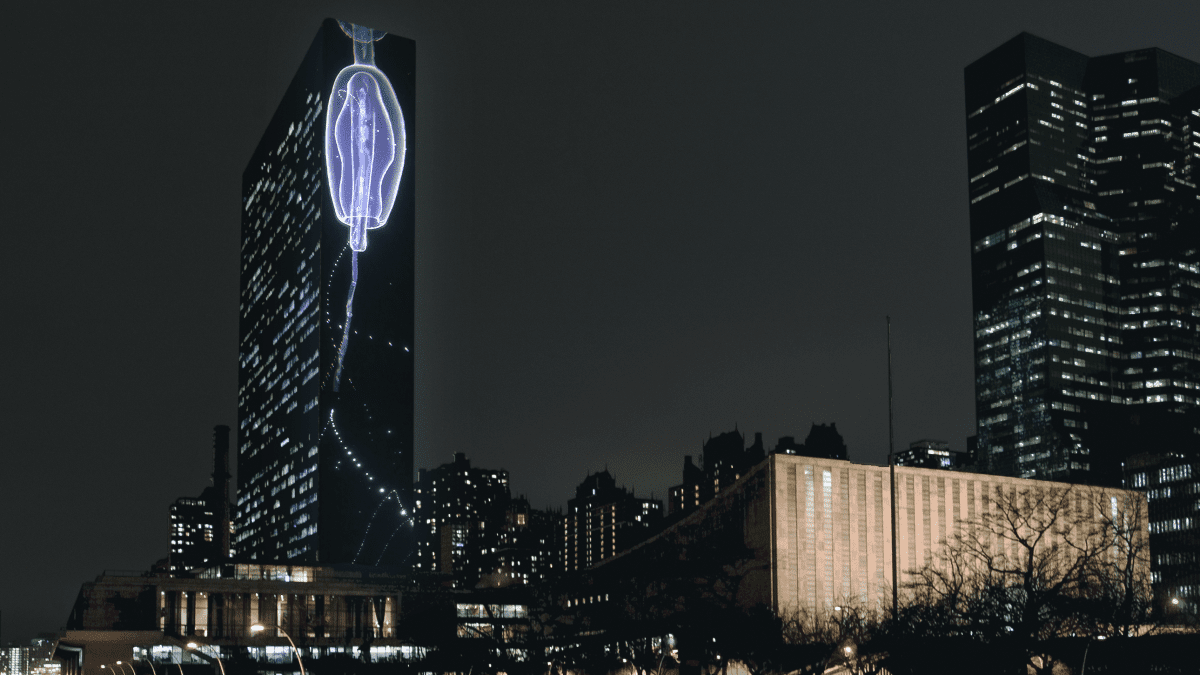 Woods Hole Oceanographic Institution has collaborated with ocean advocates to bring an unusual video installation to the United Nations' headquarters in New York. "Vertical Migration" highlights the biodiversity of the Ocean's Twilight Zone and its role in combating climate change. The image of a siphonophore will be projected onto the facade of the United Nations' 505-foot tower from September 21 -24, 2021, coinciding with the 76th General Assembly and Climate Week NYC. Artist Rendering: UN Photo/Eskinder Debebe. Visualizations by SUPERFLEX.
---
September 15, 2021
"Vertical Migration" highlights the biodiversity of the Ocean's Twilight Zone and its role in combating climate change
Beginning Tuesday, September 21 and running evenings (8–11pm EST) through Friday, September 24, artist collective SUPERFLEX will project Vertical Migration onto the facade of the United Nations Secretariat Building, the UN's signature 39-story tower. Coinciding with the 76th UN General Assembly, Vertical Migration is a dramatic, 505-foot (154-meter) video installation that draws attention to the role that the ocean—particularly the little explored region known as the ocean twilight zone—plays in global climate. The installation is an initiative developed by TBA21—Academy, a leading arts organization dedicated to ocean advocacy, and ART 2030, supported by Avatar Alliance Foundation, Dalio Philanthropies and OceanX, in partnership with Woods Hole Oceanographic Institution (WHOI). Vertical Migration is part of SUPERFLEX's new body of work, Interspecies Assembly, calling for all forms of life to protect biodiversity and boost climate action. The work brings together additional partners from arts, science, and policy, including the United Nations, Google Arts and Culture and University of Copenhagen's GLOBE Institute.
Vertical Migration focuses on a siphonophore: a symbol of the many working as one. A siphonophore is not a single animal but a colony of specialized marine organisms that work together to enhance group survival. These amazing colonies can grow to immense sizes: some longer than the largest blue whale. This particular siphonophore is a creature of the ocean twilight zone, the "mesopelagic" or midwater region just below the ocean's sunlit surface zone. This global swath of water extends hundreds of meters into the deep and plays a critical role in ocean food webs.
The ocean twilight zone is home to the largest animal migration on Earth. Every night, trillions of twilight zone animals journey from the depths to the ocean's surface to feed and back again before daybreak. WHOI and its partners are investigating the role of this nightly "vertical migration" in the ocean's biological carbon pump: a massive, planet-scale process that captures carbon dioxide from the atmosphere, moving it into surface waters through the twilight zone and down to the deep ocean, keeping it out of the atmosphere for hundreds or even thousands of years. Every year, the ocean twilight zone's biological processes move as much as 2 to 6 gigatons of carbon from the surface to the deep ocean—two to six times the amount of carbon emitted by all automobiles worldwide, equal in weight to at least 200 million African elephants. Through its Ocean Twilight Zone Project, WHOI is advancing critical understanding of the twilight zone's role in global climate.
"With the world waking up to the clear and present threat of climate change, people are looking to the ocean for solutions, especially solutions to the problem of carbon dioxide in the atmosphere," said WHOI President and Director, Peter de Menocal. "The ocean has tremendous potential for carbon storage. But at what cost? If we want to avoid the destruction of ocean ecosystems and the unknown consequences of ecosystem changes, we need to shine a light in the deep and learn the value of what's there. Science and art together shine this light in an especially important way."
Based in Copenhagen, SUPERFLEX comprises three artists: Bjornstjerne Christiansen, Jakob Fenger and Rasmus Nielsen. Their collective practice blends art, design, science, marketing, and activism to challenge global forces. Following an exploratory trip hosted by TBA21—Academy to the Louisiade Islands in Papua New Guineas, SUPERFLEX designed a computer-generated siphonophore and created the animated film, Vertical Migration, depicting its ascent. At first, the film mechanically circles the creature, getting closer and closer while giving the audience a view of it from all angles. It showcases the hypnotic dance of a single siphonophore as it emerges from the depths. But eventually the perspective shifts, the camera's movements become more fluid, and the viewer sees the world from the perspective of the siphonophore.
"Unsettling our perceptions of scale and otherness, Vertical Migration is an intimate encounter with a life form that bears no resemblance to human beings, though we share a planet, an ecosystem, and a future. Because of sea-level rise, humans will also be migrating vertically in the coming centuries, to higher elevations and raised buildings. The siphonophore's story is our story. Though we can never experience its journey through the pitch-black ocean depths, we can shift our perspective to recognize that we're connected, that our actions affect each other, and that we share a common fate," said SUPERFLEX.
Press preview: 20th September 2021, AM/PM EST
On view 21-24 September 2021, 8 – 11PM EST
Location
United Nations Headquarters, Northern facade, Secretariat Building
405 East 42nd Street, New York, NY, 10017, USA
 ###
Woods Hole Oceanographic Institution (WHOI) is a private, non-profit organization on Cape Cod, Massachusetts, dedicated to marine research, engineering, and higher education. Established in 1930, its primary mission is to understand the ocean and its interaction with the Earth as a whole, and to communicate an understanding of the ocean's role in the changing global environment. WHOI's pioneering discoveries stem from an ideal combination of science and engineering—one that has made it one of the most trusted and technically advanced leaders in basic and applied ocean research and exploration anywhere. WHOI is known for its multidisciplinary approach, superior ship operations, and unparalleled deep-sea robotics capabilities. We play a leading role in ocean observation and operate the most extensive suite of data-gathering platforms in the world. Top scientists, engineers, and students collaborate on more than 800 concurrent projects worldwide—both above and below the waves—pushing the boundaries of knowledge and possibility. For more information, please visit www.whoi.edu
Woods Hole Oceanographic Institution leads the Ocean Twilight Zone Project, a bold scientific initiative to explore and understand this vast ocean frontier before it is too late. With generous funding from the Happel Foundation, WHOI is now building a first-of-its-kind Ocean Twilight Zone Observation Network, which uses cutting-edge technologies to continuously monitor the ocean in three dimensions over an area of three-quarters of a million square kilometers. WHOI's OTZ Observation Network will offer unprecedented insight into this little-known region of the ocean and its essential role in global climate.
Avatar Alliance Foundation (AAF) promotes science-based solutions that advance the availability of clean energy, ensure healthy oceans, protect biodiversity, and create sustainable food systems. It recognizes and respects the intelligent guardianship of natural resources by indigenous peoples and supports indigenous rights. The AAF enables advocacy media projects that address climate change and champion nature.
Dalio Philanthropies
The Dalio family gives philanthropically through both Dalio Philanthropies and individual donations of Ray and Barbara Dalio.  Giving is done as a family activity that reflects the diverse philanthropic interests of Dalio family members, which include education, ocean exploration and awareness, environmental protection, access to technology, mental health and wellness, healthcare and health justice, financial inclusion, and community activities and the arts, among other things. To learn more about Dalio Philanthropies, visit www.daliophilanthropies.org.
OceanX is a mission to support scientists to explore the ocean and to bring it back to the world through captivating media. Uniting leading media, science, and philanthropy partners, OceanX utilizes next-gen technology, fearless science, compelling storytelling, and immersive experiences to educate, inspire, and connect the world with the ocean and build a global community deeply engaged with understanding, enjoying, and protecting our oceans. OceanX is an initiative of Dalio Philanthropies, which furthers the diverse philanthropic interests of Dalio family members. For more information, visit www.oceanx.org and follow OceanX on Facebook, Instagram, Twitter, and LinkedIn.
Key Takeaways
Vertical Migration by artist group SUPERFLEX will be projected onto the facade of the United Nations' 505-foot tower in New York, on 21-24 September 2021, coinciding with the 76th General Assembly and Climate Week NYC.
Vertical Migration seeks to draw global attention to the critical role of the ocean in global climate, a primary focus of Woods Hole Oceanographic Institution's Ocean Twilight Zone Project.
Vertical Migration is intended to inspire and engage world leaders and the public to protect biodiversity and boost climate action.