WHOI's first children's book "Where the Weird Things Are" now available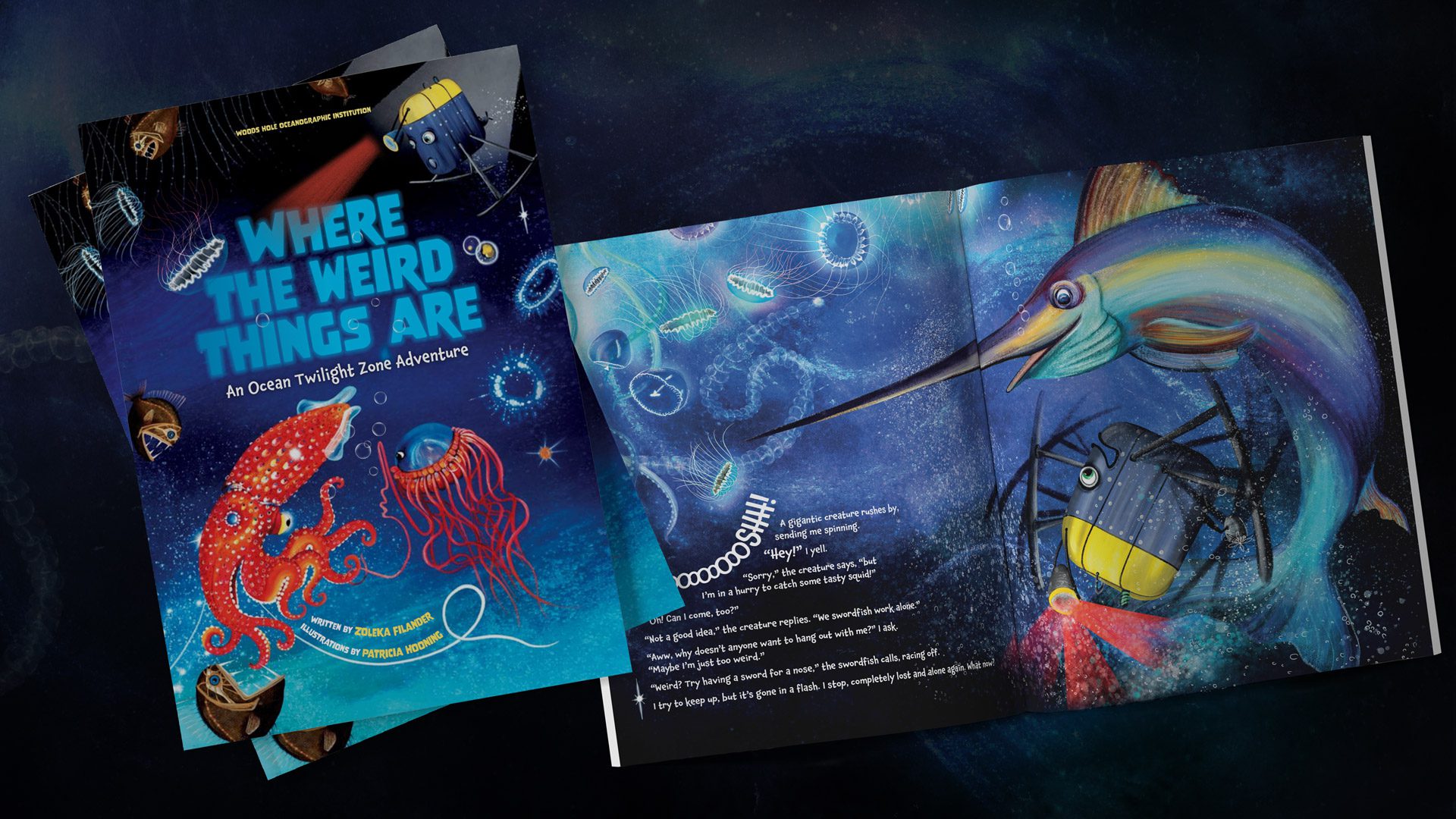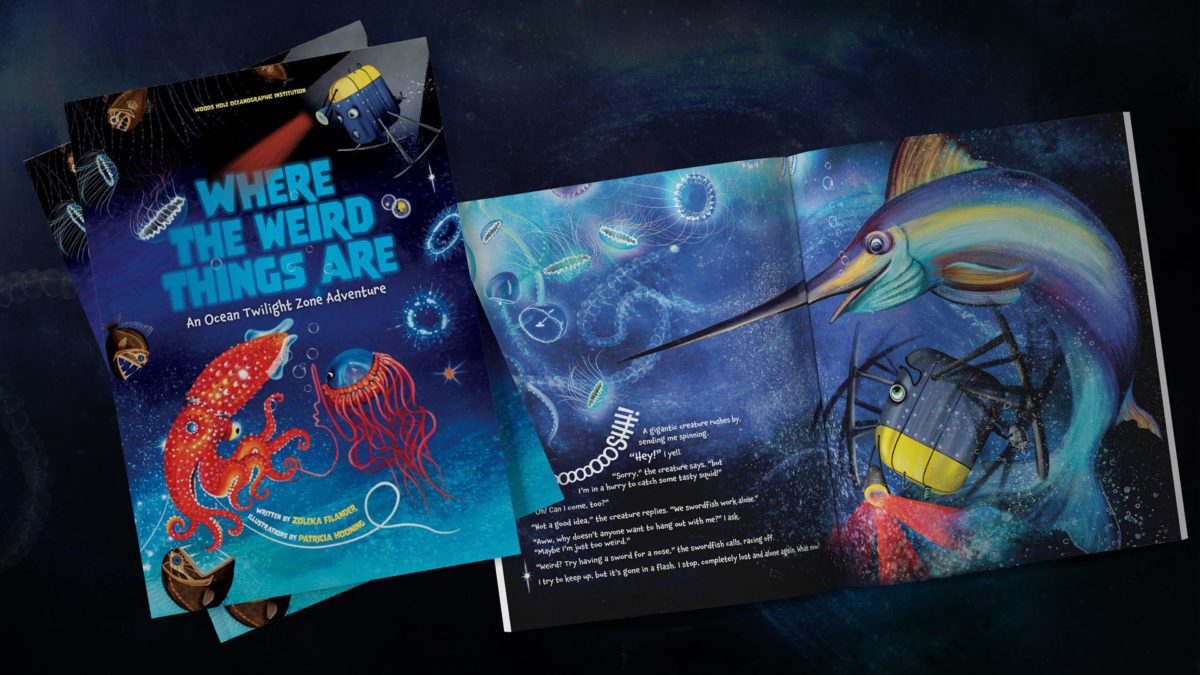 ---
March 21, 2023
Where the Weird Things Are: An Ocean Twlight Zone Adventure
By Zoleka Filander
Illustrated by Patricia Hooning
Created in Collaboration with Woods Hole Oceanographic Institution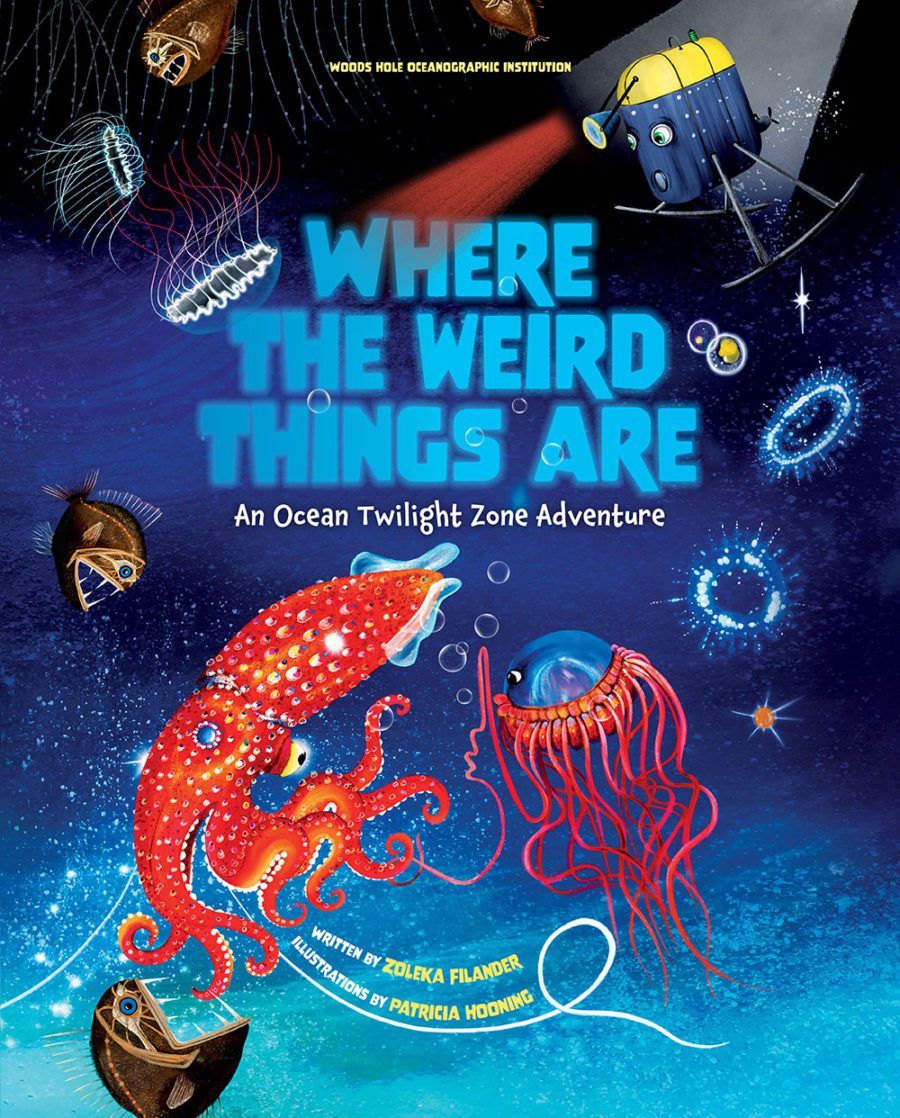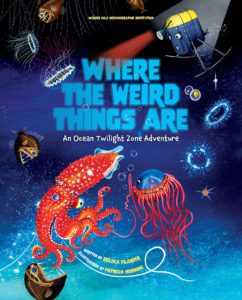 Woods Hole, MA—Join Meso, an intrepid underwater robot, on its very first expedition to explore the ocean twilight zone.  Meso will discover all sorts of unusual and wonderful creatures and learn that we're all weird in our own ways … and that's a very good thing!
Where the Weird Things Are is the first children's book from the Woods Hole Oceanographic Institution (WHOI) and is inspired by the groundbreaking work of the Ocean Twilight Zone (OTZ) project, and Mesobot, an innovative hybrid robot designed specifically to study life in the ocean twilight zone.  The development of Mesobot was a collaborative effort between WHOI, the Monterey Bay Aquarium Research Institute (MBARI), Stanford University, and the University of Texas Rio Grande Valley.
What is Mesobot?
Mesobot is an underwater robot capable of tracking and recording high-resolution images and data of slow-moving and fragile animals in the mid-ocean known as the "twilight zone," a layer of the ocean that stretches around the globe, just beyond the reach of sunlight. The twilight zone is cold and its light is dim, but with flashes of bioluminescence—light produced by living organisms.
Mesobot uses cameras and lights to follow ocean animals, including red lights (which most mid-ocean creatures cannot see) and low-power thrusters that allow it to hover in place and track animals as they ride internal waves.
"WHOI's first children's book, "Where the Weird Things Are" will help to inspire a next generation of ocean explorers and engineers and reinforce that our differences are what makes us stronger," said Heidi Sosik, lead scientist for the Ocean Twilight Zone project. "The transformation of Mesobot and ocean twilight zone creatures into relatable characters is especially exciting to see, and we hope that kids and parents can have fun and learn something too!"
Where the Weird Things Are author Zoleka Filander added, "Sharing my passion for the ocean and the animals that call it home is a key part of my mission as a scientist. This project with the Woods Hole Oceanographic Institution, bringing the ocean twilight zone creatures to young readers in a relatable and clever way, has been hugely gratifying."
FUN AND FACT-FILLED: Written by award-winning deep-sea scientist Zoleka Filander and the team at the Woods Hole Oceanographic Institution, this lovely story is packed with real information about life under the sea.
FASCINATING ANIMALS: Get an up-close look at some of the strangest creatures in the sea, like the strawberry squid that glows pink, the anglerfish that has its own built-in flashlight, and the salps that clean up the ocean . . . with their poop.
WEIRD IS WONDERFUL: Just like each unique animal helps create a diverse and healthy underwater environment, young readers will learn that our differences are our strengths, and everyone belongs.
EXTENDED LEARNING: Includes an 8-page "Creature Feature" section filled with fascinating facts about the real-life Mesobot, the ocean twilight zone, and all the ocean animals encountered in the story.
TAKE THE QUIZ: Includes a link to the "Find Your Weird" quiz to discover which ocean creature is as wonderfully strange as you (visit keepitweird.us)

Zoleka Filander is a deep-sea scientist who studies the weird and wonderful creatures that live at the bottom of the ocean in the waters around her homeland of South Africa. She has led expeditions where she has spent many months at sea discovering more about South Africa's uncharted oceans. Her work has helped establish a network of offshore marine protected areas and has earned her multiple national, regional, and international awards.

Patricia Hooning is a Dutch illustrator with a deep love for weird & quirky (sea) creatures. After growing up by the North Sea, she became a designer and started illustrating children's books, apparel, stationery, board games and many other fun things under the name 'Fishuals'. Patricia lives with her husband and daughter near Amsterdam in The Netherlands.
About Earth Aware Kids
Earth Aware Kids, an imprint of Earth Aware Editions, is committed to cultivating young readers' connection to the natural world. We believe children can be active stewards of the environment and change-makers on critical issues from conservation and climate change to the loss of diversity in our planet's species and cultures. Earth Aware Kids celebrates the talents of the authors, artists, photographers, environmentalists, and activists who share our commitment to create books and products that will educate, entertain, and inspire the next generation of responsible global citizens.
About Woods Hole Oceanographic Institution
The Woods Hole Oceanographic Institution (WHOI) is a private, non-profit organization on Cape Cod, Massachusetts, dedicated to marine research, engineering, and higher education. Established in 1930, its primary mission is to understand the ocean and its interaction with the Earth as a whole, and to communicate an understanding of the ocean's role in the changing global environment. WHOI's pioneering discoveries stem from an ideal combination of science and engineering—one that has made it one of the most trusted and technically advanced leaders in basic and applied ocean research and exploration anywhere. WHOI is known for its multidisciplinary approach, superior ship operations, and unparalleled deep-sea robotics capabilities. We play a leading role in ocean observation and operate the most extensive suite of data-gathering platforms in the world. Top scientists, engineers, and students collaborate on more than 800 concurrent projects worldwide—both above and below the waves—pushing the boundaries of knowledge and possibility. For more information, please visit www.whoi.edu.
For more information about the Ocean Twilight Zone, please visit twilightzone.whoi.edu.
Where the Weird Things Are is available at SHOPWHOI site or wherever books are sold.