NOAA awards WHOI $2.9 million for harmful algal bloom research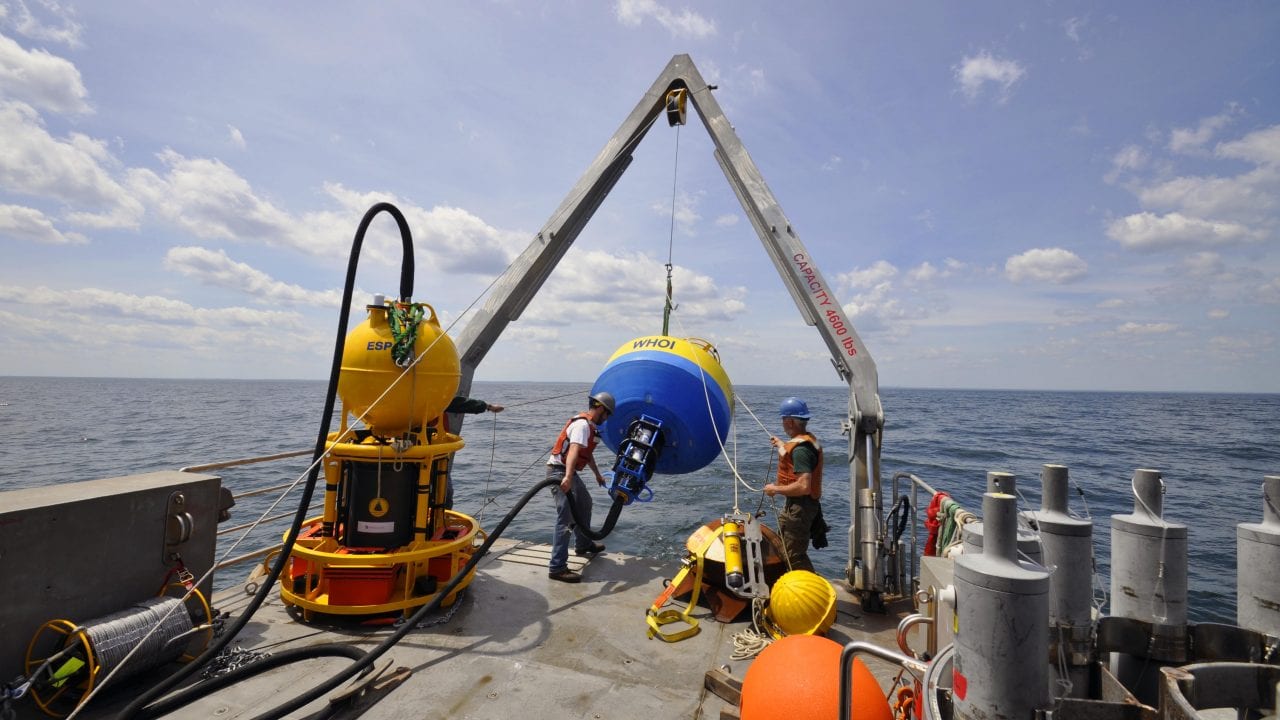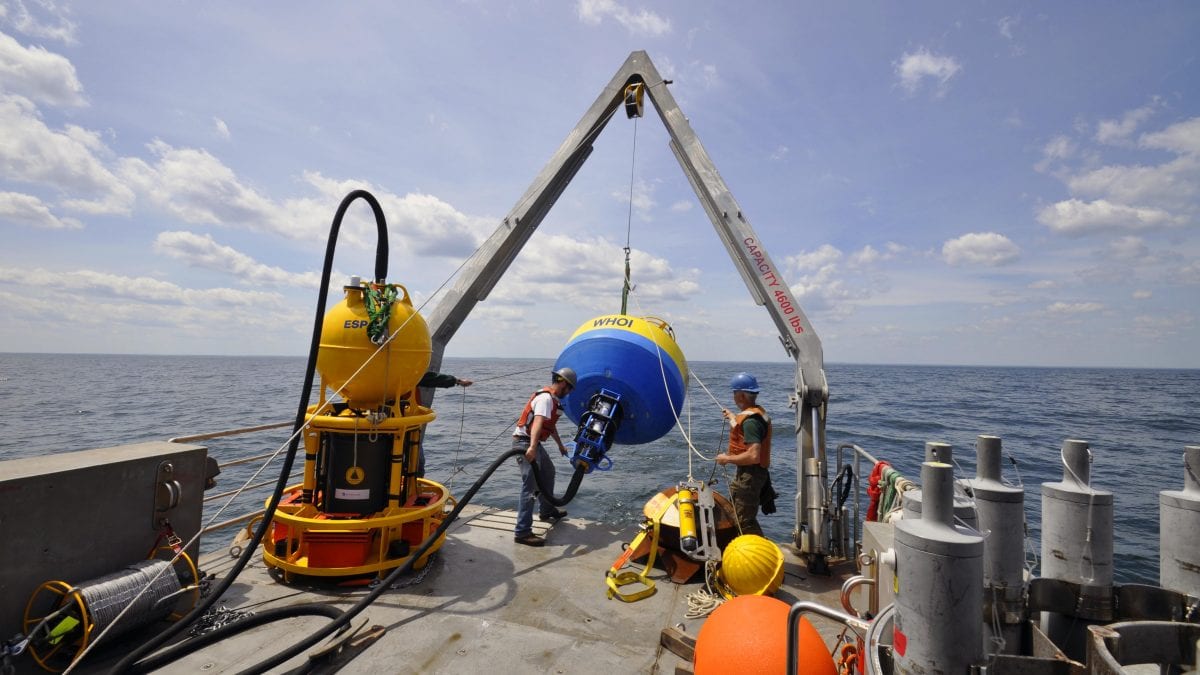 Jeff Pietro and Will Ostrom deploying an Environmental Sample Processor surface buoy. Photo by Ashley Cryan, Woods Hole Oceanographic Institution
---
October 3, 2019
NOAA's National Centers for Coastal Ocean Science (NCCOS) recently announced funding for 12 new research projects around the country to better understand and predict harmful algal blooms (HABs) and improve our collective response to them.
Woods Hole Oceanographic Institution (WHOI) will receive approximately $2.9 million over the next five years for studies of HABs in New England coastal waters, which have long been impacted by Alexandrium—a species that causes paralytic shellfish poisoning. While Alexandrium blooms can cause shellfish closures throughout the spring and summer, additional HAB species that produce different toxins are becoming more common in the Gulf of Maine, resulting in nearly year-round HAB threats to aquaculture, fisheries, and tourism in the region.
"We'll be deploying a network of advanced technologies that detect both Alexandrium and  emergent HAB species in the region like Pseudo-nitzschia and Dinophysis, species that cause amnesic shellfish poisoning and diarrhetic shellfish poisoning syndromes," says Mike Brosnahan, WHOI assistant scientist and principal investigator on the project. "The project team will also develop an open system for sharing these data and other products among managers and stakeholders in real time so that they can better protect seafood resources and human health."
The five-year project will create the HAB Observing Network-New England (HABON-NE), which will align academic, industry, state, and federal scientists in the deployment of advanced sensors, including the Environmental Sample Processor (ESP) and Imaging FlowCytobot (IFCB), at several locations along the New England coast. One lFCB will also be deployed at sea from an autonomous boat, enabling the network to adapt as blooms are transported along the coast.
This extensive network will enable year-round monitoring to meet changing seasonal HAB threats and respond to any unexpected ones. Data on HAB cells and their toxins, model outputs, and management actions will be shared with resource managers and through the web-based WHOI HAB Hub, an open source platform, designed to be readily adaptable to other regions of the country and the world.
The project also implements a toxicity model that translates high frequency estimates of cell concentrations derived from sensors into estimates of toxin loads in shellfish. Validation of the model predictions through comparison to shellfish meat testing results from New England state agencies will ground its integration into the NOAA NCCOS Gulf of Maine Alexandrium forecast model output, providing higher frequency toxicity estimates over the wider region.
The WHOI award is part of $10.2 million total from NOAA to fund HAB research across the nation. Approximately $8.4 million of that will cover the first year of new three- to five-year projects, and $1.78 million will go to three-year projects already in process. New projects will begin in Alaska, California, Chesapeake Bay, Florida, the Great Lakes, New England and the Pacific Northwest.
"Improved understanding of these coastal HAB threats will lead to better bloom observation and prediction, and help to mitigate effects along the U.S. coast," says NCCOS director Steven Thur, PhD.
The Woods Hole Oceanographic Institution is a private, non-profit organization on Cape Cod, Mass., dedicated to marine research, engineering, and higher education. Established in 1930 on a recommendation from the National Academy of Sciences, its primary mission is to understand the oceans and their interaction with the Earth as a whole, and to communicate a basic understanding of the oceans' role in the changing global environment. For more information, please visit www.whoi.edu.