Virgin Island Corals in Crisis
Brain corals in the U.S. Virgin Islands, like the one shown here, are exhibiting the same types of large, stark-white lesions as diseased corals in Florida. Photo by Marilyn Brandt, University of the Virgin Islands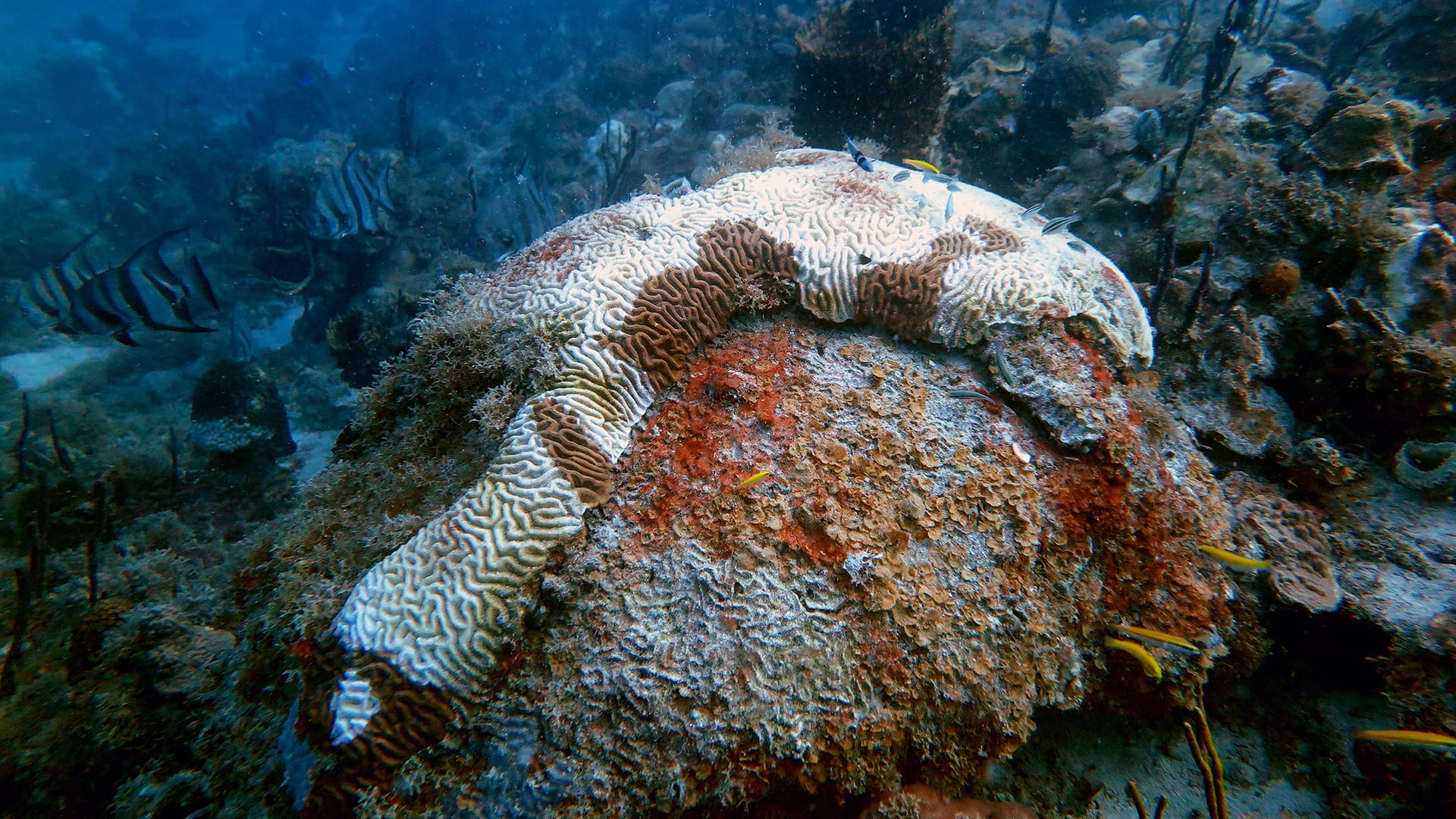 A coral disease outbreak that wiped out nearly 80% of stony corals between Florida's Key Biscayne and Key West during the past two years appears to have spread to the U.S. Virgin Islands (U.S.V.I.), where reefs that were once vibrant and teeming with life are now left skeleton white in the disease's wake.
The fast-spreading disease—believed to be Stony Coral Tissue Loss Disease (SCTLD)—has marine scientists scrambling to understand what's causing the outbreak and how or if it can be contained.
"The disease is affecting a variety of reef-building coral species—many of them long-lived—and appears to be spreading from reef-to-reef throughout southwestern St. Thomas," said Amy Apprill a marine ecologist at Woods Hole Oceanographic Institution. "It's the worst multi-species coral disease we've ever seen in the Caribbean, and most of the corals that get it die."
Rapid response
St. Thomas and the other U.S. Virgin Islands depend on corals for tourism and food, and to buffer coastlines from storms. With funding from a Rapid Response Research (RAPID) grant through the National Science Foundation, Apprill, along with colleagues from the University of the Virgin Islands, Rice University, Louisiana State University, University of Texas at Arlington, and Mote Marine Laboratory, are conducting a task-force style investigation to learn more about the disease's pathology, how it may be spreading through the ocean, and how coral immune systems are responding to it. The researchers are also trying to determine if the outbreak can be stopped before it completely decimates reef ecosystems throughout the region.
"At this point, there's no end in sight," said Apprill.
According to Dan Holstein, a coral reef ecologist at Louisiana State University, it's unclear how the disease has spread from South Florida to the U.S. Virgin Islands. "We don't see an immediate link or reason it would have travelled south," he said. But he suspects that it could be spreading through the region from boat ballast water or ship hulls. "One reason we're looking into this is that the first observation made of the disease in the Virgin Islands was very close to the port of St. Thomas, where ships drop their ballast water," he said. "Based on this hypotheses, we're creating hydrodynamic models to predict where the disease might move next now that it's established in the region."
Similar signs to Florida outbreak
Regardless of how it got to the Caribbean, the researchers feel that the disease they're seeing is the same one that caused the loss of nearly 100,000 acres of corals in Florida over the past five years. Most of the U.S.V.I. corals that have been affected so far—brain corals, pillar corals, and other stony species—have exhibited the same types of large, stark-white lesions as those affected in Florida.
At Apprill's lab in Woods Hole, Mass., she and her team are analyzing samples of corals from a recent experiment that took place in the Virgin Islands to try to confirm that it is in fact an SCTLD outbreak, and to better understand the pathogen and other microbial responses to the disease.
"Our collaborative team conducted an experiment where we held affected corals next to healthy ones to track the spread of the disease, and to test to see if there are immune functions that certain stony coral species have that others do not," said Apprill. "We are also looking to identify a bacterial pathogen, and understand how changes in how the coral microbiome may impact disease susceptibility."
'Natural disaster" for reef ecosystems
Marilyn Brandt, a coral disease ecologist at the University of the Virgin Islands who is leading the investigation, has seen many coral diseases come and go throughout the Virgin Islands but says this one is unprecedented. "The rate of spread is much faster than diseases we've known in the past, and what's really devastating is the number of corals it's killing," she said. "A lot more are being affected than we've seen in previous outbreaks, and whereas other diseases tend to burn themselves out, this one continues to march down the reef."
Despite the persistence of the disease, attempts to mitigate it are underway. When possible, researchers surveying the reefs are removing affected colonies to try to curtail the disease's spread. And the public is being encouraged to report sick or dead corals to the U.S.V.I. Department of Planning and Natural Resources and to avoid impacted reefs. The public is also being asked to disinfect any gear that may have come in contact with water in an affected area. But according to Apprill, containing disease outbreaks like this could become more challenging if microbes become more pathogenic in the future due to climate change.
"This particular outbreak is indeed a 'natural disaster' for reef ecosystems that's going to require us to work fast and collaboratively to understand it and fight it," she said.
This research is funded through the National Science Foundation's Biological Oceanography program, and is a collaboration between Marilyn Brandt and Tyler Smith (University of Virgin Islands), Amy Apprill (WHOI), Adrienne Correa (Rice University), Daniel Holstein (Louisiana State University), Laura Mydlarz (University of Texas at Arlington) and Erinn Muller (Mote Marine Laboratory).