"Know your Ocean" Science Chats
During July and August, the Ocean Science Discovery Center and Visitor Center are sponsoring a series of public talks by WHOI scientists and engineers. Designed for a lay audience, this series is a great opportunity to learn more about WHOI science. Everyone is welcome to attend.
Date, Time & Place
All talks are held on Tuesdays at 3:00 pm at the WHOI Ocean Science Discovery Center Auditorium, 15 School Street, Woods Hole, MA.
Contact
For more information, please contact Kathy Patterson at (508) 289-2700 orkpatterson@whoi.edu.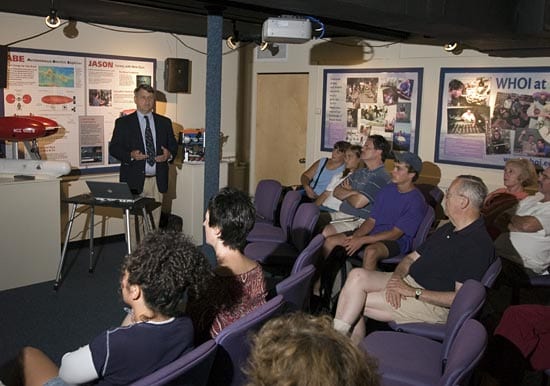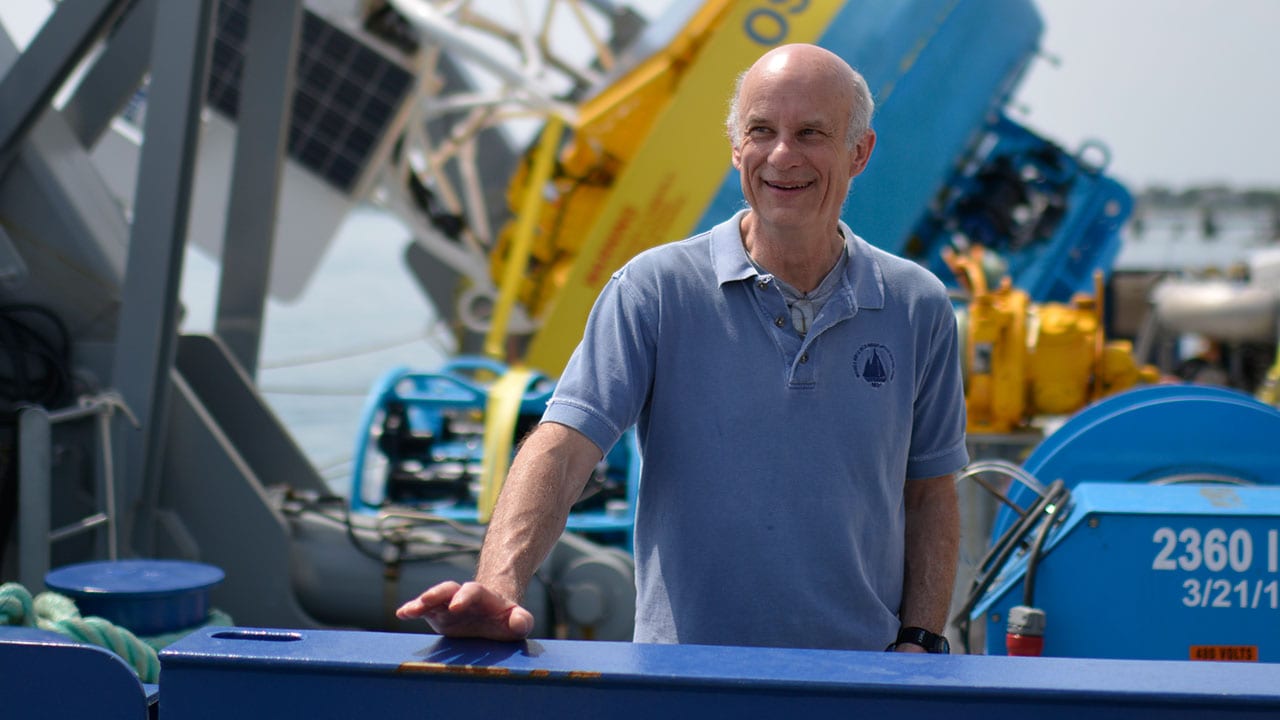 Tuesday, July 9, 2019
Observing a Complex Coastal Ocean
Al Plueddemann, Department of Physical Oceanography, Woods Hole Oceanographic Institution
The coastal ocean is a complex, constantly changing place that is difficult for scientists to study, nevertheless, scientists aspire to get more than just intermittent glimpses of this critical part of the ocean. The Ocean Observatories Initiative (OOI) Coastal Arrays off the East and West Coasts of the U.S. are providing a much-needed long-term view of our nation's waters at a when time sea level, fisheries, currents and even ocean chemistry are showing signs of change. Come learn about the Pioneer Array south of New England that includes tools such as traditional moorings and autonomous ocean robots, as well as some surprising insights in just the first few years of data from the one of our newest observatories into "inner space."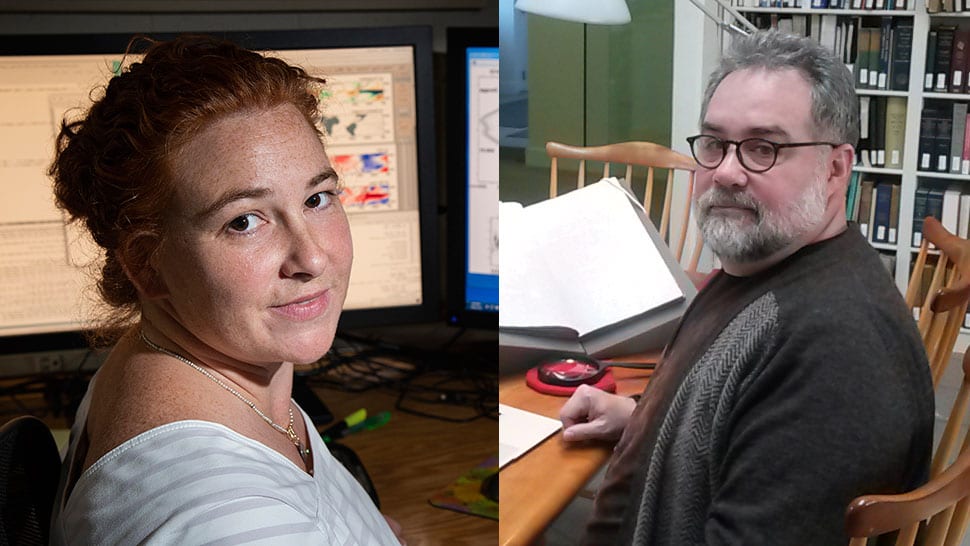 Tuesday, July 16, 2019
What New England Whaling Logbooks Can Tell Us About Climate
Caroline Ummenhofer, Department of Physical Oceanography, Woods Hole Oceanographic Institution
Timothy D. Walker, Professor of History, University of Massachusetts Dartmouth
Learn how historians and oceanographers are working together to assess historic changes in climate and weather patterns. American whaling logbooks of voyages to the Indian Ocean (c. 1785-1910) contain records of atmospheric conditions such as wind strength and direction, storms, precipitation, air temperature, and pressure. By examining these archival documents, researchers hope to learn how the weather of the Indian Ocean developed during the past 230 years with an aim to address contemporary climate concerns, such as changes in the monsoons, expansion of the subtropical dry zones, and poleward shift of the Southern Hemisphere westerlies. Such trends have large societal implications in surrounding countries vulnerable to floods and droughts.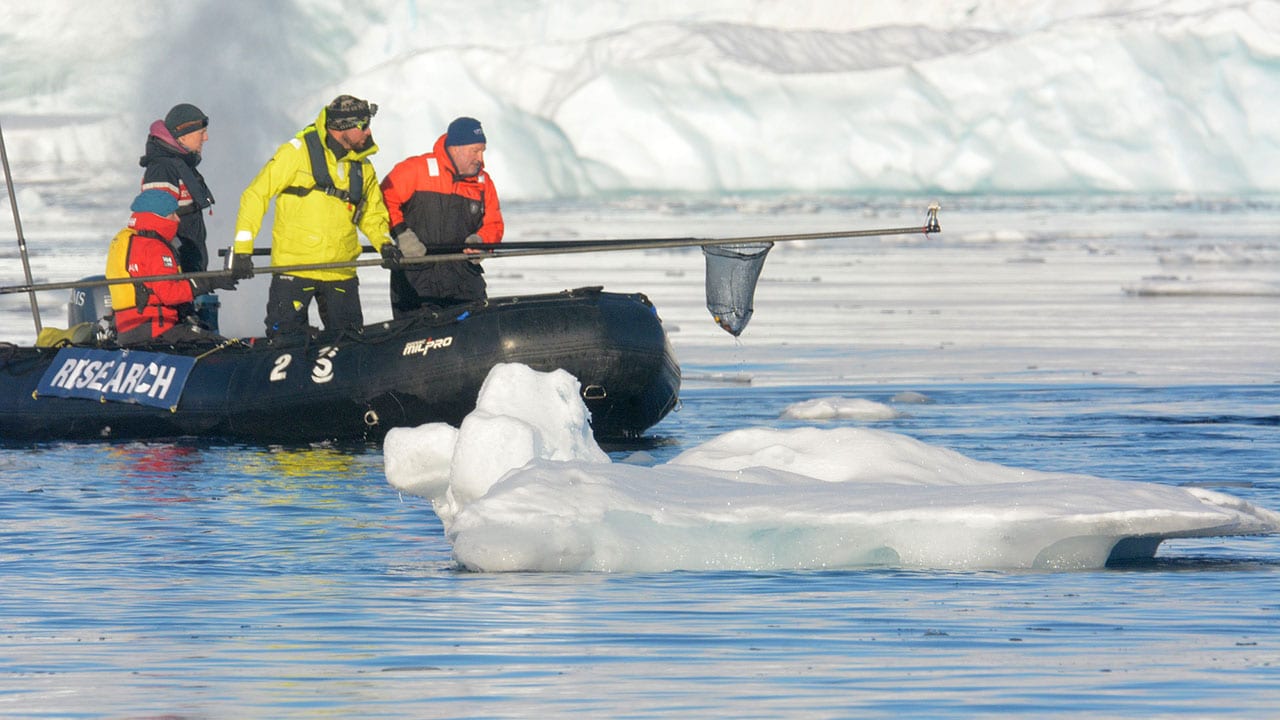 Tuesday, July 23, 2019
Tracking Humpback Whales in Antarctica
Daniel Zitterbart, Applied Ocean Physics & Engineering Department, Woods Hole Oceanographic Institution
Humpbacks migrate thousands of miles to their feeding ground in the Southern Ocean, yet nothing is known about how these whales find the krill that they consume. WHOI scientists joined an expedition aboard cruise ship Polar Latitudes to study the feeding habits of humpback whales on the Antarctic Peninsula. Using Zodiacs to get close enough to the whales to attach digital recording tags, his team logged whales' diving and feeding behaviors. They also used fish-finding acoustic systems to correlate the location of the whales with their prey. Learn their findings from this research, accompanied by stunning images of Antarctica, humpback whales, and other sea life encountered in the majestic southern continent.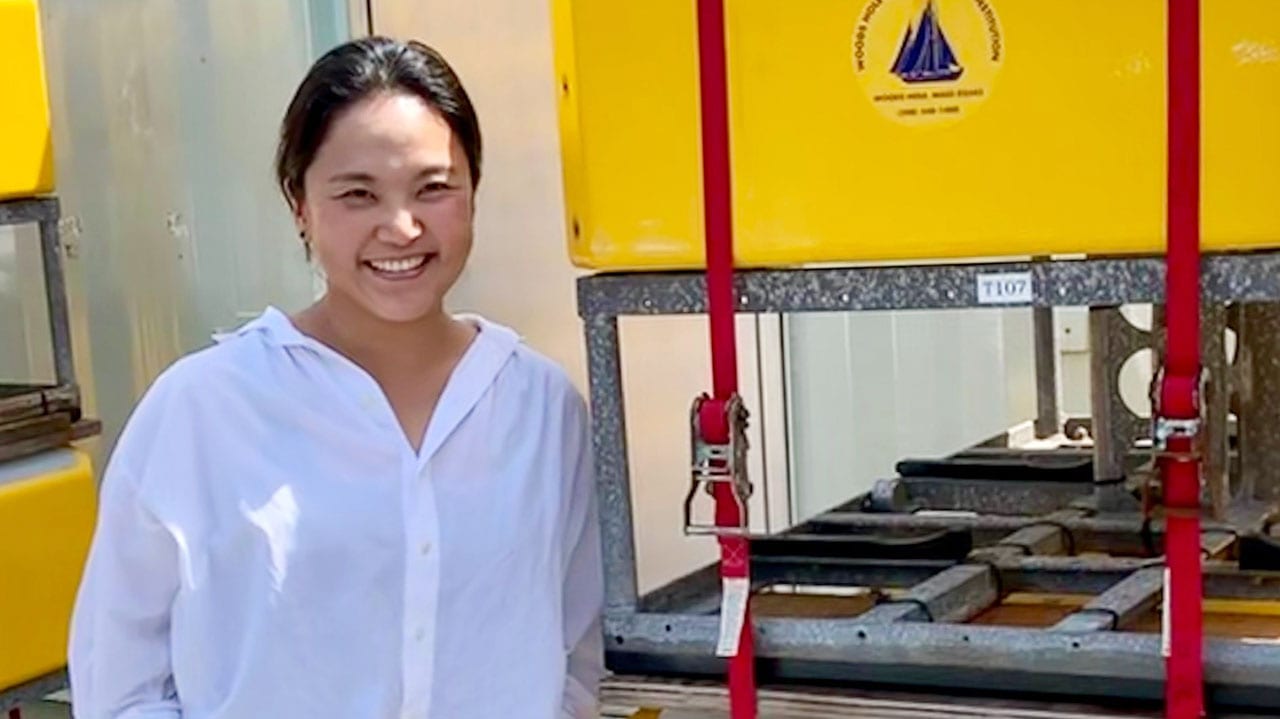 Tuesday, July 30, 2019
Listening Closely to "See" into the Earth
Masako Tominaga, Ocean Bottom Seismic Instrument Center, Woods Hole Oceanographic Institution
Whenever there is an earthquake, seismologists (scientists that study the nature and characters of seismic wave propagation within the planet Earth) try to tune in, and "listen to" the clue. Earthquakes radiate sound waves that travel through the earth's interior and along its surface, and scientists can evaluate the processes that control the evolution of the earth's interior by measuring the speed of these waves. The characteristics of an earthquake itself - such as location, magnitude, fault orientation, and fault slip - provides significant clues in understanding tectonic processes at global and regional scales. Data gained in seismology are critical to understanding the fundamental physics of earthquake initiation and rupture and invaluable to assessing and mitigating the impacts from earthquakes. The Ocean Bottom Seismic Instrument Center (OBSIC) here at WHOI is the nation's science operation headquarters to develop and support state-of-art ocean bottom seismometers that enable scientists to detect earthquakes occurring. Come join us and learn more about how scientists have been listening closely to "see" into the Earth through OBSIC's experiments at sea.