The Woods Hole Oceanographic Institution announces with great sorrow the death of former employee Thomas Fox O'Brien on January 3, 2020 surrounded by his family. He was 73.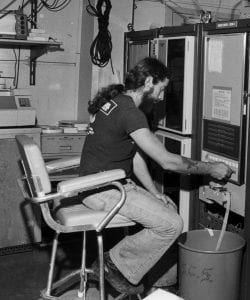 Tom was born in Waltham, Mass., a son of the late Ambrose O'Brien and Barbara Lynch. He was the former husband of Jo-Anne (Choate) D'Amico.
A veteran of the United States Army, he served in the Vietnam War. Following his military service, Tom began his career in marine technology in 1970 at WHOI as an electronics technician. He served on the R/V Chain in the 1970s, including a global circumnavigation. He sailed on many other WHOI cruises and developed a passion for marine geophysics, data acquisition and processing. During his tenure at WHOI, he was promoted several times and left in 1982. Following his time at WHOI, Tom worked for Gulf Oil for several years before returning to science in 1983 at the USGS Woods Hole Coastal and Marine Science Center on Quissett Campus.
Tom was an admired colleague and mentor during his 36 years of service at the USGS and in the Woods Hole community of scientists and engineers. He led many of the marine technology and seafloor mapping innovations for which USGS is known nationally and worldwide. Tom's work included the hardware and software integration of analog and digital sensors, satellite navigation, and computers for collecting geophysical data from the deep sea to shallow estuaries. He was an early adopter of Unix-based computers and networking, and built the first USGS network in the Crawford building to prototype a seagoing multichannel seismic acquisition and processing system. His technical expertise was honed during many hundreds of days at sea on research ships, and spanned the technological transition from analog and paper recorders to fully digital data acquisition.
In 1988, Tom was a founder of the USGS Woods Hole Sea Floor Mapping Group, and formed the backbone of the national USGS marine geologic research effort across offices in Woods Hole, Mass., Menlo Park and Santa Cruz, CA, and St. Petersburg, FL. His dedication and spirit for the job were recognized and appreciated by all those with whom he worked. At the end of his career, Tom was a patient, steady and consistent mentor to the next generation of scientists and technologists, both at sea and in the office.
In addition to a strong commitment to his children, Tom had a broad array of interests that he shared with family and friends. He was an avid motorcyclist from a young age. He took many trips to the Sturgis and Laconia Motorcycle Rallies, and also enjoyed traveling to MotoGP racing events around the country with his son. Tom relished anything technological, building and modifying computers, drones, and motorcycles. He also enjoyed fly fishing in the waters around his home on the Upper Cape. Tom was kind-hearted, candid, and cherished time with close friends and family.
Tom is survived by his children Courtney O'Brien and Thomas O'Brien, sister Judy O'Brien, and brother Kevin O'Brien.
A wake will be held on Thursday, January 9, 2020 from 5-8 p.m.,  at the Nickerson-Bourne funeral home, 40 MacArthur Boulevard in Bourne. A funeral service will be held on Friday, January 10, 2020 from 11:30 a.m. -12:30 p.m., at the Nickerson-Bourne Funeral Home, followed by a 1 p.m., burial with full military honors at the Massachusetts National Cemetery in Bourne, Mass.