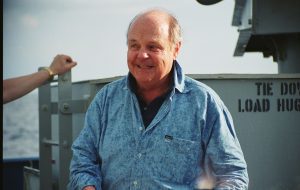 The Woods Hole Oceanographic Institution announces with great sorrow the death of Life Trustee Robert L. James on August 29, 2021, at his home in Greenwich, CT., surrounded by those who loved him. He was 84.
Bob was born September 23, 1936, in New York City to Mildred V. and Leo F. James. He attended Fordham Preparatory School, and later earning an A.B. from Colgate University and an M.B.A. from Columbia University.
Bob was the former Chairman and CEO of McCann Erickson. During his leadership, he led it to become the largest advertising agency in the world. Bob joined McCann in 1981, at age 44, as vice-chairman, U.S. operations, and four years later was named Worldwide CEO. Prior to joining McCann, he had been vice-chairman of Interpublic Group of Companies. From 1975 to 1980, he became CEO of the Marschalk Company before he was 40 and trebled its size during his management. His move up through the ranks at Marschalk started in 1968 when he joined the agency as a senior vice president. In 2010, he was recognized and inducted into the Advertising Hall of Fame.
Besides his passion for business, Bob was an avid skier, scuba diver, and hunter, but it was his passion for sailing and sailboat racing on his beloved New York 40 Class yacht Carronade, where his competitive spirit could be put to the test, winning many races, and competing in such ocean races as the bi-annual Newport to Bermuda ocean race, as well as The Trans-Atlantic Challenge in 1998 while he was Commodore of the New York Yacht Club, having become Commodore in 1997. A world traveler, he visited every continent during his lifetime.
A humanitarian, Bob, initiated the "James Prize" for the National Academy of Sciences, as well as serving as a life trustee of the Columbia Presbyterian Hospital, and on the boards of The Smithsonian National Air and Space Museum, The National Captioning Institute, Operation Sail, the South Street Seaport Museum, World Ship Trust, and WHOI. He became a WHOI Corporation Member in 1996, Trustee in 1997, and Life Trustee in 2012. During his time at WHOI, he was dedicated to his work on many committees, task forces, and fundraising activities.
He also supported the institutions from which he graduated having served as a member of the Board of Trustees of Fordham Preparatory School where he created a scholarship for" Working Mothers" in honor of his own mother, and on the National Service Council of Colgate University and the Alumni Council of the Columbia University Graduate School of Business.
His brilliance in business was equally matched with a love for his family. He is survived by his loving wife of 53 years, Anne; son, Robert L. James Jr.; daughter, Victoria Lincoln; son Jeffrey B. James; seven grandchildren and four great-grandchildren.
Visitation will be held on September 3, 2021, at Castiglione Funeral Home, Greenwich, CT., from 4-8 p.m. Mass will be held at St. Catherine of Sienna on September 4, 2021, Greenwich, CT., at 10 a.m., with burial to follow.
Information for this obituary is from Sun Sentinel Newspaper