The Woods Hole Oceanographic Institution announces with great sorrow the death of WHOI Member of the Corporation, James Hunter Orr, Jr., on January 17.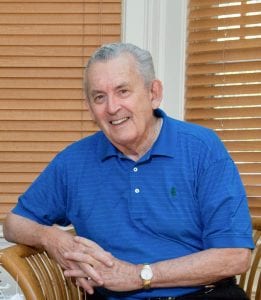 James was born and raised in Newton, Mass., with his two brothers David and Jack, the sons of James H. Orr and Elenor Mason Orr.
James was a graduate of Cornell University in 1949 and later earned an MBA in the Northeastern University night school. In 1949, he joined the Research & Development Division of Arthur D. Little (ADL), Inc, where over the next 17 years he was involved in a variety of projects and a basic program in passive radar camouflage, as well as chemical market surveys and project management with the Division Business Office. James also met his future wife, Jane at ADL and they married in October 1963.
In 1966 James was invited to join Colonial Management Associates, Inc., a mutual fund investment management firm founded by his father, as James described it, their first and last venture in nepotism. He was a chartered financial analyst, a past president of the Boston Security Analysts Society, and a co-founder of the Health Care Analysts of Boston.
James was a dedicated philanthropist throughout his life, especially towards the secondary schools attended by his two children. He was Treasurer and Trustee of the Brimmer & May School for over three decades, as well as a consistent supporter of St. Sebastian's School, where his wife, Jane, was a Trustee for 18 years. From childhood, he was an incredible builder of fine-scale models, several of which won awards over the years. James was a dedicated golfer and one of the longest members of the Brae Burn Country Club. He was a member of the Algonquin Club, the Boston College Club, the Newton Villagers, the DREGS, and the Society of Colonial Wars. James was also an Honorary Member of the Corporation of the Woods Hole Oceanographic Institution.
James was predeceased by his two brothers, David, an identical twin in February 1972 and a younger brother Jack in January 2014. He leaves his wife of 57 years, Jane; a son Alexander of Wrentham, Mass; and a daughter Christine and two grandchildren of Hingham, Mass., James and William.
At his request, there will be no formal service. An informal gathering will be held at a later date to be announced. Gifts in his memory can be made to the Brimmer & May School, 69 Middlesex Road, Chestnut Hill, Mass., 02467, or to St. Sebastian's School, 1191 Greendale Avenue, Needham, Mass., 02192.
Information for this obituary is from the Boston Globe