The Woods Hole Oceanographic Institution announces with great sorrow the death of Life Trustee, Hope Noyes Smith, on March 23 at her home in Pine Cay, Turks & Caicos Island, BWI.  She was 94.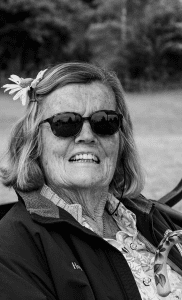 Hope was born in Swampscott, Mass., to Ruth Pike Noyes and Harry Edwin Noyes on July 27, 1925.
Hope grew up in Newtonville, Mass., and spent her summers at her family home on Marblehead Neck. She was a fierce sailing competitor in the Brutal Beast Class on her Bounding Clam at the Pleon Yacht Club. She attended Beaver Country Day School, and Dana Hall School, where she was an avid equestrian. During World War II, Hope volunteered as a Red Cross Nurse's Aide.
Hope moved to Stowe, VT, where she met and married the love of her life, Walter Addison Smith, Jr. Shortly thereafter, they moved to "Sunswick" in Hamilton, Mass., where they raised five children and a farm full of dogs, horses, donkeys, llamas, pigs, and buffalo.  Hope was also an avid gardener of fresh flowers and vegetables.
For 75 years, Hope raised champion Dalmatians under the name of Tioga Coach Kennels.  In 1993, she held the top winning female Dalmatian in the history of the breed. Her prized "K.C." won 20 all "Breed Best in Show" awards surpassing the previous record of eight.
In 1983, Hope and Walter took up residency in Pine Cay, Turks & Caicos Islands where they were involved with several business and charitable endeavors benefiting the local Islanders and preserving the natural beauty of these islands.
The Smiths loved to travel around the globe, but they were most happy sailing on board their sloop, Elskov, along the coast of Maine, to Nantucket and back to their home port of Marblehead Harbor. Through their joint love of the ocean, both Hope and Walter were honored to be involved with the WHOI for many years. Hope was a Life Trustee at the time of her death.  The WHOI research vessel, Tioga, will continue to make important advances in ocean science thanks to Hope and Walter, as will the endowed fund, The Walter A. and Hope Noyes Smith Chair.
Hope was predeceased by her devoted husband, Walter, her parents and her stepfather, M. Lawrence Shields as well as her three brothers, Harry K, Pike and Bradley Noyes. She is survived by her five children, Jessica Smith James of Pearland, TX; Charlie Smith (Cyrene) of Crooked River Ranch, OR; William Smith (Kimberly) of North Reading, Mass; Hope Amanda Smith of Ipswich, Mass; and Eliza Smith Cushman (Russell) of Marblehead, Mass. She also leaves behind many nieces and nephews.
Nothing gave Hope more joy than hosting her eight "Grands" at the farm or on Pine Cay for family vacations. She would load them into a pony cart for a ride down Waldingfield Road or take them out in the Beyond Hope for a snorkel on the reef. "Ahha" will be remembered fondly by Caity James; Glenn and Leif Erik Smith; Alexandra and Ian Smith; and Cecily, Gibson, and Hope Cushman.
Due to current conditions, a celebration of Hope's wonderful life will take place when safe to do so at Christ Church of Hamilton/Wenham, 149 Asbury Street, South Hamilton, Mass., 01982. In lieu of flowers, remembrances may be given to Christ Church of Hamilton/Wenham, or to Windrush Farm, Therapeutic Equitation in North Andover, Mass. Funeral arrangements will be provided by Whittier Porter Funeral Home in Ipswich, Mass.
Information for this obituary is from Hope's family.