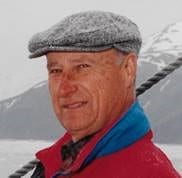 The Woods Hole Oceanographic Institution announces with great sorrow the death of former volunteer Fred Joseph Ravens Jr., on January 6, 2021, due to complications of COVID-19.  He was 94.
Fred was born in Billings, MT, and raised there and in Absarokee, MT. He was the son of the late Lela (Bird) and Fred J. Ravens, Sr.
Fred served in the US Navy's V-12 and V-5 programs during WWII and later the US Marine Corps Reserve. He received degrees in engineering from the University of Washington and Northeastern University. He retired from the US Army Corps of Engineers after 35 years, having risen to Chief, Design Branch, and then Assistant Chief, Engineering Division. He then worked for The Maguire Group until 1989. During his career, he was involved with many projects including the DEW Line in the Territory of Alaska, the Charles River Dam, the New Bedford Hurricane Barrier, bringing commercial power to Key West, and air base work in Egypt.
While raising their family in Norwood, Mass., Fred was involved with coaching Little League Baseball and Norwood Nuggets ice hockey, Cub Scouts, PTA, St. Timothy's Parish Council, CCD, and Knights of Columbus. He was also a member of Toastmasters International and organized a club for the inmates at Walpole State Prison (MCI-Cedar Junction).
Retiring from Norwood to East Falmouth, Fred was involved with the Falmouth Amateur Radio Association, Quarter Century Wireless Association, United States Power Squadrons Radio Net, Buzzards Bay Power Squadron and Falmouth Men's Club. He was also a volunteer at WHOI's Peanut Butter Club and with the Acapesket Improvement Association and the Cape Cod Marathon. Fred was a Falmouth Town Meeting Member from 1993 through 2019.
Fred was an avid boater, ham radio operator, gardener, and woodworker. With Catherine at his side, he enjoyed traveling the world, as well as bicycling, golf, tennis, cross-country skiing, hiking, clamming, bridge, big band music, and their beloved dogs. The twinkle in his eyes was a delight and his Montana accent and dialect were quietly charming.
Fred was the devoted husband of Catherine (Tesorero) Ravens for 69 years. He was the proud father of Fred J. Ravens, III, and Joan of Lynnfield, Mass.; David Ravens of Sanbornton, NH; Jean Phalen and David of Needham, Mass.; Thomas Ravens and Louke Ellenbroek of Anchorage, AK; and Robert Ravens-Seger and Ellen of East Granby, CT. He was the loving grandfather of Andrew, Michael, Lindsay, Daniel, George, Elizabeth, Christopher, Anthony, Joseph, William, James, Catherine, Elizabeth, Noah, and Robert. He was a great-grandfather to 11 and an uncle of two. He was predeceased by his daughter Margaret (Peggy) Perkins and his sister, Florence Ullrich.
Fred's family regarded their beloved patriarch as a role model and shining light. He possessed a keen but practical intellect and was always generous with his time, guidance, and support.
Fred will be buried with full military honors at Massachusetts National Cemetery in Bourne, Cape Cod. His graveside service will be private.
A funeral Mass and celebration of life will be held when it is safe to do so. As an expression of sympathy, donations can be made to Falmouth Service Center, P.O. Box 208, Falmouth, Mass., 02541 or St. Anthony's Catholic Church, 167 East Falmouth Highway, East Falmouth, Mass., 02536.
Information for this obituary is from Chapman, Cole, and Gleason Funeral Home