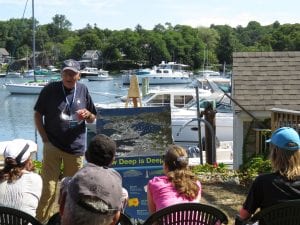 The Woods Hole Oceanographic Institution announces with great sorrow the death of long-time WHOI volunteer Francis "Frank" H. Taylor on February 23 at the Meadow Green Nursing Home in Waltham, Mass. He was 86.
Born in Quincy, Mass., Frank was the son of the late Francis and Mary (Krowski) Taylor.
Frank worked for 36 years as a science teacher for the Needham Public Schools before retiring in 1996.
After his retirement from Needham Public Schools, Frank was WHOI's oral historian and also a tour guide for 18 years before retiring in 2015.  "Frank was a dedicated volunteer at WHOI," said Joanne Tromp, volunteer coordinator. "Frank knew WHOI inside and out and loved his time here. Visitors raved about his tours and his storytelling. He will surely be missed."
Frank was always enthusiastic about life. Along with spending time with his loving wife, children, and grandchildren, he could often be found enjoying his hobbies of photography, painting, cycling, kayaking, snowshoeing, and hiking. He was a sports enthusiast, life-long athlete, and dedicated oceanographer. Exploring the country and traveling the world were passions of Franks, as well.
Frank was the devoted husband of 57 years to Andrea Taylor. Besides his wife, Frank is survived by their children, Jennifer Hill and her husband Greg of Stow, Mass., and Matthew Taylor and his wife Kim of Shrewsbury, Mass; grandchildren, Courtney Taylor, Julia, and Breese Hill.
A private memorial celebration of his life will take place on a later date. Arrangements are entrusted to the care of Norton Funeral Home, 53 Beech Street, Framingham, Mass.
Donations in Frank's memory may be made to the Woods Hole Oceanographic Institution.
For online guestbook or to leave a message of condolence please visit www.norton funeralhome.com.
Information for this obituary is from the Norton Funeral Home website.