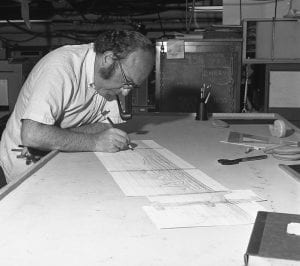 The Woods Hole Oceanographic Institution announces with great sorrow the death of Scientist Emeritus Elazar Uchupi on February 4 in Gorliz, Spain.  He was 91.
Elazar was born in Brooklyn, NY, on Halloween, October 31, 1928. He received his PhD in Geology in 1962 from University of Southern California.
Elazar began his career at WHOI in 1962 as a research assistant in the Geology and Geophysics Department, where he spent his entire career. In 1963, he was promoted to associate scientist and in 1979, to senior scientist.  In 2004, he became a scientist emeritus.
Elazar liked to say he was born in Brooklyn, NY, but you could tell that his heart was in Falmouth where he spent most of his life. He had decided to live near his sisters, nephews and nieces in Gorliz in the Basque region of Spain when he realized he needed them.
Elazar was a caring mentor to numerous students and young scientists throughout his career at WHOI.  Among those whose careers he nurtured were WHOI Scientist Emeritus Robert D. Ballard and WHOI Trustee James A. Austin, Jr.
Elazar was put to rest with his family in Gorliz's cemetery in a "pantheon" which was built by his grandfather. All of his family has been laid to rest there.  He is survived by his sisters Amaya and Garbine,  numerous nieces and nephews, and extended family in Gorliz, Spain.
A Celebration of Elazar's Life will take place on Monday, April 6, 2020 at 4 p.m., in Clark 507.