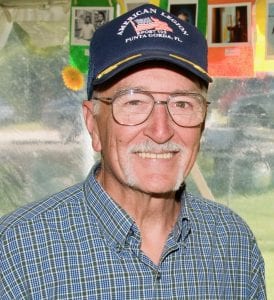 The Woods Hole Oceanographic Institution announces with great sorrow the death of retiree Donald F. LeBlanc of Punta Gorda, FL, on August 5. He was 85.
Don was born in Boston, Massachusetts on August 11, 1934. He was the beloved son of Edward LeBlanc and Sarah (Delorie) LeBlanc.
Don served in the Air Force and later moved to Falmouth, where he wanted to raise his family and start his career.
Don began his career at WHOI in 1962 as a machinist under Otis Hunt.  In 1968, he was promoted to instrument shop supervisor.  In 1974, he was promoted to machine shop supervisor. He retired in 1995.
After retirement, they moved to Florida but he never stopped working.  He would tinker in his garage where he had a small machine shop making gadgets for any needs.  Don loved the water and boating and choose to make his home on a canal with access to the Gulf of Mexico for many enjoyable boat trips.
Don was a lifetime member of the Falmouth Elks and received the State Elk of the Year for Massachusetts in 1987-1988.  Over the years, he volunteered at many events.  He designed and built the tiki tables that sit waterside at the Punta Gorda Lodge so well that they survived the wrath of Hurricane Charley.
Don was the loving husband of Janet Penney LeBlanc for 63 years; father to Denise (Charlie) Hazelton; Paul (Katie) LeBlanc; Donald (Chip) (Michelle) LeBlanc; grandfather to Phillip Canedy, Trisha Canedy, Ryan LeBlanc, and several great-grandchildren.
There will be a celebration of life at a later date.
Information for this obituary is from Don's family.