The Woods Hole Oceanographic Institution announces with great sorrow the death of former employee Carl Christopher Har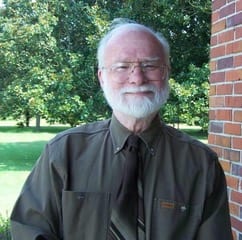 dy on April 16.  He was 75.
Carl Christopher Hardy, known as Chris, was born on January 3, 1945, in Memphis, TN, the eldest child of Ted Hardy and Gloria Schnell Hardy. His family moved to Ohio where he graduated from high school.  After two years studying architecture, he enlisted in the Air Force.  He gained high marks at the entry examination, so the Air Force gave him a choice of training.  Radar was relatively new, so he chose electronics.  After four years in the Air Force, he returned to civilian life.
Carl began his career at WHOI in 1970 as a lab assistant.  In 1971, he was promoted to research assistant. In 1973, he transferred to Ocean Engineering. His work at WHOI fascinated him and left him in awe of the brilliance of the researchers. Although he left in 1977, he retained fond memories of his work there. Chris maintained his interest in the environment, hiding a sharp intellect and quick wit behind a quiet and unassuming manner.
He returned to Memphis and worked in electronics as part of a contracting team at the Naval Base in Millington before going to Verizon where he maintained cell sites. Illness forced him to take early retirement in 2006.
Fortunately for him, he had already moved to the country, where he had space to indulge his interests. Chris maintained his love of architecture and design throughout his life as he made beautiful pieces of furniture. Although he loved working in wood, he also made knives and pipes from metal and stone. He sold his knives, pipes, and cookware when he went to Rendezvous. As a keen student of history, he relished getting dressed up and playing a trader in his re-enactment of American Life during the Revolutionary times.
Chris loved hunting, even after he had a very narrow escape from drowning while duck-hunting in New England.  Fishing was his passion. Yet he had a reverence for animal life and believed that humans should share the world with all creatures. His knowledge about birds was extensive and he was a natural and entertaining wild-life teacher. He really cared about the land and planted fruit trees so that there would be fruit for someone, someday. He became a bee-keeper to ensure that they will be adequate pollination.
He had a genuine concern for people in need and did connect with warmth. Unsurprisingly, he consistently supported Laundry Love, a St Anne's church charity that enables people to have clean clothes. Chris was a keen worshipper at St Anne's and felt that there, he had found a family. Some of the ladies ensured that he had a supply of wine bottles. He made wine with blackberries or persimmon and eider-berries harvested from the hedgerows. He celebrated by playing his 12 stringed guitar.
Cooking was a favorite pastime. He loved cooking chili using different ingredients. He had a wide range of cookbooks from recipes using roadkill to French sauces. During his second trip to England in 2014, he enthusiastically ate the authentic cuisine of Zambia, Burma, Guyana, India, and England.
In addition to his cookbook collection; he was interested in Depression tableware and ancient kitchen tools.  He had so many pursuits and varied interests that 'a man for all seasons, playing many parts' truly describes him.
On July 12, he died mowing the grass, doing what he loved.  He is survived by Verbieann, his cherished wife; his children: Cheryl, Jenny, and Chris and his siblings Jeff, Janice Wolten, Michael, Delores Tomlin, and Michael.
Chris's life will be celebrated on October 3rd in his garden to enable social distancing.
Information for this obituary is from the Hardy family.