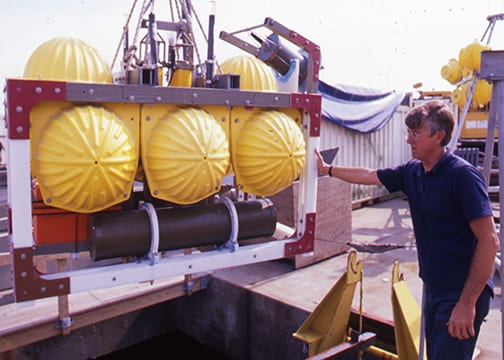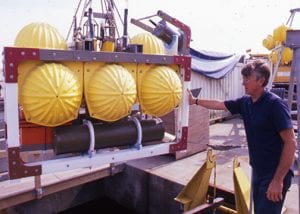 The Woods Hole Oceanographic Institution announces with great sorrow the death of retiree Beecher Wooding on June 1 while windsurfing at Kanaha Beach Park on Maui, HI.
He was 77.
Beecher was born September 1941 in Meriden, CT, to Frank and Ella Wooding. He started his long career in oceanography in 1961 doing ocean-bottom photography at WHOI, and then spent most of 1962 in the Pacific on the Spencer F Baird. He earned a BA in Geology at Harvard, graduating in 1965, after which he returned to WHOI, working in the department of Geology and Geophysics. There was a brief hiatus from WHOI, between 1972-1980, when he ran a motorcycle dealership in Norwell. He was known to race bikes.
Much of his career at WHOI was spent working for the ocean-bottom seismograph (OBS) instrumentation group. His intuitive sense of mechanical engineering resulted in him designing and developing innovative solutions to instrumentation that allowed WHOI to be a leader in a developing field.  In 1998 he developed and deployed an autonomous system to bury a seismometer in the seabed.  Data from a four-month long experiment in 4,400 m of water offshore Hawaii demonstrated the huge increase in signal-to-noise achieved by such a system relative to an OBS sitting in the seafloor.   He participated in at least 60 major cruises, including one on which he dived in Alvin to recover an OBS stranded on the Mid Atlantic Ridge.  Beecher switched to emeritus status in 2004, but continued to contribute to the group.
Beecher loved windsurfing and the ever-changing wind and sea. He accepted the risks, lived life to the fullest, and was an inspiration to many.  We will miss his dry wit, his sensitivity to critical issues facing mankind and the environment, but most of all the spirit of a man who loved his family, had many friends, and adapted to the challenges of a changing world.
Beecher and his wife Chris lived in Hatchville for 40 years, before building a house in Haiku, Maui.  They became full time Maui residents in 2010.
Beecher is survived by his wife of over 51 years Christine M. Wooding; by his sister Sara W. (Keith) Goodrich of Lake Forest IL, three nephews, a niece and their children and grandchildren.  He is also survived by his sister-in-law Anne B. Bradley of Haiku, and three brothers-in-law.
Contributions in Beecher's name can be made to the Maui Humane Society where he volunteered.  A paddle-out will be held at Kanaha Beach Park at a future date.
His family sends heartfelt thanks to the lifeguards, EMTs, police, firemen, friends, and strangers who worked so hard to try to rescue Beecher.
A celebration of life will be held in Woods Hole around the end of August.