Yawkey Foundation and WHOI present Summer Speaker Series, "Dispatches from an Ocean Planet"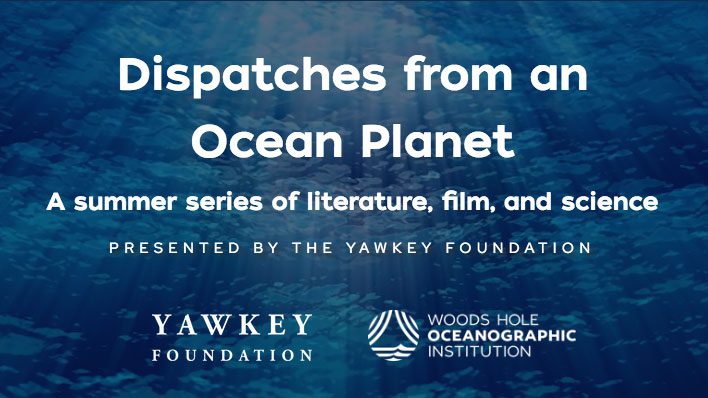 ---
June 1, 2022
Woods Hole, MA — Looking for a fun, interactive way to learn more about the mysteries of the ocean? You can, this summer in and around Massachusetts!
Woods Hole Oceanographic Institution, in partnership with the Yawkey Foundation, proudly presents "Dispatches from an Ocean Planet", a summer series of film and literature. The series marks the return of WHOI in-person events after a two-year hiatus due to the pandemic. All events require pre-registration.
WHEN: June 11, 2022, 4:00 pm ET
WHAT: Edie Widder, Ocean Explorer - A Conversation 
WHERE: Redfield Auditorium (45 Water Street, Woods Hole, MA 02543)
Dr. Edith "Edie" Widder is a pioneering marine biologist, oceanographer, and co-founder, CEO, and senior scientist at the Ocean Research & Conservation Association (ORCA), a non-profit organization where she is focusing her passion for saving the ocean into developing innovative technologies to preserve and protect the ocean.
Her book, Below the Edge of Darkness, A Memoir of Exploring Light and Life in the Deep Sea, takes readers down into the deep ocean to understand bioluminescence—the language of light that helps life communicate in the darkness—and what it tells us about the future of life on Earth in this "thrilling blend of hard science and high adventure" (The New York Times). In this magnificent memoir, Widder reveals how she was blinded during surgery, but recovered and found light and life in the ocean depths. Her discoveries are essential to protecting global seas. Captivating, inspiring and a must-read for fans of science, the ocean, and brilliant women changing the world.
After an introduction by WHOI marine biologist Larry Madin, Widder will engage in a conversation with WHOI's Vice President for Advancement, Sam Harp, followed by a Q & A with the audience about Widder's book.
This event is free to the public. Click here to register. A series of related activities leading up to this event can be found on the Falmouth Public Library website.
WHEN: June 16, 2022, 7:00 pm ET
WHAT: "Bruce and Alvin" - film screening
WHERE: Museum of Science OMNI Theater (1 Museum of Science Driveway, Boston, MA 02114)
Bruce and Alvin is a short documentary about the history and future of Alvin, one of the world's only remaining publicly funded manned submersibles, as told through the eyes of an Alvin pilot, WHOI's Bruce Strickrott. We learn about the inspiration for this unlikely hero of the sea whose capacity to help us to see the deepest parts of the world's oceans in person has led to discoveries that were once considered to be impossible. As a pilot and program manager, Strickrott views his job as one which allows him to change lives by taking scientists to the ocean depths. As one of a handful of people on Earth who operate this vehicle, Strickrott is aware of the importance of what he does and of the need to pass on this knowledge to future generations to support science and discovery.
Join us for a film screening, followed by a panel discussion and Q&A, featuring Strickrott, filmmaker Micah Garen and WHOI President and Director, Peter de Menocal.
This event will be presented with the Woods Hole Film Festival and the Museum of Science as part of their Film and Science Initiative summer series: SUBSPACE AFTER DARK 
This is a ticketed event through the Museum of Science.
WHEN: August 1, 2022, 2:00 pm ET
WHAT: From Pole to Pole: Documenting Climate Change in Extreme Locations
WHERE: Redfield Auditorium (45 Water Street, Woods Hole, MA 02543)
In a dramatic attempt to bring awareness to the changing continent, an international expedition led by renowned explorer and Climate Generation founder Will Steger embarked on the first-ever coast-to-coast expedition across Antarctica in 1989. Six explorers and their sled dogs braved howling storms, sub-zero temperatures, snow crevasses, and other perils as they traversed the icy terrain. Now, thirty years since his groundbreaking expedition, Steger heads out on the ice once again—this time to the opposite end of the planet. Deftly weaving his contemporary journey with rare, dynamic footage of his original treacherous seven-month odyssey, the documentary After Antarctica is an urgent message spanning both poles.
Steger, filmmakers Tasha Van Zandt, Holly Morris, Kathy Kasic and WHOI polar scientists Sarah Das and Catherine Walker discuss the process of communicating climate change through After Antarctica. Steger will walk through his vivid account of the changes that he has witnessed firsthand, caused by global warming pollutants, in polar regions over five decades of exploration. Steger shares stunning photographs from his expeditions along with compelling data, satellite imagery, and multimedia videos to document the deterioration in the polar ice caps. While the issue is critical, and the presentation is dramatic, Steger's message is one of hope and empowerment. An understanding of our role in the causes and effects of climate change make this personal. But as Steger explains, solutions are readily available and by making economically and environmentally smart choices people can make a difference.
The panel is free, but a ticket is required. Stay tuned for registration information on the Woods Hole Film Festival website
WHEN: August 20, 2022, 7:30 pm ET
WHAT: "Bruce and Alvin" - film screening
WHERE: WHOI's Redfield Auditorium (45 Water Street, Woods Hole, MA 02543)
This time, join us on the WHOI campus for a film screening followed by a panel discussion and Q&A with Bruce Strickrott, Alvin pilot, and Josh Seftel, filmmaker, and WHOI scientists who have used Alvin in their research.
Bruce and Alvin is a short documentary about the history and future of Alvin, one of the world's only remaining publicly funded manned submersibles, as told through the eyes of Strickrott.
This event is free and open to the public.
###
About Woods Hole Oceanographic Institution
The Woods Hole Oceanographic Institution (WHOI) is a private, non-profit organization on Cape Cod, Massachusetts, dedicated to marine research, engineering, and higher education. Established in 1930, its primary mission is to understand the ocean and its interaction with the Earth as a whole, and to communicate an understanding of the ocean's role in the changing global environment. WHOI's pioneering discoveries stem from an ideal combination of science and engineering—one that has made it one of the most trusted and technically advanced leaders in basic and applied ocean research and exploration anywhere. WHOI is known for its multidisciplinary approach, superior ship operations, and unparalleled deep-sea robotics capabilities. We play a leading role in ocean observation and operate the most extensive suite of data-gathering platforms in the world. Top scientists, engineers, and students collaborate on more than 800 concurrent projects worldwide—both above and below the waves—pushing the boundaries of knowledge and possibility. For more information, please visit www.whoi.edu.
The Yawkey Family and its commitment to conservation
Tom and Jean Yawkey had a deep commitment to protecting wildlife and natural resources , as demonstrated by the couple's donation of more than 20,000 acres of coastal shoreline to the South Carolina Department of Natural Resources upon Tom Yawkey's death in 1976. Considered one of the most outstanding grants to wildlife conservation in North America, the Tom Yawkey Wildlife Center  preserves 16 miles of pristine beachfront between Myrtle Beach and Charleston SC, providing undisturbed habitat for migratory birds, eagles, sea turtles, alligators, and hundreds of other rare species.  
The Yawkey Foundation is dedicated to perpetuating the philanthropic legacy of Tom Yawkey and Jean Yawkey, whose eight decades of quiet generosity supported individuals and families in the communities that were closest to their hearts – Massachusetts and Georgetown County, South Carolina. Having awarded more than $530 million to-date in charitable grants to organizations focused on health care, education, human services, youth and amateur athletics, arts and culture, and conservation and wildlife, the Yawkey Foundation is committed to preserving and sustaining the charitable values of the Yawkeys by investing in nonprofits that provide resources, opportunity, and dignity to the vulnerable and underserved. For more information, please visit www.yawkeyfoundation.org .