Woods Hole Oceanographic's Avery to Serve on United Nations Scientific Advisory Board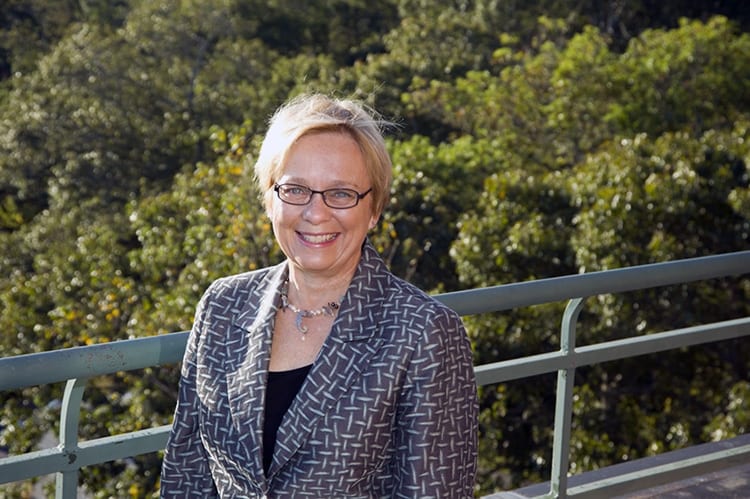 ---
November 15, 2013
Dr. Susan Avery, president and director of Woods Hole Oceanographic Institution (WHOI), has been appointed to a Scientific Advisory Board announced by the UN Secretary-General, Ban Ki-moon.
The new board—organized by the United Nations Educational, Scientific and Cultural Organization (UNESCO)—will provide advice to the UN system on science, technology and innovation for sustainable development and is meant "to improve links between science and public policies," said UNESCO Director-General Irina Bokova.
Avery is one of two U.S. representatives on the 26-member board, which includes internationally renowned scientists, including two Nobel Laureates, who represent various fields ranging from the basic sciences, through engineering and technology, social sciences and humanities, ethics, health, economic, behavioral, and agricultural sciences, in addition to the environmental sciences.
"I am honored to be part of this important advisory board.  As our environment continues to undergo change, the decisions we make regarding the use of the planet's ecosystem services and how we can live sustainably require the underpinnings of science," Avery said.
Ki-moon made the announcement during the inaugural meeting of the High Level Political Forum on Sustainable Development, a platform created to realize the vision adopted at the UN's Rio+20 conference in 2012.
"We must strengthen the interface between science and policy so that the latest scientific findings are reflected in high-level policy discussions within the United Nations system," Ki-moon said.
"Good policy is grounded in good science. Susan Avery has provided scientific leadership and guidance to Massachusetts and the United States for years and now the United Nations will also benefit from her expertise," said U.S. Sen. Edward Markey (D-MA) and Chairman of the Senate Committee on Foreign Relations, Subcommittee on International Development and Foreign Assistance, Economic Affairs, International Environmental Protection, and Peace Corps.
Avery joined WHOI as president and director in 2008, from the University of Colorado, Boulder, where she served in interim positions as vice chancellor for research and dean of the graduate school, as well as provost and executive vice chancellor for academic affairs.  From 1994-2004, she served as director of the Cooperative Institute for Research in Environmental Sciences (CIRES).
Avery currently serves as the chair of the Advisory Committee to the US National Committee of the UNESCO Intergovernmental Oceanographic Commission(IOC), the  National Research Council Global Change Research Program Advisory Committee, and  Board on Higher Education and Workforce.
The new United Nations Scientific Advisory Board aims to ensure that up-to-date and rigorous science is appropriately reflected in high-level policy discussions within the UN system, offering recommendations and advice on priorities related to science for sustainable development; identifying knowledge gaps and specific needs that could be addressed by on-going assessments; and advising on issues related to the public visibility and understanding of science.
Members of the board will serve pro bono for 2 years, and their contract can be renewed once. The board will meet for the first time early in 2014.
The Woods Hole Oceanographic Institution is a private, non-profit organization on Cape Cod, Mass., dedicated to marine research, engineering, and higher education. Established in 1930 on a recommendation from the National Academy of Sciences, its primary mission is to understand the ocean and its interaction with the Earth as a whole, and to communicate a basic understanding of the ocean's role in the changing global environment. For more information, please visit www.whoi.edu.