WHOI's John Waterbury receives NAS Gilbert Morgan Smith Medal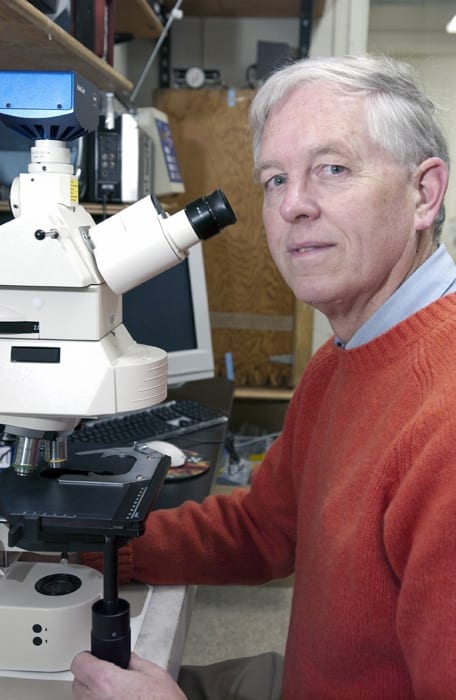 ---
January 23, 2012
The National Academy of Sciences (NAS) has awarded John Waterbury, scientist emeritus in the Biology Department at the Woods Hole Oceanographic Institution (WHOI), the 2012 Gilbert Morgan Smith Medal.
Waterbury is among 17 individuals honored by NAS this year in recognition of their extraordinary scientific achievements in a wide range of fields spanning the physical, biological, and social sciences. The recipients will be formally recognized in a ceremony on April 30, 2012, during the NAS annual meeting.
Waterbury is being honored for his "path-breaking discovery and characterization of ecologically important marine microorganisms, setting in motion major advances in our understanding of marine food webs and the cycling of essential elements in ocean ecosystems." The prestigious award, established through the Helen P. Smith Fund, is given every three years in recognition of excellence in published research on marine or freshwater algae and includes a $20,000 prize.
"A career as a general microbiologist at WHOI, with its unique access to the seas, has afforded me the opportunity to study diverse groups of ecologically important microorganisms," Waterbury said. "Almost anytime we dipped a bucket into the ocean, we came up with fascinating new microbes. Possessing a microbial 'green thumb' helped in being able to isolate and characterize what turned out to be important groups involved in nutrient cycling at the base of the marine food chain."
"The Gilbert Morgan Smith Medal is the icing on what has been a very rewarding forty-year tenure at WHOI," he added.
After graduating from the University of Vermont with a degree in zoology in 1965, Waterbury began working with Stanley Watson at WHOI on nitrifying bacteria. The two men, along with colleague Frederica Valois, are credited with discovering the abundance of unicellular cyanobacteria in the ocean in the 1970s. Waterbury obtained his master's and doctorate degrees from the University of California, Berkeley. In 1975, he returned to WHOI and continued research that highlighted cyanobacteria's critical ecological roles for the ocean and the planet.
"John has been a true pioneer in the discovery, isolation, and cultivation of marine cyanobacteria. These microbes have turned out to be of fundamental importance in understanding the ecology and biogeochemistry of the open oceans," said Mak Saito, a colleague and associate scientist in the Marine Chemistry and Geochemistry Department at WHOI. "It's wonderful to see John honored for these efforts by the National Academy of Sciences."
Waterbury was elected a Fellow of the American Association for the Advancement of Science in 1994, and a Fellow of the American Academy of Microbiology in 2003. He has authored or co-authored over 60 papers.
The National Academy of Sciences is a private, nonprofit institution that was established under a congressional charter signed by President Abraham Lincoln in 1863. It recognizes achievement in science by election to membership, and—with the National Academy of Engineering, Institute of Medicine, and National Research Council—provides science, technology, and health policy advice to the federal government and other organizations.
The Woods Hole Oceanographic Institution is a private, independent organization in Falmouth, Mass., dedicated to marine research, engineering, and higher education. Established in 1930 on a recommendation from the National Academy of Sciences, its primary mission is to understand the ocean and its interaction with the Earth as a whole, and to communicate a basic understanding of the ocean's role in the changing global environment.