Woods Hole Oceanographic Institution Partners with Cape Cod Children's Museum to create a new interactive, educational, water exhibit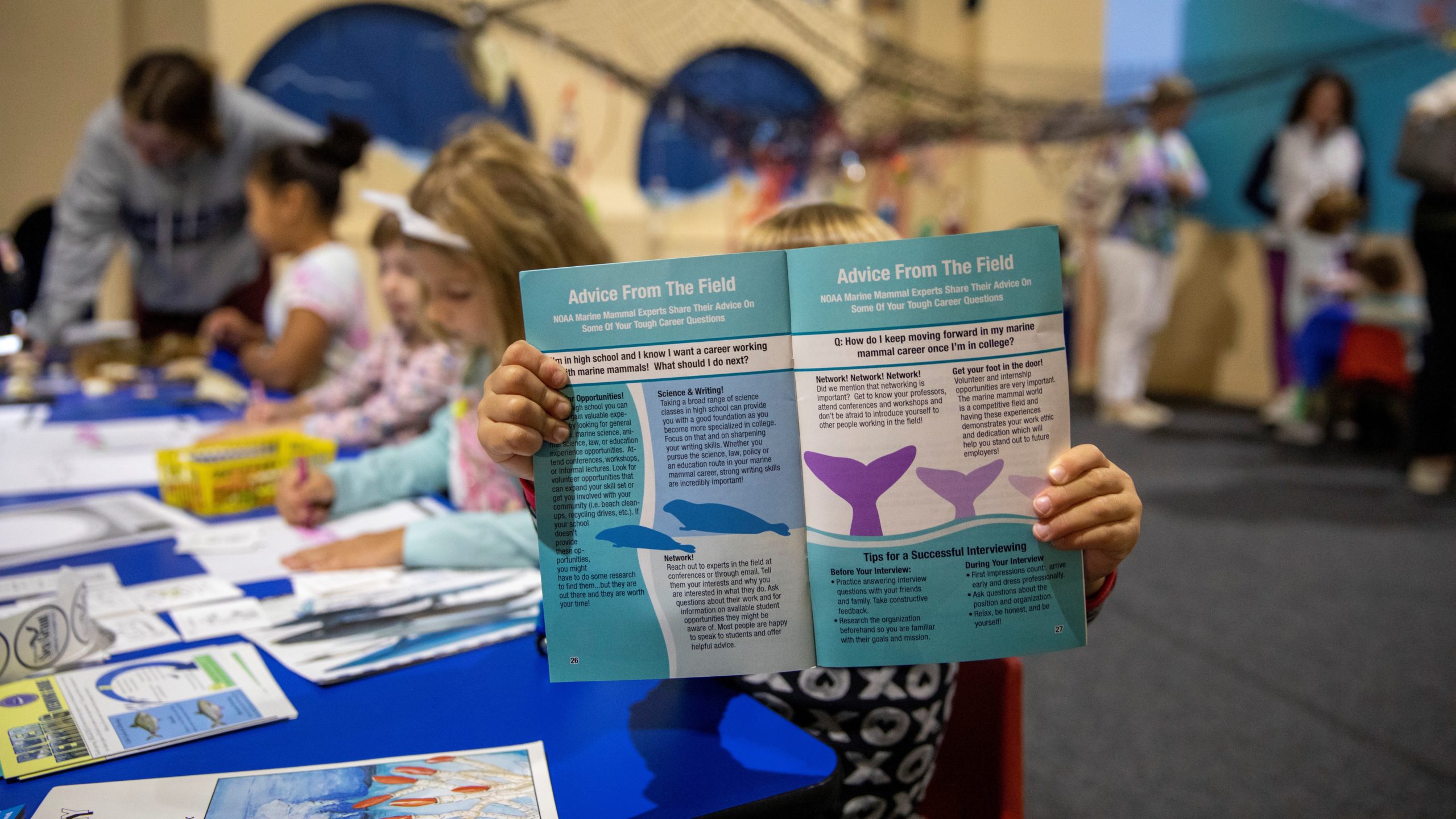 "Exploring Cape Cod Waters – Become an Ocean Ambassador" now open
Cape Cod, Massachusetts — Cape Cod Children's Museum (CCCM), Woods Hole Oceanographic Institution (WHOI) and the WHOI Sea Grant program are combining forces to bring an ocean-themed educational exhibit to the CCCM, just in time for summer.
The new, 1,000 square foot exhibit includes interactive technology, hands on activities, state of the art audio visual presentations and much more, aimed at highlighting our region's unique connection to the ocean. Additional spaces throughout the museum, including the S.T.E.A.M. room, front lobby and submarine benefit from the scientific knowledge generated by the world-renowned scientists and engineers working and studying at WHOI.
CCCM and WHOI have been working behind the scenes for nearly two years to bring this incredible exhibit to the public. CCCM received a Seaside Le Mans matching grant for $40,000 that will be the foundation of funding for this exhibit. "We are thrilled that the Seaside Le Mans grantees saw the merits of our exhibit and collaboration with WHOI and we are actively raising those matching funds this year," stated Executive Director of the children's museum, Lisa Bates.
Highlights of the new exhibit include a 75-inch screen, with videos created by WHOI giving visitors the chance to see the many facets of this world-renowned ocean research institution, located in our backyard. Newly installed is a six-button kiosk playing short videos allowing children to choose a topic they are interested in viewing.
CCCM in conjunction with WHOI Sea Grant is creating a new program where children can earn the badge of "Ocean Ambassador." Designed for school age children, this program uses scavenger hunts, puzzles, QR codes and homework to encourage children to not only learn about the oceans and waterways of Cape Cod but also to become active participants in their preservation.
Additional plans are in place to add an interactive water table to encourage children to play and learn about currents, physics, and engineering. Presentations by WHOI scientists and displays of their current work are also in the works.
"We're thrilled to share our expertise and passion about the ocean with what we hope will be the next generation of scientists, explorers, and stewards of the ocean," said Danielle Fino, Chief Communication Officer, WHOI.
WHOI Sea Grant is excited to be part of this collaboration," said Grace Simpkins, WHOI Sea Grant education specialist. "We know the value of inspiring our youth from an early age so that they understand the wonder and importance of our oceans and coastlines. It's exciting to extend our reach to these young ocean ambassadors and their guardians through this new partnership with CCCM."
Added Bates, "We are thrilled to welcome WHOI to our museum. This collaboration is an incredible opportunity for our Cape Cod children and families as well as our many visitors to learn and understand how intrinsically tied we are to the oceans and waterways that surround us. Cape Cod is an extraordinary place, and this education will help our youngest visitors understand how they can help keep our oceans, waterways, and life here safe and healthy for generations to come.
###
About the Cape Cod Children's Museum
The Cape Cod Children's Museum is a 501(c)3 non-profit organization. We have proudly served the families of Cape Cod and hundreds of thousands of visitors over the past 30+ years. We are a "Museums for All" participant ensuring no child is turned away for an inability to pay. Additionally, the museum provides scholarships and subsidized admissions for all children and families receiving benefits and in the foster care system. The museum is a recognized site for family visitations and opens its doors privately to families with children suffering medical crises. We also recognize the service of our military and teachers with reduced admission prices. CCCM is currently open Tuesday through Friday 9 am – 1 pm, Saturdays 10 am – 3 pm, and is located at 577 Great Neck Road South, Mashpee, MA. Phone: 508-539-8788. (Summer hours begin on July 1st and they are Monday-Friday 9:00 a.m. to 3:00 p.m. and Saturday 10:00 a.m. – 3:00 p.m.) Please visit our website for more details: www.capecodchildrensmuseum.org.
About WHOI Sea Grant
Based at Woods Hole Oceanographic Institution, the WHOI Sea Grant program encourages environmental stewardship, long-term economic development, and responsible use of the nation's coastal and ocean resources. The program supports research and education, and an extension program in collaboration with the Cape Cod Cooperative Extension. It is part of the NOAA-funded National Sea Grant College Program, a network of 34 individual programs located in each of the coastal and Great Lakes states. More information can be found at seagrant.whoi.edu.
About Woods Hole Oceanographic Institution
The Woods Hole Oceanographic Institution (WHOI) is a private, non-profit organization on Cape Cod, Massachusetts, dedicated to marine research, engineering, and higher education. Established in 1930, its primary mission is to understand the ocean and its interaction with the Earth as a whole, and to communicate an understanding of the ocean's role in the changing global environment. WHOI's pioneering discoveries stem from an ideal combination of science and engineering—one that has made it one of the most trusted and technically advanced leaders in basic and applied ocean research and exploration anywhere. WHOI is known for its multidisciplinary approach, superior ship operations, and unparalleled deep-sea robotics capabilities. We play a leading role in ocean observation and operate the most extensive suite of data-gathering platforms in the world. Top scientists, engineers, and students collaborate on more than 800 concurrent projects worldwide—both above and below the waves—pushing the boundaries of knowledge and possibility. For more information, please visit www.whoi.edu
Media Contacts:
Lisa Bates, Executive Director
lbates@capecodchildrensmuseum.org
Telephone:  508-539-8788
Cell:  7743136764
Suzanne Pelisson
Woods Hole Oceanographic Institution
Spelisson@WHOI.edu