WHOI Research Engineer Selected for NASA Astronaut Program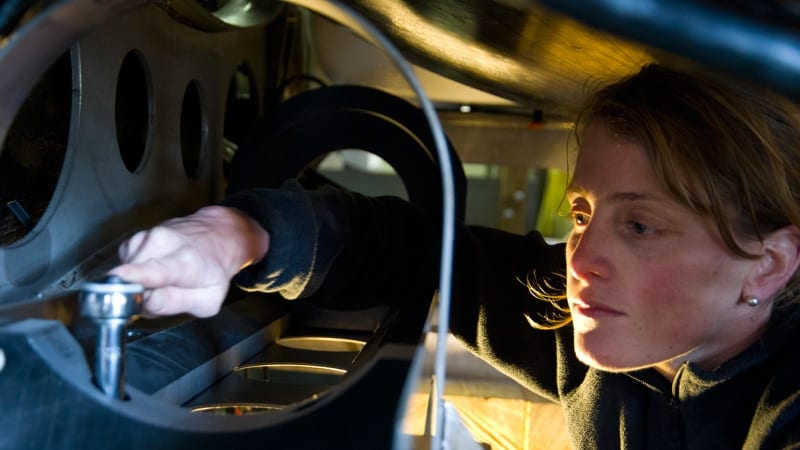 WHOI Research Engineer Loral O'Hara installing electronics pressure housing racks on Alvin. O'Hara has been selected into NASA's newest class of astronauts. (Photo by Tom Kleindinst, Woods Hole Oceanographic Institution)
---
June 7, 2017
Woods Hole Oceanographic Institution (WHOI) research engineer Loral O'Hara was introduced today at Johnson Space Flight Center as a member of NASA's most recent class of astronauts. O'Hara was one of just 12 to be selected from an applicant pool of more than 18,300—the largest number NASA has ever received.
"We couldn't be more proud of Loral for her selection into NASA's astronaut corps," said WHOI President and Director Mark Abbott. "We hope the sea-going experience gained at WHOI serves her well in her new adventure. Whether in outer space or the depths of the ocean, humanity stands to gain immeasurably through exploration."
O'Hara earned her B.S. in aerospace engineering from the University of Kansas, and her M.S. in aeronautics and astronautics from Purdue University. She came to WHOI in 2009, initially as an engineer working on mechanical system design, systems engineering, and Naval certification for the project to upgrade the human-occupied submersible Alvin.Most recently, she worked with the remotely operated vehicle Jason Operations Group as an engineer and sea-going mechanical technician and data processor, and contributed to a variety of subsea system development projects within WHOI that included development of novel underwater vehicles to explore extreme deep sea environments. She has participated in 10 research cruises, and, in 2013, completed a dive in Alvin.
"I love exploration, particularly when it involves people," O'Hara told WHOI's Oceanus magazine in 2013. "What I want to do with my life is build vehicles that let people work and live in places that are either inaccessible or accessible to only a few."
The competition for a place in NASA's astronaut program is stiff. A panel of about 50 people, mostly current astronauts, began reviewing more than 18,300 applications in 2015. Succeeding panels further narrowed the applicants to 120, then 50, and finally to today's group of 12 finalists. The group will serve as Astronaut Candidates while undergoing two years of general training before being considered full astronauts, eligible to be assigned spaceflight missions.
According to NASA, the new class will be part of future missions aboard the International Space Station that will continue research and technology development that has already returned benefits to Earth.
They will also be candidates for flights beyond the moon and into deep space aboard the Orion spacecraft that will help pave the way for missions to Mars.
The connection between exploration of space and the ocean is not new. The space shuttle Atlantis was named after WHOI's first research vessel and the first U.S. ship built solely for the purpose of conducting oceanographic research. In 2007, WHOI biologist Tim Shank in Alvin two miles beneath the surface of the ocean had a radio conversation with NASA astronaut Suni Williams aboard the International Space Station. In 2012, the U.S. Navy named the first Ocean Class research vessel, operated by WHOI, after Neil Armstrong, the first man to walk on the moon.
Among O'Hara's many skills, she holds a private pilot's license as well as several advanced diving certifications. She also has completed first-aid and EMT training and is a wilderness first responder.
O'Hara will report for duty at Johnson Space Center in August 2017.
The Woods Hole Oceanographic Institution is a private, non-profit organization on Cape Cod, Mass., dedicated to marine research, engineering, and higher education. Established in 1930 on a recommendation from the National Academy of Sciences, its primary mission is to understand the ocean and its interaction with the Earth as a whole, and to communicate a basic understanding of the ocean's role in the changing global environment. For more information, please visit www.whoi.edu.