Woods Hole Oceanographic Institution Collaborates with Boston Ballet on New Production Focusing on the Ocean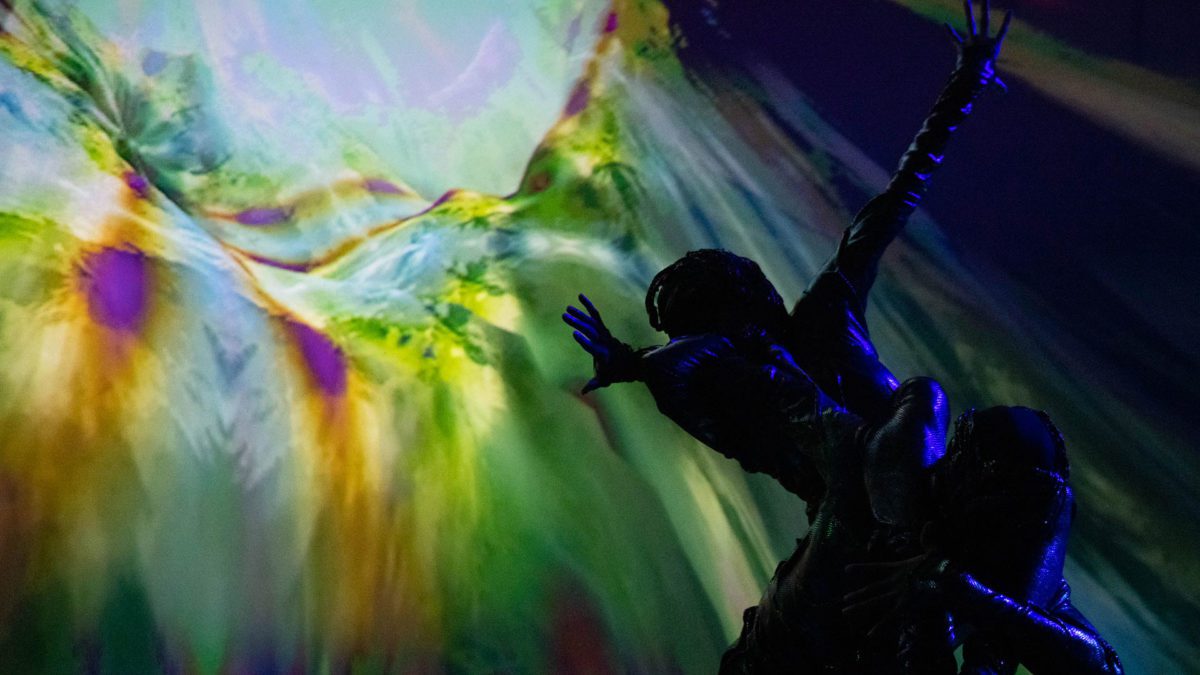 Nanine Linning's La Mer. (Photo by Brooke Trisolini, courtesy of Boston Ballet)
---
March 8, 2023
La Mer will make its world premiere on April 6
Woods Hole, Mass. – Scientists from the Woods Hole Oceanographic Institution (WHOI) are collaborating with Boston Ballet on a new production celebrating the intersection of art and science to raise awareness of the importance of, and threats to, the ocean. La Mer (The Sea) explores the romance, beauty, and volatility of the sea, and is the result of a team of artists from around the world and ocean scientists at WHOI coming together to the intersection and commonality of their respective approaches to the work they do. The new production makes its world premiere on April 6, and runs through April 16, at the Citizens Bank Opera House in Boston.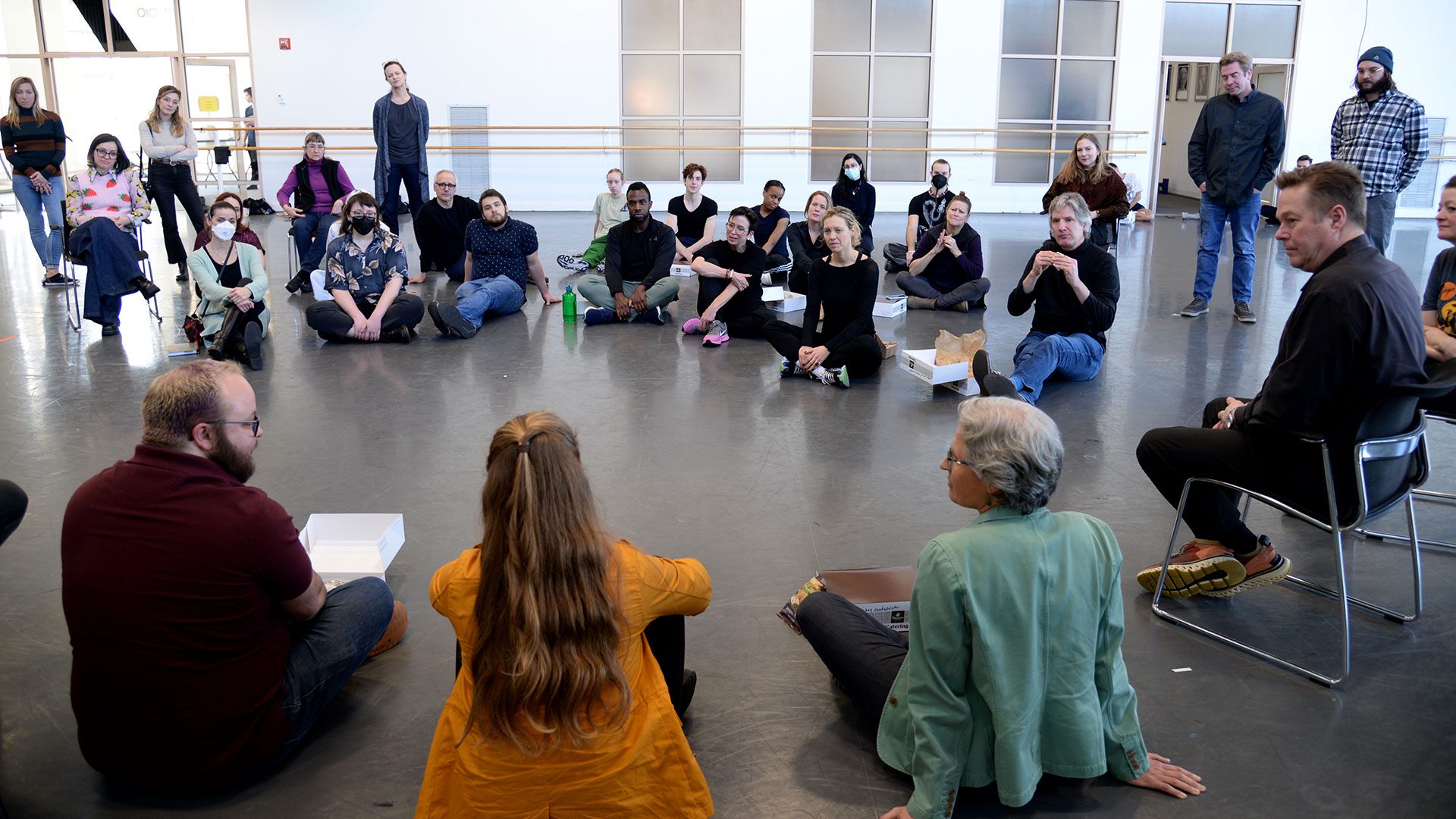 La Mer is a 50-minute work performed by 33 dancers, 45 orchestral musicians, and eight choral singers. Choreographer Nanine Linning and her team hope to use the work to raise awareness of the importance of ocean preservation and a new vision of the ocean. Linning, Artistic Director Mikko Nissinen, and other members of Boston Ballet visited WHOI and met with researchers working to help solve some of the planet's most pressing ocean challenges in order to deepen their understanding of ocean threats and the research being conducted at WHOI to seek solutions that help ensure a sustainable future for societies and ecosystems around the globe.
"The ocean connects and sustains everyone and every living part of the planet," said WHOI President and Director Peter de Menocal. "Collaborating with Boston Ballet offers an exciting new way to convey that message, as well as the fact that, although the ocean faces many threats, it is also a rich source of inspiration, hope, and of solutions to many of the planet's biggest issues. "
Set to Claude Debussy's sweeping La Mer and choral work Sirènes, the music of La Mer is performed live by the Boston Ballet Orchestra and Boston's virtuosic women's vocal group Lorelei Ensemble. The ballet will be punctuated by newly created musical compositions by composer Yannis Kyriakides, part of an extraordinary team of international artists creating this large-scale production.
"At the heart of La Mer is the theme of oceans, the current state of the oceans in the Anthropocene age. I wanted to create scenes that address sirens as a metaphor for our behavior of greed, deep sea mining, dead zones, and oil spills, as well as pristine oceans and extraordinary natural forces. I see the comparison of the ocean with the body, as my own body, and its fragile inner ecosystem. My goal with this ballet was to create a new world where video, set, and light fully merge with dance and music.
Throughout my entire life, I've been an ocean creature. I have always loved to interact and learn about oceans. Recently, I've seen the impact of our behavior on oceans, and I became very fascinated by learning more from scientists and had a desire to use my art to help create awareness on the issues. Then, when exploring music with Mikko, he suggested La Mer and everything came together.
This collaboration with Boston Ballet, where we could bring in an extraordinary team of artists and collaborate with scientists who give our work extra dimension and context, has been incredible. I have been amazed by the dancer's transformation from classical dancing to my work as a contemporary choreographer. I feel that they are so eager and hungry for co-creation, co-ownership, and discovering together, that it's been so smooth, warm, and energizing," said Linning.
WHOI is the world's independent leader in ocean discovery, exploration, and education. "Helping guide the Boston Ballet on the science behind ocean threats and connecting the scientific and creative processes has been an incredible opportunity for all us," said de Menocal.
La Mer debuts on Thursday, April 6 at 7:30 pm as part of the Our Journey program. For more information and tickets, visit: BostonBallet.org
About Woods Hole Oceanographic Institution
The Woods Hole Oceanographic Institution (WHOI) is a private, non-profit organization on Cape Cod, Massachusetts, dedicated to marine research, engineering, and higher education. Established in 1930, its primary mission is to understand the ocean and its interaction with the Earth as a whole, and to communicate an understanding of the ocean's role in the changing global environment. WHOI's pioneering discoveries stem from an ideal combination of science and engineering—one that has made it one of the most trusted and technically advanced leaders in basic and applied ocean research and exploration anywhere. WHOI is known for its multidisciplinary approach, superior ship operations, and unparalleled deep-sea robotics capabilities. We play a leading role in ocean observation and operate the most extensive suite of data-gathering platforms in the world. Top scientists, engineers, and students collaborate on more than 800 concurrent projects worldwide—both above and below the waves—pushing the boundaries of knowledge and possibility. For more information, please visit: www.whoi.edu
About Boston Ballet
Since 1963, Boston Ballet's internationally acclaimed performances of classical, neo-classical, and contemporary ballets, combined with a dedication to world-class dance education and community initiatives, have made the institution a leader in its field, with a 59-year history of promoting excellence and access to dance.
Under the leadership of Artistic Director Mikko Nissinen and Executive Director Meredith (Max) Hodges, the Company maintains a diverse repertoire, ranging from full-length ballets to new works by some of today's finest choreographers. Boston Ballet's second company, Boston Ballet II, is comprised of dancers who gain experience by performing with the Company and independently, presenting special programs to audiences throughout the Northeast. 
 Boston Ballet School, the official school of Boston Ballet, has a long-standing dedication to providing exceptional dance education and ballet training to students across two studios in Boston and Newton. The School reaches more than 5,000 students (toddler to adult) each year through its five core programs: Pre-Professional Program, Classical Ballet Program, Children's Program, Adaptive Dance Program, and Adult Dance Program.
Boston Ballet's Education and Community Initiatives provide programming, events, and activities that connect the community to dance. Community programs reach more than 4,000 individuals in Boston and the surrounding communities each year through Citydance, ECI on Location, workshops, and trainings.
For more information, please visit bostonballet.org.