WHOI Scientists Awarded Distinctions from The Oceanography Society and American Geophysical Union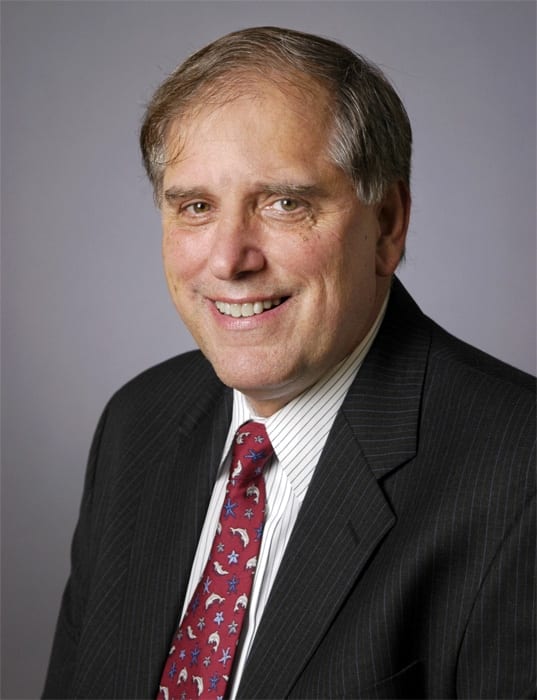 ---
February 6, 2012
Jim Yoder Named 2012 fellow of The Oceanography Society
Jim Yoder, Vice President for Academic Programs and Dean at the Woods Hole Oceanographic Institution (WHOI), has been named a 2012 fellow of The Oceanography Society (TOS)—the only fellow named this year. His achievements will be recognized at the biannual TOS breakfast on February 23 during the 2012 Ocean Sciences Meeting in Salt Lake City, Utah.
Election as a fellow is bestowed upon TOS members by their peers to honor individuals who have attained eminence in oceanography through their outstanding contributions to the field of oceanography during a substantial period of years.
Yoder is being recognized for his "innovative and visionary application of satellite ocean color technologies to interdisciplinary oceanography and his extraordinary service to oceanography."
"It was a fascinating experience to be one of the first to use satellite imagery to study biological processes in the global ocean," Yoder said. "I am honored to receive this recognition from my peers and TOS."
A biological oceanographer, Yoder is well known in the oceanographic research community, having served as a NASA program manager, researcher, professor and as Director of the Division of Ocean Sciences at the National Science Foundation from 2001 to 2004.
His recent research projects and scientific publications involve satellite and aircraft remote sensing of the ocean for understanding biological oceanographic processes. Yoder is the former chair and a current member of the International Ocean Colour Coordinating Group, which seeks international cooperation for satellite measurements of ocean color radiometry and its application for understanding regional to global ocean patterns in the productivity of the seas.
Yoder has served in his current position since coming to WHOI in 2005. As Vice President for Academic Programs and Dean, he is responsible for the institution's formal education programs and activities, including the postdoctoral program, graduate program and undergraduate summer programs.
Before coming to WHOI, Yoder was a professor at the Graduate School of Oceanography (GSO) at the University of Rhode Island where he conducted research, taught graduate courses, and advised students in the masters and doctorate programs. He was named Associate Dean of Oceanography at GSO in 1993 and served in that capacity until 1998, with responsibilities for curriculum planning and delivery, admissions, recruitment, and graduate student affairs. He also served one and half years as Interim Dean of the school.
From 1986 to 1988, Yoder was a visiting senior scientist at the Jet Propulsion Laboratory, working as a program manager in the ocean branch at NASA headquarters.
During his career, Yoder has served on many national and international committees and panels. He is currently a member of the National Research Council's Ocean Studies Board and the National Oceanic and Atmospheric Administration's Ecosystem Sciences and Management Working Group.
The Oceanography Society was founded in 1988 to promote and publicize the importance of the ocean sciences. The Society produces Oceanography, a magazine that publishes articles on all aspects of ocean science.
Ray Schmitt Named 2012 American Geophysical Union Fellow
WHOI Senior Scientist Raymond Schmitt has been elected a 2012 fellow of the American Geophysical Union (AGU).
Schmitt is among 61 new fellows who are being recognized by AGU for "exceptional scientific contributions and attained acknowledged eminence in the fields of Earth and space sciences."
The AGU is a not-for-profit, professional, scientific organization with more than 60,000 members representing over 148 countries. Established in 1962, the AGU Fellows program helps identify experts who could advise, upon request, various government agencies and other organizations outside the Earth and space sciences. Fellows are nominated by their peers and chosen by a committee of existing fellows. It is a distinguished honor bestowed upon no more than 0.1 percent of the AGU membership annually.
"It is an exciting honor to be named an AGU Fellow. I have been a member for nearly 40 years and to receive such recognition from fellow scientists is gratifying affirmation of my work," said Schmitt, a senior scientist in WHOI's Physical Oceanography Department. "I am particularly grateful to the colleagues who supported my nomination."
As a symbol of his accomplishment, Schmitt will receive an official certificate during an Honors Ceremony at the AGU Fall Meeting, which will be held December 3-7, 2012, in San Francisco.
Schmitt joined the WHOI staff in 1978 as a postdoctoral scholar and was promoted to senior scientist in 1994. His research focuses on the ocean's role in climate, small-scale mixing processes, double-diffusive convection, the global water cycle, and instrumentation for a global ocean observing system. Current projects include a collaborative study with NASA that will measure the ocean's saltiness from hundreds of miles above Earth using the Aquarius satellite.
Schmitt has served on a number of national and international committees concerned with climate, including the Atlantic Climate Change Program Science Working Group, the Ocean Observing System Development Panel, and the Climate Variability Science Steering Group. He was a contributing author to the Intergovernmental Panel on Climate Change Third Assessment Report and also contributed to "Advancing the Science of Climate Change," issued in 2010 by the National Research Council's panel on America's Climate Choices.
Schmitt is a 2012 recipient of WHOI's Van Allen Clark Sr. Chair for Excellence in Oceanography. Other honors include a J.S. Guggenheim fellowship in 1997. He received his undergraduate degree in physics from Carnegie-Mellon University and his doctorate degree in physical oceanography from the University of Rhode Island. He has authored or co-authored over 80 publications.
The Woods Hole Oceanographic Institution is a private, independent organization in Falmouth, Mass., dedicated to marine research, engineering, and higher education. Established in 1930 on a recommendation from the National Academy of Sciences, its primary mission is to understand the oceans and their interaction with the Earth as a whole, and to communicate a basic understanding of the oceans' role in the changing global environment. For more information, please visit www.whoi.edu.