The Ocean Pavilion announces schedule of events for COP27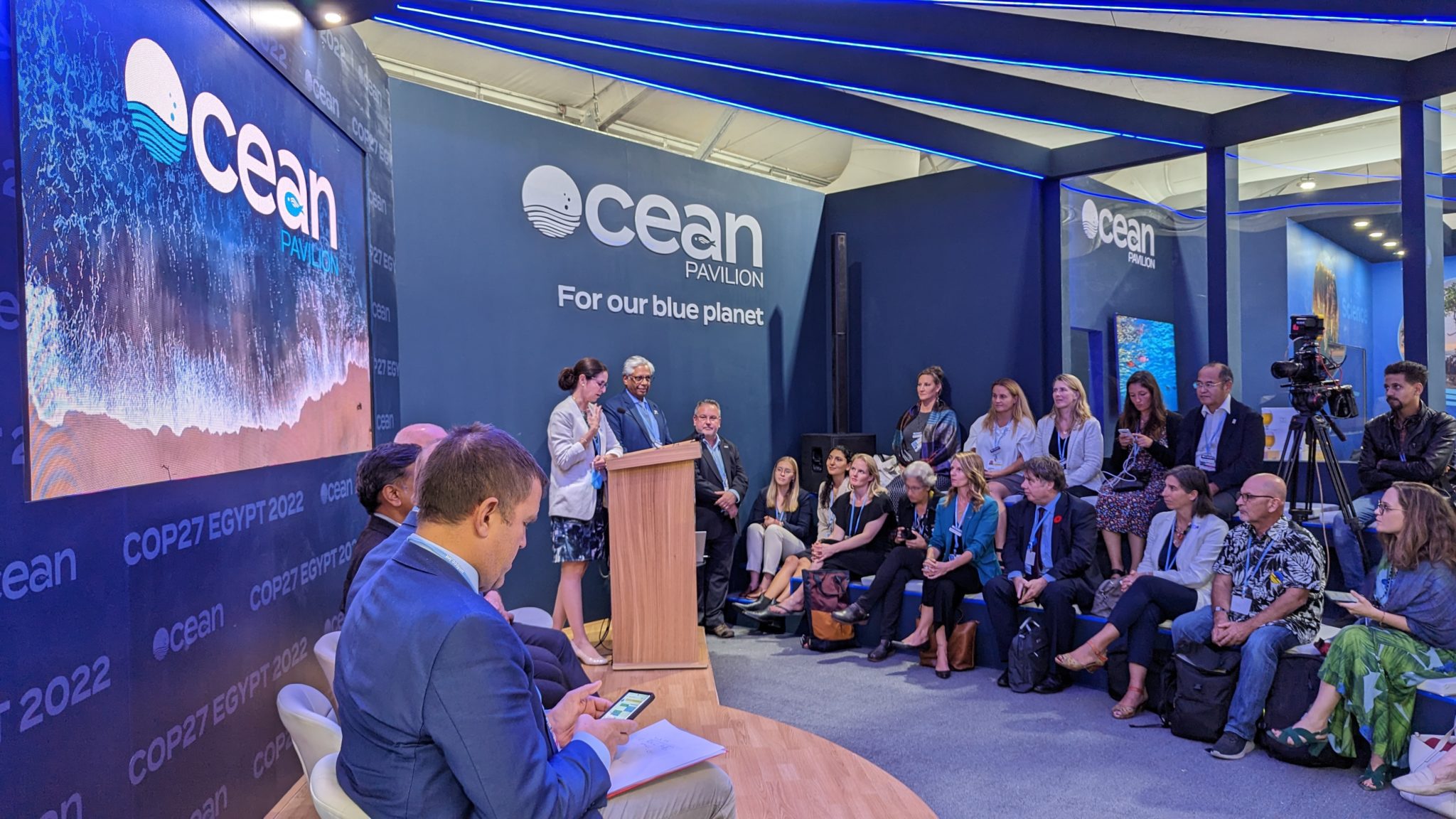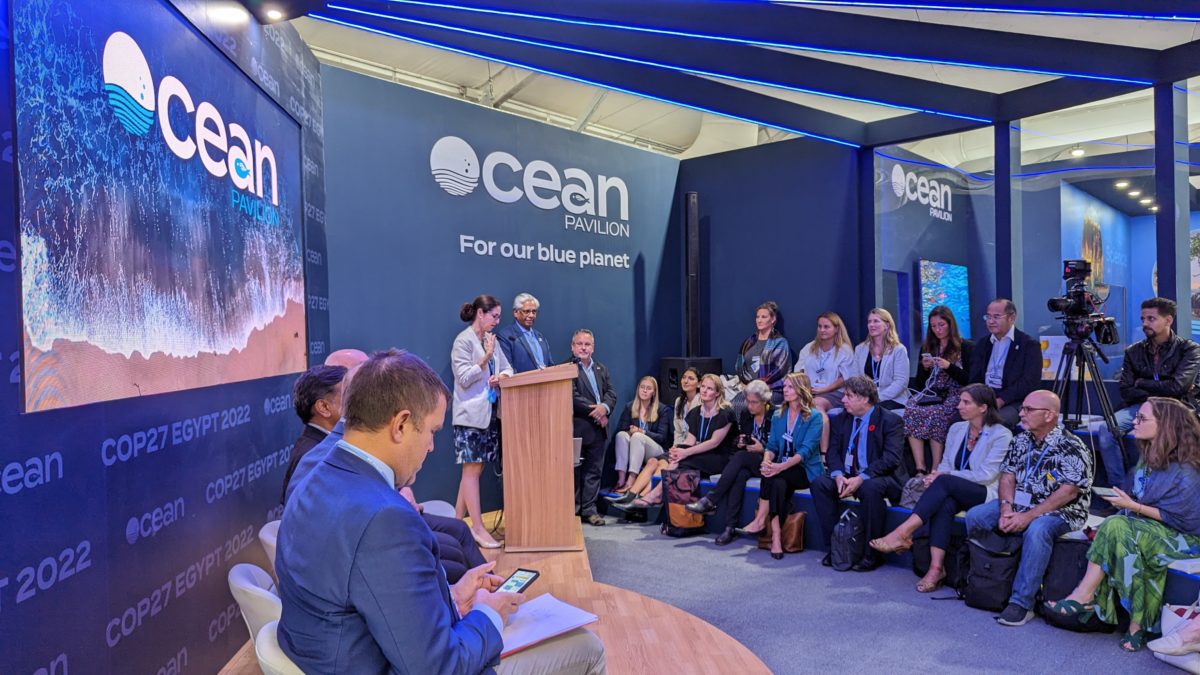 The Ocean Pavilion will host approximately 60 sessions over the two-week period of COP27. (Photo by Veronique LaCapra, Woods Hole Oceanographic Institution)
---
November 8, 2022
Taking center stage inside the COP Blue Zone, the Ocean Pavilion will bring together world leaders in ocean science, engineering, and policy 
 The 27th Conference of the Parties (COP27) to be held Nov.6 -18, in Sharm el-Sheikh, Egypt 
Woods Hole, Mass. — The Ocean Pavilion, led by a group of the world's leading ocean science and philanthropic organizations, including the Woods Hole Oceanographic Institution (WHOI) and Scripps Institution of Oceanography at the University of California San Diego, have released its schedule of events for the upcoming 27th Conference of the Parties (COP27) in Sharm el-Sheikh, Egypt.
The Ocean Pavilion, the first time the ocean has been a singular focus of a pavilion inside the central "Blue Zone," will host approximately 60 sessions over the two-week period, Nov. 6-18. Topics and discussions will range from "Integrating ocean policy and science," to "Blue Climate Solutions", with many highlighting the crucial importance of the ocean to Earth's climate and to efforts to mitigate the effects of climate change in the safest, most effective ways science can offer.
"We are looking forward to productive and informative sessions over the next two weeks," said WHOI President and Director Peter de Menocal.  "It's only natural that the ocean should also be at the center of discussions about the sustainability of human activity on Earth, including how it can help stabilize the global climate system at a safe level."
"The ocean plays an enormous role in our climate - it takes up  93 percent of heat and absorbs nearly one-third of the carbon dioxide we emit into the atmosphere," says Margaret Leinen, director of Scripps Oceanography at UC San Diego. "It's vital that globally we prioritize observing the ocean and develop policy to ensure the ocean is protected. That will lead to greater understanding of the stability in our oceans' role in climate and inform mitigation efforts."
Featured sessions
Tuesday, November 8: Averting Climate Disaster: How Ocean Science and Tech Can Help Close the Global Emissions Gap
Description: The ocean is changing faster now than at any time in human history. To manage this change and put society on a path towards a sustainable climate future, we need to open a new era of large-scale ocean measurement and monitoring aimed at enabling climate action. Woods Hole Oceanographic Institution President and Director Peter de Menocal will present a sweeping vision for an international effort to understand and unlock the full potential of our planet's life-support system. Led WHOI's President and Director, Peter de Menocal.
Thursday, November 10: Emerging Leaders in Ocean Policy and Science in SIDS
Description: This event, led by Scripps Institution of Oceanography, UC San Diego and Woods Hole Oceanographic Institution (WHOI) brings together a diverse set of recognized SIDS youth leaders and ocean scientists to propose and discuss adaptable policy and science frameworks for global implementation. Drawing on their experiences in indigenous policy and resource management, marine science, emergent technology, sustainable energy, and carbon markets, the panelists will also discuss island innovation ecosystems and transformative community impact in the ocean space.
Saturday, November 12: Ocean change - adaption and mitigation opportunities and challenges,
Description: This side event will provide a platform to explore the opportunities & challenges for nations and stakeholders related to observing and understanding ocean change; local & regional adaptation mechanisms to a rapidly changing ocean; including the conservation and restoration of carbon rich ecosystems, the safe implementation of ocean carbon dioxide removal technologies; and climate smart ocean management for supporting sustainable development and protecting ocean life and those that depend on it. Led by Intergovernmental Oceanographic Commission of UNESCO
Monday, November 14: Ocean Science Community Leaders Forum: Science Priorities to Inform Future COPs,
Description: A gathering of the leaders of the world's top ocean research institutions will consider the future of the oceans. Margaret Leinen will be joined by counterparts from the National Oceanography Centre in England and the American Geophysical Union. The leaders will discuss science priorities, the role improved ocean observing technology can play in improving the sustainability of ocean systems, and what they hope will come from COP27 and future COPs. Led by Margaret Leinen, Director of Scripps Institution of Oceanography at UC San Diego
Tuesday, November 15: Implications of Climate Change in the Red Sea and Gulf of Aden Region
Description: This event will assess the potential impact of climatic changes on the coastal and marine environment of Red Sea and Gulf of Aden as well as on the socioeconomic structures and activities. The natural resources of the Red Sea and the Gulf of Aden are diverse, comprising a wide range of tropical marine habitats, some of the considerable conservation, scientific, economic or recreational value. However, they are often impoverished, both in fauna and in the range of available microhabitats. Led by National Institute of Oceanography and Fisheries, Egypt (NIOF)
In addition to hosted sessions, the Ocean Pavilion will provide a focal point for events and discussions aimed at making the ocean more central to climate negotiations and informing delegates about the potential of the ocean to support climate solutions.
The Ocean Pavilion is in Area B, Building 8, pavilion P31.
For a complete schedule of Ocean Pavilion events, visit the schedule page.  For those attending in person, it's recommended to download the Ocean Pavilion Cop27 app for scheduling and networking with the Ocean Pavilion delegation.
For additional information about the Ocean Pavilion and its partners, visit OceanPavilion-cop.org.
On site media contacts:
Ken Kostel, Kkostel@WHOI.edu
Director of Research, Woods Hole Oceanographic Institution
Brittany Hook, Bhook@ucsd.edu
Communications Specialist, Scripps Institution of Oceanography
U.S.A media contacts:
Suzanne Pelisson, SPelisson@WHOI.edu
Director, Public Relations, Woods Hole Oceanographic Institution
Lauren Fimbres Wood, Lmwood@ucsd.edu
Director of Strategic Communications, Scripps Institution of Oceanography
###
Woods Hole Oceanographic Institution (WHOI) is a private, non-profit organization on Cape Cod, Massachusetts, dedicated to marine research, engineering, and higher education. Established in 1930, its mission is to understand the ocean and its interactions with the Earth as a whole, and to communicate an understanding of the ocean's role in the changing global environment. WHOI's pioneering discoveries stem from an ideal combination of science and engineering—one that has made it one of the most trusted and technically advanced leaders in fundamental and applied ocean research and exploration anywhere. WHOI is known for its multidisciplinary approach, superior ship operations, and unparalleled deep-sea robotics capabilities. We play a leading role in ocean observation and operate the most extensive suite of ocean data-gathering platforms in the world. Top scientists, engineers, and students collaborate on more than 800 concurrent projects worldwide—both above and below the waves—pushing the boundaries of knowledge to inform people and policies for a healthier planet. Learn more at whoi.edu.