WHOI Scientist Receives Camille and Henry Dreyfus Foundation Award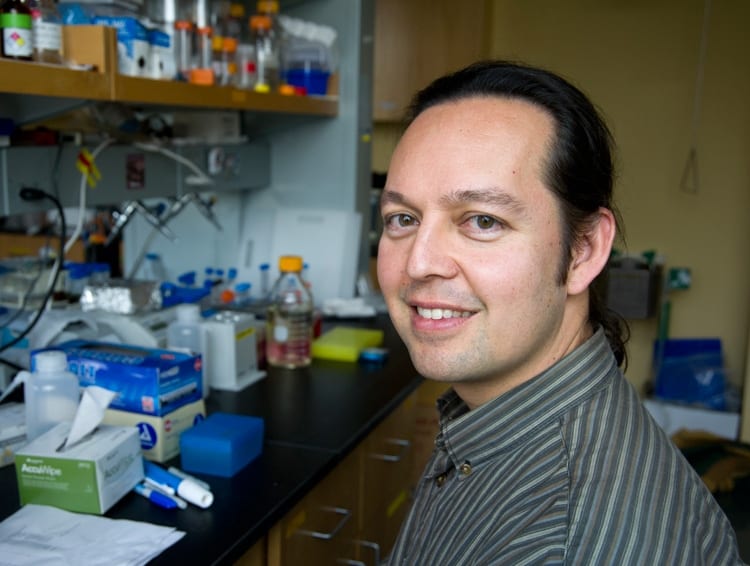 The Camille and Henry Dreyfus Foundation selected Mak Saito as an awardee of a 2016 Postdoctoral Program in Environmental Chemistry grant, which provides leading U.S. faculty in the environmental chemical sciences with $120,000 over two years to appoint a postdoctoral Dreyfus Fellow to work in their labs. Photo by Tom Kleindinst, © Woods Hole Oceanographic Institution
---
November 10, 2016
The Camille and Henry Dreyfus Foundation selected Mak Saito, a biogeochemist at Woods Hole Oceanographic Institution (WHOI), as one of eight awardees of a 2016 Postdoctoral Program in Environmental Chemistry grant.
The program provides leading U.S. faculty in the environmental chemical sciences with $120,000 over two years to appoint a postdoctoral Dreyfus Fellow to work in their labs.
"The Foundation initiated this program in 1996, in recognition of chemistry's central role in matters of environmental importance," said Mark J. Cardillo, executive director of The Camille and Henry Dreyfus Foundation. "After training with an established principle investigator, former Dreyfus Fellows have gone on to conduct environmental research at many of the nation's leading institutions."
"We're very honored to receive support from the Camille and Henry Dreyfus Foundation's program in Environmental Chemistry," said Saito. "It's an exciting time in environmental research, where the technical capabilities are rapidly becoming much more sophisticated, opening all kinds of doors to discovery regarding the mysteries of the oceans."
Saito's research focuses on the nutritional requirements of marine microbes, with an emphasis on metals needed for protein synthesis. Metals are essential components in biogeochemical reactions, and their intense scarcity in seawater can have a profound effect on major natural cycles, such as the carbon and nitrogen cycles, and has resulted in unique adaptations.
Saito developed and adapted sophisticated methods for understanding nutrient-microbial interactions using proteomics—a branch of biochemistry that allows studies of the thousands of proteins encoded by a genome present in an organism—and high-throughput sampling and analytical methods for low-level trace metal measurements in different parts of the ocean.
"We plan to bring in a promising postdoctoral researcher with interests in studying metalloproteins and metal transporters in marine microbes," Saito said. "These studies will help foster our ability to conduct diagnosis of ocean ecosystems and their responses to environmental changes, as well as identifying key cellular components needed for future synthetic biological applications such as algal biofuel production."
"Mak Saito's work is truly at the cutting edge of the study of metals and microbes," said WHOI President and Director Mark Abbott. "This award from the Camille and Henry Dreyfus Foundation is well-deserved."
The Camille and Henry Dreyfus Foundation is a leading non-profit organization devoted to the advancement of the chemical sciences. It was established in 1946 by chemist, inventor, and businessman Camille Dreyfus, who directed that the foundation's purpose be "to advance the science of chemistry, chemical engineering and related sciences as a means of improving human relations and circumstances around the world."
The Woods Hole Oceanographic Institution is a private, non-profit organization on Cape Cod, Mass., dedicated to marine research, engineering, and higher education. Established in 1930 on a recommendation from the National Academy of Sciences, its primary mission is to understand the ocean and its interaction with the Earth as a whole, and to communicate a basic understanding of the ocean's role in the changing global environment. For more information, please visit www.whoi.edu.