Can Seaweed Fuel the Future?
Can Seaweed Fuel the Future?
Kelps could provide low-emission alternative to fossil fuels
By Erin Fischell and Scott Lindell, Applied Ocean Physics & Engineering
Edited by Veronique LaCapra | August 13, 2020
Harvesting kelp at an aquaculture farm. Photo by Paul Caiger, WHOI.
Marine aquaculture holds great promise to meet the world's growing food and energy needs. Demand for energy is increasing by 1 to 2 percent each year, driven by a growing population and increasing economic development. About 90 percent of our energy presently comes from finite natural resources—oil and gas—whose extraction and use contribute to climate change. 
Fuels generated from biomass, known as biofuels, could provide a low-emission alternative to fossil fuels. However, growing biofuel crops such as corn and sugarcane takes land out of food production and requires inputs like freshwater, fertilizers, and pesticides. Marine algae and seaweeds, on the other hand, need only seawater and sunlight to thrive.
Nevertheless, key challenges need to be overcome in order to sustainably scale up marine biofuel production and make it economically viable. WHOI scientist and engineer Erin Fischell has been leading the development of technologies to make it possible for autonomous underwater vehicles (AUVs) to monitor kelp farms using acoustic sonars, cameras, and environmental sensors. Two WHOI-equipped REMUS 100 AUVs—named Darter and Snoopy—are already collecting data on kelp in research farms offshore.
On the biology side, WHOI research specialist Scott Lindell and his team are in their second season of growing, evaluating, and cross-breeding strains of sugar kelp, with the goal of developing high-yield varieties that are also resistant to ocean warming, and creating genomic tools to predict which crosses will be most successful in the future. The Lindell Lab is also helping to develop novel large-scale demonstration seaweed farms in Alaska, Florida and Puerto Rico.
Erin Fischell and Scott Lindell are colleagues in WHOI's Applied Ocean Physics & Engineering Department.
Fischell is a scientist and engineer who develops new acoustic-sensing and autonomy technologies for autonomous underwater vehicles (AUVs). Applications of her work include monitoring aquaculture farms with AUVs, passive acoustic tracking, and multi-vehicle command and control.
Lindell is a research specialist addressing opportunities and challenges to marine aquaculture in order to sustainably provide food and fuel. Working in collaboration with other scientists, commercial interests, resource managers, and policymakers, the Lindell Lab applies interdisciplinary techniques to advance marine aquaculture.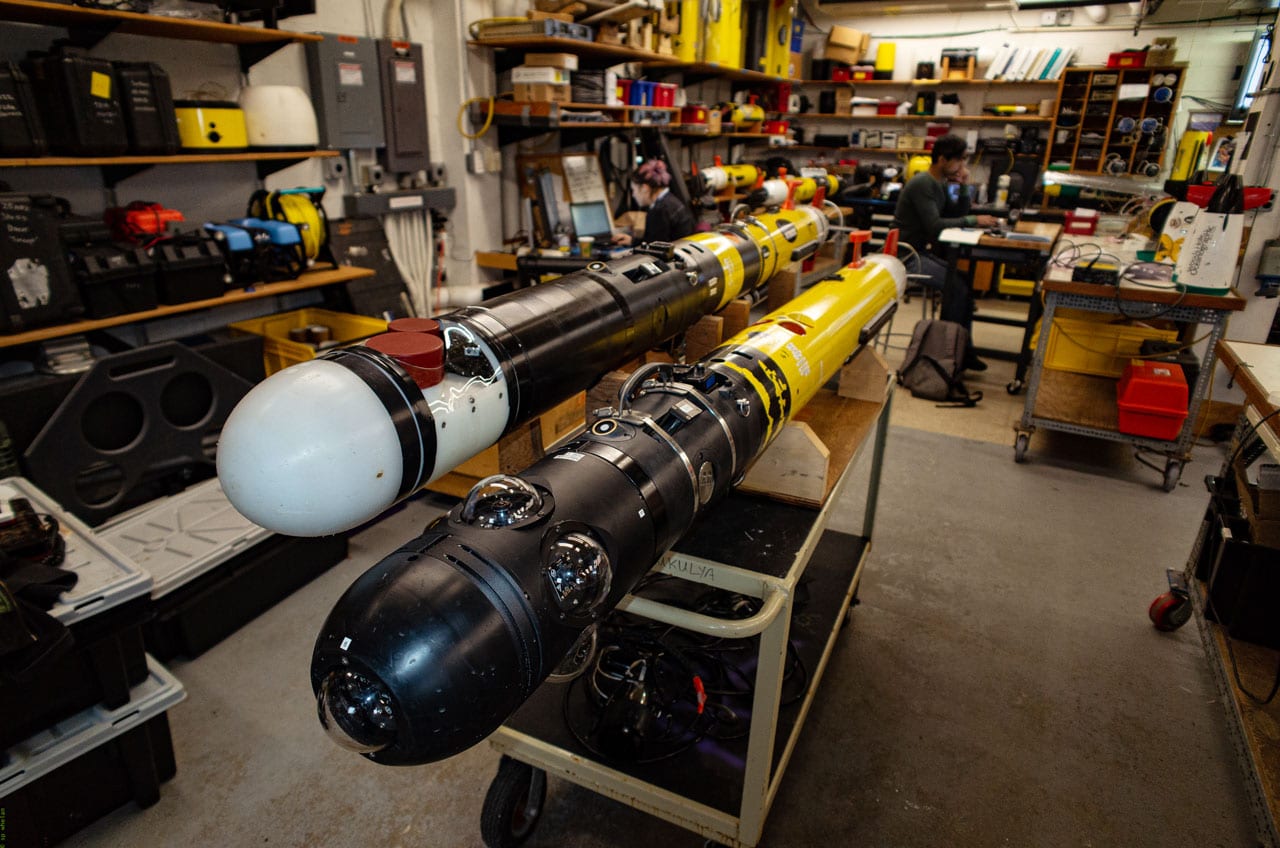 Two WHOI-equipped REMUS 100 AUVs—named Darter and Snoopy—are collecting data on kelp in research farms offshore. Photos by Sean Whelan, WHOI