Celebrate World Oceans Day 2019

Enter our Contest!
June 8, 2019 is World Oceans Day and to celebrate, Woods Hole Oceanographic Institution (WHOI) is giving away a trip for two to Woods Hole, MA. Meet researches who are exploring our ocean's hidden frontiers and get a behind-the-scenes tour of our cutting-edge facilities and operations.
Grand Prize Winner
A trip for 2 to Woods Hole Oceanographic Institution including:
Airfare, $250 gift card for transportation and meals for the Grand Prize winner and guest
Two-night stay in Falmouth, Mass.
Behind-the-scenes tour of WHOI
WHOI's popular Alvin line art t-shirt
Alvin baseball cap
One-year WHOI Associates membership
Ten Finalists will receive: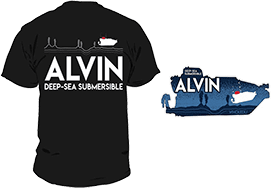 How to enter
Enter your name and email address in the form to the right.
Check the box indicating that you agree to the Official Rules.
Click "ENTER" to submit your entry.
Deadline for entries: June 16, 2019, at 11:59 p.m. EDT
You must be 18 or older to enter.
World Oceans Day
Sweepstake Winners
Grand Prize Winner
Brett McDavid
Finalists
Caroline Gallagher
Onyinye Elochukwu
Nicola Lagonigro
Sharon Frye
Deborah Eater
Robert Fleisher
Carol Norton
Sonia Helmy
Wendi Watson
Tim Watkins
Barbara Wirtzfeld Holloway
Kerry Clyne
Congratulations!
Thank you so much for participating