Sherri Ann (Goldberg) Eldridge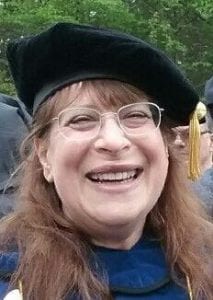 The Woods Hole Oceanographic Institution announces with great sorrow the death of Guest Investigator Sherri Ann (Goldberg) Eldridge on September 14 in Boston, Mass.
Sherri was the beloved wife of G. William Eldridge for 27 years, daughter of Frances (Podhorzer), and Jerrold Goldberg; sister of Paula Goldberg and Ellen (Goldberg) Bowlin. Loving niece of Florence (Goldberg) Greenberg, aunt of Amanda (Bowlin) Small, Matthew Bowlin, and Elizabeth Stevenson; great aunt of Parker Small; sister-in-law of Suzie Gleason and Deb Wilson, dear stepmother, grandmother, and cousin.
Sherri attained her BS in Biology from the University of Maine, enrolled in the PhD program at the University of Massachusetts, Dartmouth while becoming a recipient of a National Oceanic and Atmospheric Administration Nancy Foster Fellowship. At the Boston University School of Medicine (BUSM), she became a visiting graduate and a three-year postdoc at Harvard Medical School in Neuroanatomy before assuming a faculty position in the Department of Anatomy and Neurobiology at BUSM.
In 2017, she became the first BUSM student to receive the prestigious American Association of University Women's Dissertation Fellowship. She received her PhD in Marine Science and Technology in 2018 and in 2019, she became a Guest Investigator at WHOI in Michael Moore's lab. In both 2017 and 2019, she organized and co-chaired a Sensory Ecology Workshop at the World Marine Mammal Conference in Barcelona, Spain, and in 2020 she received a National Science Foundation Postdoctoral Research Fellowship.
A colleague said, "she pursued her research with a single-minded dedication and joy that ignored naysayers and overcame insurmountable obstacles."
Sherri was brave and adventurous and had a deep love for family. Sherri was forever young at heart and had a passion for animals and creatures in the ocean, traveling all over the world to scuba dive, study whales, visit sea turtles and swim with the dolphins. Sherri was "Mom" to numerous bunnies throughout the years. She loved to sing and dance, especially with anyone decades younger than her. Those close to Sherri were overwhelmed by her warm and beautiful heart, her incredible generosity, and the strength of her convictions. She was a unique and gifted individual who will be sorely missed.
At a service in Bar Harbor Maine, their former home, partial remains will be placed in the Atlantic Ocean. A private burial service also will be held in St. Louis, MO.
Contributions in her memory may be made to Dana-Farber Cancer Institute, P.O. Box 849168 Boston, Mass., 02284-9168, specify pancreatic cancer or to a charity of your choice.
Friends of Sherri have organized a GoFund me page to benefit WHOI.  If you would like to make a donation, please visit: https://www.gofundme.com/f/in-memory-of-sherri-eldridge.
Information for this obituary is from the St. Louis Jewish Light newspaper.