The Woods Hole Oceanographic Institution announces with great sorrow the death of Scientist Emeritus Rudolf (Rudi) Scheltema on August 5 at home with generations of his family in his presence.  He had many years of increasing dementia but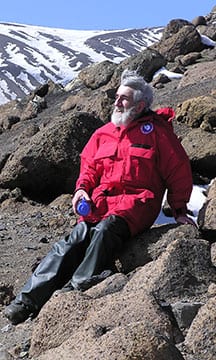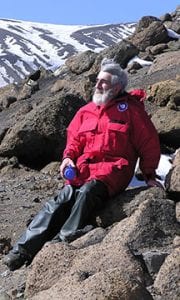 otherwise remained healthy and happy under the home care of both sons' families. He was 93.

Rudi was born May 27, 1926 in Madison, Wisconsin. While an infant, his family returned to The Netherlands for three years before again moving, this time to the D.C. area, where his father was a research librarian.  Dutch was his first language and was spoken at home.
At the age of 18, he was drafted into the U.S. Army as an infantry soldier.  This was a formative period in his life and he forever afterwards held an anti-war philosophy.  This was expressed in volunteer work with Veterans for Peace, the Peace Poetry Contest, and other peace promoting organizations, and beginning in the mid 1960's, membership in the Society of Friends Meeting in West Falmouth.
He received a Bachelor of Science degree from The George Washington University in 1951.  He then did course work at Harvard where he met his future bride, Amélie Day Hains.  After transferring to the University of North Carolina at Chapel Hill, he earned a Master of Science degree in 1954 and a Ph.D. in 1960.  His thesis under the direction of Dr. Charles E. Jenner was on the effect of the substratum on the metamorphosis of intertidal gastropods.
While a graduate student, Rudi worked at the Chesapeake Biological Laboratory working on the ecology of marine fouling organisms, i.e. shipworms, with Dr. Truitt. This led to his very first scientific publications.  He then spent two summers working at the Marine Biological Laboratory followed by three summers as a research fellow at WHOI.
While completing his dissertation, he spent one year as a research associate at the Oyster Research Laboratory, Rutgers University. It was here that he was involved in some of the earliest experimental studies of the mysterious so-called MSX disease of oysters that was devastating the oyster beds of Delaware and Chesapeake Bays.  It was only 20 years later that the parasite causing this disease was formally described and named. It was during this year that he lived with his wife Amélie in the appropriately named small town of Bivalve, New Jersey, on the shore of Delaware Bay. After running out of cigarettes during a hurricane, they used the opportunity to stop smoking entirely.
Rudi started his full-time tenure at WHOI in 1960, where he stayed for the remainder of his scientific career, first as a research assistant and then rising through the scientific ranks to senior scientist in 1985.  After a technical retirement in 1991, he remained full-time at the Institution, helping to teach graduate students and maintaining his laboratory.  He declined becoming a scientist emeritus until 1996, but again, kept a full time schedule, with cruises, until the 2010's.
His research interests started with the identification and description of larvae of bottom-dwelling organisms.  He first started describing some of our very own local snails, including the Eastern Mud Snail, now called Ilyanassa obseleta, and wrote several descriptive papers with his wife as co-author. This led to his studying what factors were important for the survival and growth of these larvae, especially for gastropods and barnacles.  He led many experimental studies on what would enable these larvae to settle and then metamorphose into their adult form.  He hosted a number of WHOI Summer Fellows who were tasked with such experiments and several ended up as his co-authors on scientific publications.  Throughout his career, he was very active in the WHOI Education Program and mentored many undergraduate and graduate students.  He said that working with young people kept him young.
In addition to his enthusiasm in working with students, Rudi included numerous administrative assistants from the Biology Department at WHIOI, friends, and family members in his research cruises to share the experience of working on a scientific expedition and his love of science.  Early in his career at WHOI, he managed to sneak a female colleague past the bureaucracy and onto one of his cruises at a time when female scientists were prohibited from going to sea, much to the chagrin of the WHOI administration.
Rudi discovered that some larvae could survive in the water column for weeks and even months and still have the capability of settling and metamorphosing into their adult forms.  To collect such planktonic larvae in ocean basins, he joined and/or led dozens of research cruises in the North and South Atlantic, North and South Pacific, in the Mediterranean Sea, and in Antarctica to take plankton tows that would collect the larvae that could subsequently be studied in the laboratory.  He often sent colleagues and students out on ships of opportunity to collect samples for him.
His last series of cruises were five cruises to Antarctica studying the transport of larvae across the Drake Passage and gene flow between the tip of South America and the Antarctic Peninsula. As a boy, Rudi had read "The Last Continent of Adventure" (Walter B. Hayward, 1930) when only small sections of the Antarctic coastline had been mapped.  This inspired him to someday go to Antarctica and these voyages fulfilled that lifetime goal.  He celebrated his 80th birthday on his last voyage on Deception Island, Antarctica, with his shipmates on May 27, 2006.  In August of that year, he was honored with a special symposium at the 7th International Larval Biology Meetings in Coos Bay, Oregon.
In addition, over the span of his career, he participated in five deep-sea dives in the Atlantic and Pacific Oceans in Alvin as well as two dives in the Bahamas in the Johnson Sea Link.  The author or co-author of more than 70 scientific publications, Rudi presented at numerous conferences all around the world, traveled extensively to meet with his hundreds of colleagues, and spent one year as a Fulbright Scholar in Queensland, Australia.  One experience that stood out for him was his participation on ad hoc committees of the National Academy of Science, National Research Council, on the "Ecological Effects of a Sea Level Canal" in 1969 in Woods Hole and 1977 in Washington, D.C.  He was adamantly opposed to using nuclear detonations to build such a Panama Canal.  In addition, he recognized that a sea level canal would have huge currents due to the difference in sea level of the Atlantic and Pacific Oceans and that the possibility of invasive species transiting the canal would be certain and preventing such dispersal would be difficult and expensive.
Basically, a humble man, Rudi was very pleased that a word that he invented became part of the lexicon of scientists working on dispersal of long-distance larvae.  This word, from the Greek for 'far-wandering' was teleplanos (in Greek, ΤΕΛΕΠΛΑΝΟΣ or τελεπλανοσ), and could be used as an adjective as in 'teleplanic' larvae.  He was famous among his friends and scientific colleagues for the Christmas cards that he sent each year that featured an original drawing by him of benthic larvae and a few sentences explaining what they were and where he had collected them.
Rudi was predeceased by his wife Amélie, who died in 2015.  He leaves their two sons, Charles and Konrad; Konrad's wife, Nicole; Charles' spouse, Anne Marie Tupper; three grandchildren, Evan, Oliver, and Teodoor (Teo), and foster daughter, Zada Clark. A memorial service will be held at some time in the future.
Information for this obituary is from the Scheltema Family.