Richard "Dickie" Edwards, Jr.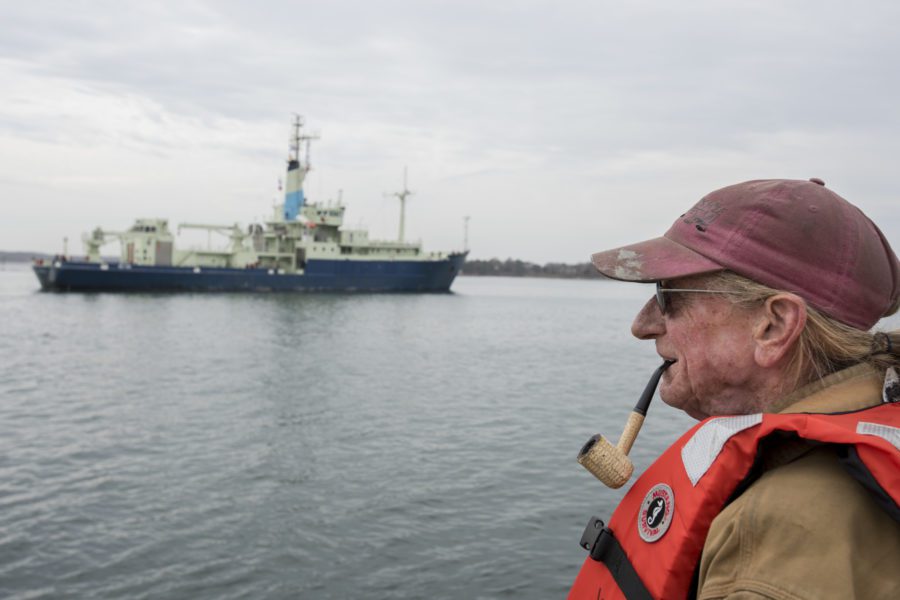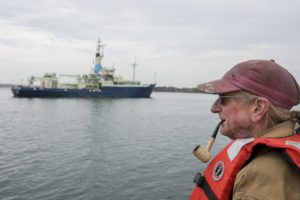 Richard "Dickie" Sale Edwards Jr., an engineer, carpenter, stonemason, mechanic, craftsman, seaman, father, friend to many and longtime employee at the Woods Hole Oceanographic Institution, died on January 28th at home in Woods Hole, after a 6-year battle with lung cancer. He was 68 years old.
A recognizable fixture in Woods Hole for the last 50 years, Dickie could often be spotted on the docks at WHOI with his corncob pipe and famous pink baseball cap— from the Woods Hole Film Festival and smudged with grease—mulling over an engine or securing dock lines, only to be happily interrupted by a colleague or friend who wanted to catch up with him or ask his advice on a project.
Dickie was born in New York, New York on August 23, 1953, to Richard S. Edwards Sr. and Natalie Mather (née Neill). The family moved to Woods Hole later in 1953 and Dickie happily called it home for his entire life. In his early years, he attended the Woods Hole School, where he made lifelong friends, including his best friend, Brian Kaminer. He then attended Falmouth Public Schools and Eagle Hill School.
After high school, and reluctant to engage in any additional formal education, Dickie developed skills through hands-on learning with projects and jobs that interested him. In 1970, inspired by Buckminster Fuller's dome restaurant in Woods Hole, he and Brian Kaminer built a geodesic dome to be placed on an octagonal raft in Great Harbor. They lived on the float for 7 summers and enjoyed throwing many raft parties. In 1977, Dickie and friends salvaged a barge that ran
aground off Cataumet and used the lumber to build a post and beam house for his father and stepmother. One of Dickie's first jobs was as staff at the newly formed Penikese Island School, a non-profit private residential school designed to rehabilitate delinquent boys. Dickie was one of "a small band of unlikely 'teachers'" hired by George Cadwalader, who was part of the Penikese experiment. One of Dickie's favorite jobs was working as an engineer for five years on the 1945 tugboat Ocean King owned by Farrell Ocean Service out of Boston, one of the remaining "bell" boats.
Following in the footsteps of his father, Dickie began his career at the Woods Hole Oceanographic Institute in 1981. He worked part-and then full-time as a dockworker, oiler, and carpenter. Dickie was in the know about WHOI items that were kept in "wet storage": when needed, he could grapple up the perfect piece of chain or hefty anchor stored off the WHOI dock. He sailed as crew to many ports around the world aboard WHOI ships including the R/V Chain, R/V Oceanus, R/V Atlantis II, and the R/V Knorr. He also worked on several larger projects for Dan Clark, Marine Contractor, and Woods Hole "legend". Dan taught him the art of moving large rocks and rebuilding docks and seawalls, and as a student, Dickie excelled.
For many of Dickie's colleagues, he was more than just a reliable presence on the WHOI dock, handling lines when a ship arrived or departed and moving equipment with a fork truck. He was a throwback to another era when someone working in ocean science needed to be able to do a little bit of everything and do it with grace and good humor. "Dickie was one of those guys who could pull off anything," said his long-time friend Tito Collasius. "He could look at a problem and make complicated things seem simple. He could even cook and cut granite."
Dickie enjoyed collecting things and loathed throwing away anything that could potentially be repurposed. He took special interest in nautical items, Volvos, his grandfather John R. Neill's illustrations, historical items of Woods Hole and Cape Cod, tools of all sorts, boats, broken engines, and fine lumber. His love of all things creosote and marine included regular use of tar soap and shampoo. His other love was his dog, Chester, one of the black dogs of Woods Hole, who was beloved by WHOI staff and was known to smile when happy.
Dickie was a loving, dedicated, and proud parent to his daughter Sophie. He encouraged her curiosity in the arts and sciences, enjoyed teaching Sophie new things – including how to operate an excavator at age 12 – and cherished their time together. He was delighted by his 2-year-old grandson, Elliott, who inherited his grandfather's beautiful hair, joyful dimples, passion for construction vehicles, and – most importantly – his penchant for mischief.
Outside of Woods Hole, Dickie felt most at home on the Isle of Harris in the Outer Hebrides of Scotland. After being introduced to the remote island by a dear friend, he was able to travel there many times, including a last trip in 2018 with his daughter Sophie and her husband, Max. His name is memorialized on a whiskey barrel stave at the Isle of Harris distillery. He was known to enjoy a dram or two and had the pleasure of trying some of the distillery's first batch of Scotch directly from the cask.
Dickie is survived by his daughter, Sophie Edwards Griscom (Max Kuhl), his grandson, Elliott Edwards Griscom-Kuhl, his sisters, Catherine Neill, Arden Edwards, and Lee Townley, step-mother Anne Edwards, step-brother, Sean Riley (Rebecca Riley), former partner, Sarah Griscom (Craig Pennypacker), 11 cousins, 10 nieces and nephews, and countless friends. He was predeceased by his father and mother.
Dickie's family wants to thank the many friends who supported him in his final months, including Yvonne Campbell, PJ (Philip) Bernard, Becky Gast, Tito Collasius, Jr., Chris Stone, Chip Shultz, Jim Murray, Damien Kuffler, Jenny Junker, Tim Lineweaver, Toby Lineweaver, Sarah Clark, Sandy Baylor, and many more who visited and held a spot in their heart for him. A very special thank you to Suzy Elstob for her dedication, patience, love, and care in his final weeks.
A celebration of life will be held in Woods Hole on August 20, 2022 (location to be determined). Dickie's ashes will be spread off the coast of two of his favorite places: Woods Hole, MA, and the Isle of Harris, Scotland. In lieu of flowers, please consider a donation to Woods Hole Children's School of Science.
Information for this obituary is from Dickie's family