Ralph David (Dave) Simoneau Jr.
The Woods Hole Oceanographic Institution announces with great sorrow the death of retiree Ralph David (Dave) Simoneau Jr., of Bourne, Mass., on August 8. He was 81.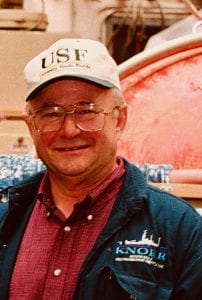 Dave was born in Boston, Mass., on April 3, 1939, to Edna James Simoneau and Ralph David Simoneau Sr. He was raised in Woods Hole, Mass. Dave graduated from Lawrence High School in 1959 and went on to study horticulture at the University of Massachusetts (UMASS) Stockbridge School of Agriculture. After studying horticulture at UMASS, Dave moved over to electronics and became a sonar man in the Navy from 1962-1965.
Upon returning home from the Navy, Dave went on to work at WHOI where began his career in 1966 as a lab assistant under Nicholas Fofonoff.  He was promoted several times throughout his 33-year WHOI career.  He retired in 1999 as a senior engineering assistant.  During his time at WHOI, Dave traveled the world. He documented his travels with photographs, slideshows, and postcards. Dave took great pride in his work at WHOI and was a friend, shipmate, and mentor to many.
Dave was the proud Dad of five children and was a shining example of what a Dad should be, always having time for one of his kids. Dave loved spending time with family and was an avid gardener and spent many hours tending to his plants and flowers in his yard.
In retirement, Dave and his wife Jean became snowbirds and split time between Vero Beach, Florida, and East Falmouth, Mass. Dave enjoyed collecting shells on the beach which he made into shell wreaths he would give to family and friends. Dave also enjoyed going on cruises with his wife Jean and visiting family during the summer months.
Dave is predeceased by his loving wife Jean of 44 years; parents Edna and Ralph Simoneau; brother Dennis J. Simoneau; and sister Susan E. Moniz.
He leaves his five children, Lynn Simoneau Doherty and her husband John; Timothy D. Simoneau and his wife Shae; Michael J. Simoneau and his wife Sonia; Sean P. Simoneau and his wife Casey; and Sare E. Simoneau and her partner Ioan Sabau.  He also leaves his grandchildren, Tyler, Jonathan, James, Abby, Ethan, Evelyn, Lilly, and Anna Lee, and one great-grandchild Aria Jade.
Dave is also survived by his in-laws, Jane and Marty Hunter of Toledo, Ohio, and Dick Traser of Ocala, Florida.
Dave's family wishes to extend their sincere thanks to the staff at Atria Woodbriar and Keystone Place at Buzzards Bay for taking such great care of their Dad.
Information for this obituary is from the Chapman, Cole, and Gleason website.