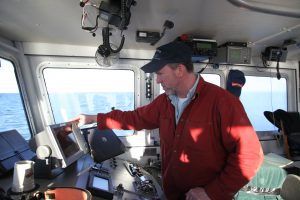 The Woods Hole Oceanographic Institution announces with great sorrow the death of former employee Kenneth "Ken" Houtler on September 20. He was 54.
Ken was born on October 27, 1966, at Ramstein Air Base in Germany. He was the son of Raymond and Ellen Houtler. He graduated from Portsmouth New Hampshire High School in 1985.
Ken was Mate and second Captain aboard the University of New Hampshire's R/V Gulf Challenger for twelve years and Captain of the Shoals Marine Lab's R/V John M Kingsbury for three years. Ken began his career at WHOI in 2004 as Master aboard the R/V Tioga.  He left in 2018.
Ken was a member of the Madison Scouts Drum and Bugle Corps from 1985 through 1988.
Ken is survived by his son, Torsten; sister Melissa Armstrong and her husband Kenneth; niece Kayla Armstrong; and his parents.
A memorial service will be held at Christ Lutheran Church, 485 Brick Kiln Road, Falmouth, on October 16, at 10:30 a.m.
Information for this obituary is from the Falmouth Enterprise.