The Woods Hole Oceanographic Institution announces with great sorrow the death of former employee John H. Thomson on December 14, 2022. He was 97.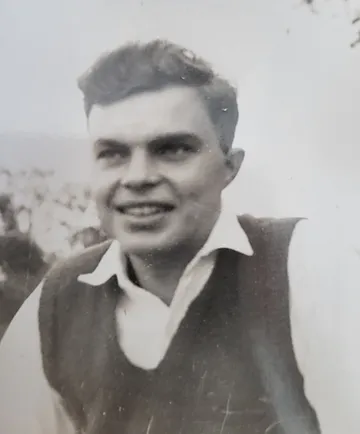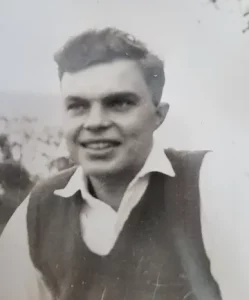 John was born in New Orleans, Louisiana to Dorothy (Darsy) Harris Thomson and John Herndon (the Professor) Thomson. His sister Sally was born two years later. The family spent winters in New Orleans where the Professor taught Architecture at Tulane, summers in Union, South Carolina, and at Christ School in Arden, North Carolina.
John attended Country Day School in Metairie, LA, then skipped his senior year to attend an accelerated program in Electrical Engineering offered through the Navy at Tulane University in 1943. He graduated in 1945 and following Midshipman School in NYC, joined a ship in the South China Sea moving Chaing Kai-shek's troops out of Mao's way. After leaving the Navy, he taught briefly at his alma mater, Country Day School, and also at Christ School. During this time, he took up cello, and spent summers at the National Music Camp in Ann Arbor, Michigan, playing third chair cello, and working on sound engineering and recording.
Responding to an advertisement for electrical engineers, John joined General Electric (GE) in 1950 and worked on various programs including a stint as a Tech Rep in Italy, eventually landing in Lynn, Massachusetts, working on very large jet engines. It was while he was working in Lynn and living on Pandora, a sailboat moored in Swampscott, that he met, wooed, and married Sarah (Sally) Alice Walker, moving ashore after Pandora was grounded in a hurricane in September of 1960, a week before the birth of their first child, Cynthia Harris Thomson. Mathew Walker Thomson followed in January 1962.
John left GE in 1961 to start his own company, Wingarsheek Turbine Company, the first in a series of small start-ups. In 1972 his partner Mitko Zagoroff introduced him to the artist Christo to help solve problems with the Valley Curtain in Rifle, Colorado. His willingness to embrace odd requests made for a long, affectionate working partnership. Jeanne-Claude, Christo's wife, would call and ask for John to "come keep things from going wrong!" as the amount of engineering required for each project became increasingly clear. It was also at this time that he built a towing tank to test hull designs, reporting on the results to the Amateur Yacht Research Society.
In 1976, John joined Sea Education Association part-time as a mate and engineer, on R/V  Westward a 120' sail training ship doing oceanography under sail, a post he never truly left, continuing to sail with them once a year or so, until his (first) retirement.
In 1978, he joined WHOI working with Jim Luyten on engineering for various instruments used to measure deep ocean currents. He retired in 1990.
He loved Woods Hole in general and had a variety of friends and social pursuits including playing in a steel drum band called Acoustic Release (later Atlantic Clarion) and worked with the Woods Hole Folk Music Society.
Other adventures around this time included (re)developing a small hydropower project in North Carolina.
He was divorced from Sally in 1985 and met Lucia Nelson shortly after. They married in 1988
aboard Tabaitha, a sailboat they hoped to cruise on after he retired. Indeed, after his first retirement, from WHOI in 1990, Lucia and John did set sail. They cruised north into Maine during the summer and headed south to Bermuda and the Caribbean as fall came, inviting friends and offspring to sail with them on different legs of their voyage.
Family matters intruded, and they brought Tabaitha to the bayous south of New Orleans where she was docked and later sold. They found a house close to the address where John had grown up, near his sister Sally Thomson Parker and her children. There they spent several years in the happy embrace of old friends from John's growing up, while he pursued a series of engineering consulting projects including prototyping a variable pitch propeller.
After his mother's death, Lucia and John moved to North Berwick, Maine, neatly centered among both Lucia and his children. While there he joined Northern Research Engineering, which was acquired by Ingersoll-Rand, and finally moved to Brayton Energy, where Jim Kessli, CEO, says he was " …always adding creativity, and practical solutions" using his skills in machining, drafting, and electrical and mechanical analysis of projects. His retirement from Brayton Energy was the one that finally took.
His final retirement coincided with a move to Easthampton, Massachusetts in 2012 to be closer to Lucia's daughter Holly and his daughter Cynthia.
Throughout his life, John participated in music, as a singer and instrumentalist. He played cello, tenor pan, and banjo well, and picked up guitar, dulcimer, hammered dulcimer, and a host of others as his fancy took him. He loved the Gilbert and Sullivan operettas so much that it brought him to tears and sung in several productions over his life.
He is survived by his wife Lucia, daughter Cynthia, son Mathew, and three grandchildren; Aerin Thomson, Alice Hough, and Brownell Thomson.
Information for this obituary is from the Thomson Family