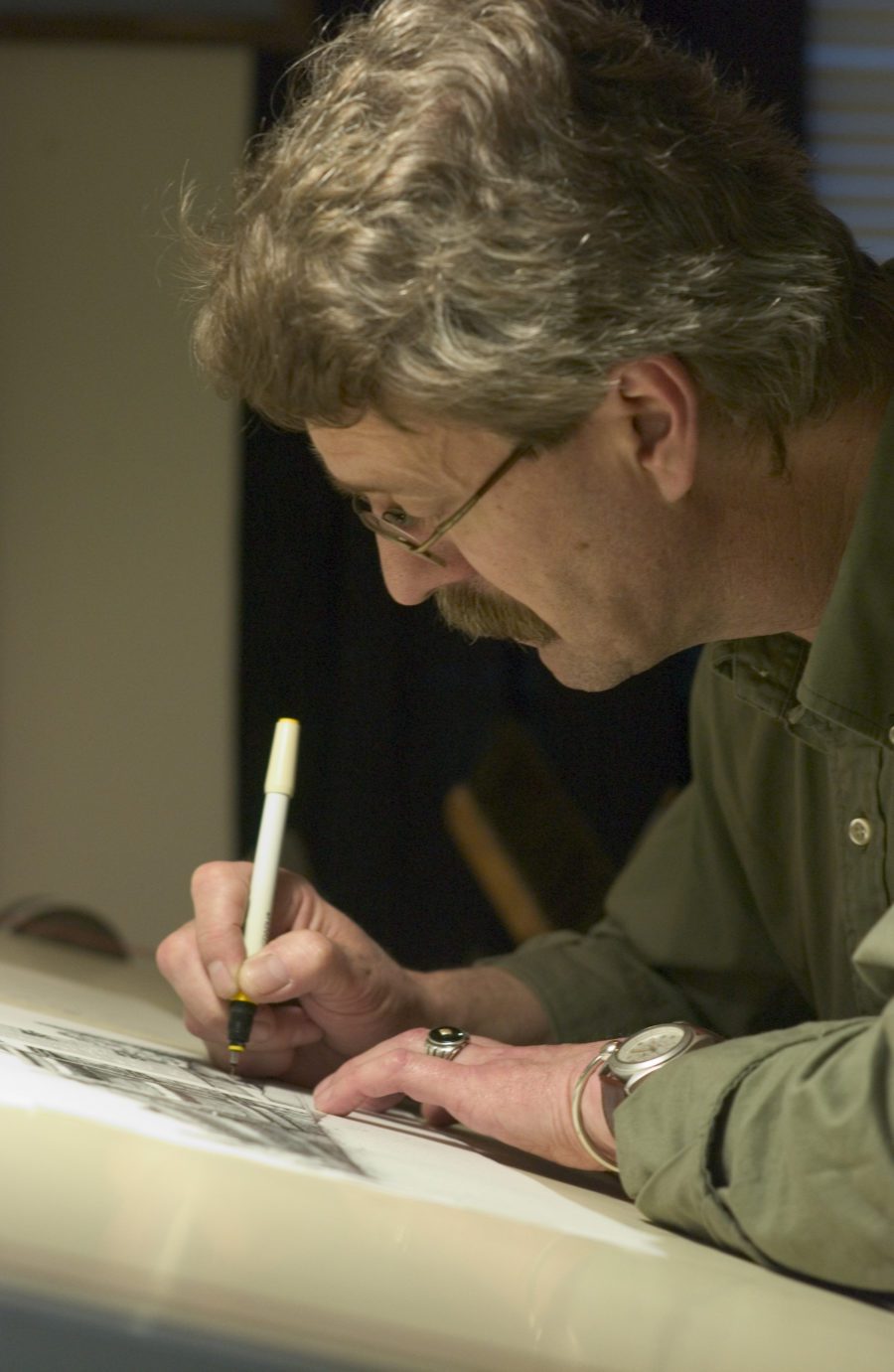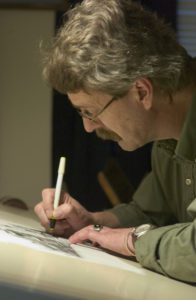 The Woods Hole Oceanographic Institution announces with great sorrow the death of former employee E. Paul Oberlander on April 12. He was 65.
Born and raised in Springfield, Massachusetts, Paul moved to Cape Cod shortly after high school with his parents Eugene and Kathleen Oberlander of South Yarmouth. From there, he studied Fine Art at Salem State University. In 1976, he met his future wife Roberta (Wroblewski), and the two married in 1981.
A lifelong passion for arts and a deep appreciation of the ocean were the undercurrent for an incredible, admirable career. Paul held a 29-year tenure as a scientific illustrator at WHOI and his artwork is on permanent exhibit at the Sant Ocean Hall of the Smithsonian National Museum of Natural History and the Woods Hole Science Aquarium. A prolific creator, his illustrations have been published in numerous international publications, novels, and children's books. He designed and created exhibitions for Massachusetts Institute of Technology (MIT), the Orleans Historical Society, and the locally beloved Whale Trail.
While at WHOI, Paul took on any task that was necessary. He was versatile as well as creative and he made things happen all around the institution. He would tell you that his forte and training was in fine art but he also assembled and painted exhibits and dove into any type of project that Graphics was hired to do.
"Many at WHOI greatly appreciated Paul's understanding of ocean science, his attention to detail, and the creativity and talent he brought to his projects," said Katherine Joyce, WHOI Creative Director. "I think one of Paul's favorite moments here at WHOI was being invited on a Dive and Discover cruise to the East Pacific Rise in 2000, where he immersed himself in the science and was able to illustrate discoveries. Paul did all of the illustrations for the award-winning Dive and Discover website when it first launched in January of 2000."
Paul was enthusiastic and dedicated in all aspects of his life. He was an avid educator, coaching hockey with the Barnstable Youth Hockey Association for over a decade, and also served as a mentor through ArtWorks, an internship program for high school students pursuing fine art. Every Monday summer night since 1981, he ran a golf league at Blue Rock Golf Course where he met and made many of his closest and lifelong friends. He was a proud and loving father and a remarkably devoted husband. His caring and energetic spirit left a deep impact on all who were fortunate enough to know him.
He is survived by his wife of 41 years, Roberta, and their two sons; Jacob who resides in Vancouver, Washington with his girlfriend Glynis Gordon; and Corey, who resides in Atlanta, Georgia with his wife Lindsey Stapleton. He is also survived by his three sisters, Judy Smith of Wilbraham, Mass; Susan Lefevre and her husband Craig of Fredericksburg, Texas; and Kathleen Foote of Nathrop, Colorado as well as countless nieces, nephews, cousins, and his best canine bud, Blue. He joins his beloved sister, Lynn McGuire, in the afterlife.
His memorial service will be held Wednesday, April 20 from 4-7 p.m., at Chapman Funerals & Cremations, 3778 Falmouth Road, Marstons Mills, Massachusetts. A celebration of life will be organized and held later this summer.
In lieu of flowers, please consider donating to the Barnstable Youth Hockey Association in Paul's honor.
For online guestbook & directions, please visit www.chapmanfuneral.com
Information for this obituary is from Chapman, Cole, and Gleason Funeral Home