Constantine "Gus" Demetrious Tollios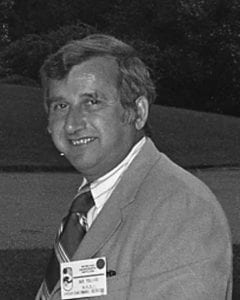 The Woods Hole Oceanographic Institution announces with great sorrow the death of retiree Constantine "Gus" Demetrious Tollios on January 18 in Florida.  He was 90.
The son of Demetrious J. Tollios and Poliminia (Scantalides) Tollios, Gus was born and raised in a house on Queen Street in Falmouth.
After graduating in 1948 from Lawrence High School, he attended and graduated from Lenox School for Boys, a private preparatory school, prior to furthering his education at the University of Pennsylvania. He earned his undergraduate degree in engineering before serving for two years in the United States Air Force. Following his military discharge in late 1955, he joined the Falmouth Office of the Cape Cod Standard-Times in 1956, handling classified advertising.
Gus pursued his graduate degree at the University of Massachusetts in Amherst, where he was a member of Phi Gamma Delta fraternity. He met his wife, Harriet May Johnson, also a student at the university, and they would marry in 1957. After their first son was born during the summer of 1959, they returned to Amherst from Falmouth so Gus could complete his senior year in engineering.
Gus found work in the aerospace industry at Rockwell International in California.
Gus returned to the East Coast from California in 1967 and accepted a position as research associate in the engineering department at WHOI.  In 1973, he was promoted to a research specialist. He retired in 1987.
In retirement, Gus engaged in computer consulting work at the Marine Biological Laboratory.
With his wife, who was called Jay, he shared a love of cooking the Greek specialties passed down in his family, and the couple was featured in a 1986 Gourmets and Good Eaters column in the Enterprise. They had been married for 37 years at the time of her death from cancer in December 1994.
Gus was a member of the town cemetery committee and its restoration work of Oak Grove Cemetery, and had served as secretary of the group. He also had been active in organizing his Lawrence High School Class of 1948 50th reunion weekend that took place in September 1998.
In his younger years, Gus had been a lifeguard at Surf Drive Beach. He also had tended bar at The Hunt Club and the Nimrod and, later in life, enjoyed sharing his memories of the bar-tending experiences.
Gus moved from his Falmouth home to South Florida several years ago.
He leaves two sons, D. Paul Tollios of Falmouth and Mark J. Tollios of Ft. Lauderdale, Florida; two grandchildren, Erin D. Tollios and Mark D. Tollios, both of Falmouth; and other family.
He was preceded in death by his wife Harriet May (Johnson) Tollios and two sisters, Patricia D. Sethares and Evangeline P. Wilkins.
Information for this obituary is from the Falmouth Enterprise.